I have earlier tested basic DIY Electronics Tester Kit M168 and more advanced Component tester M12864. Now it is time to test the next improved version of the same idea: Original Hiland DIY M12864 Graphics Version LCR ESR PWM Transistor Tester Kit (was on sale for less than 10 Euros)
This kit has same display as Component tester M12864 but includes more features. The included features are resistors, capacitors, inductors, diodes, transistors, SCR, and most commonly used devices will automatically recognize and measure with graphical display of measurement results. For capacitance measurement it measures the capacitance and ESR. For inductor you get inductance and resistance.
This kit has also frequency meter function. It can measure 1HZ-25KHZ at good resolution. It can measure higher frequencies with reduced resolution (measured nicely to 150 kHz). The frequency measurements seems to work at signal amplitude from around 30 mV up to 5V TTL signal.
In addition to component measurement, this device has a quare-wave generator and PWM pulse signal generator. PWM pulse signal generator for 1-99% of the pulse width modulated signal at around 7.8 kHz pulse rate.
The square wave signal generator has range of 1HZ-2MHZ TTL square wave signal. The signal is output from pin 2, the negative terminal of the power supply is always GND (can use pin 3 for this).
The whole set of functions are controlled by a rotary encoder switch control that replaces the single button used on previous models. For basic automatic component measurement, you can do it just by pressing down the encoder (works like old single button). When more advanced functionality is needed, it can be selected with rotary control.
The device works on DC power supply 5.5-12V. I used 9V battery to power my device. The nominal working current is 24mA @ 9V and shutdown current is said to be only 20nA. The components can be connected to supplied ZIF socket or you can solder your own test cables. The ZIF socket has 3 different pins wired to it: The first three columns are for pin 1, the fourth column is for pin 2 and the last three columns are for pin 3.
This is a DIY kit you need to solder together and after that calibrated. The instruction manual is available on-line. PCB Size is 75 x 63 mm.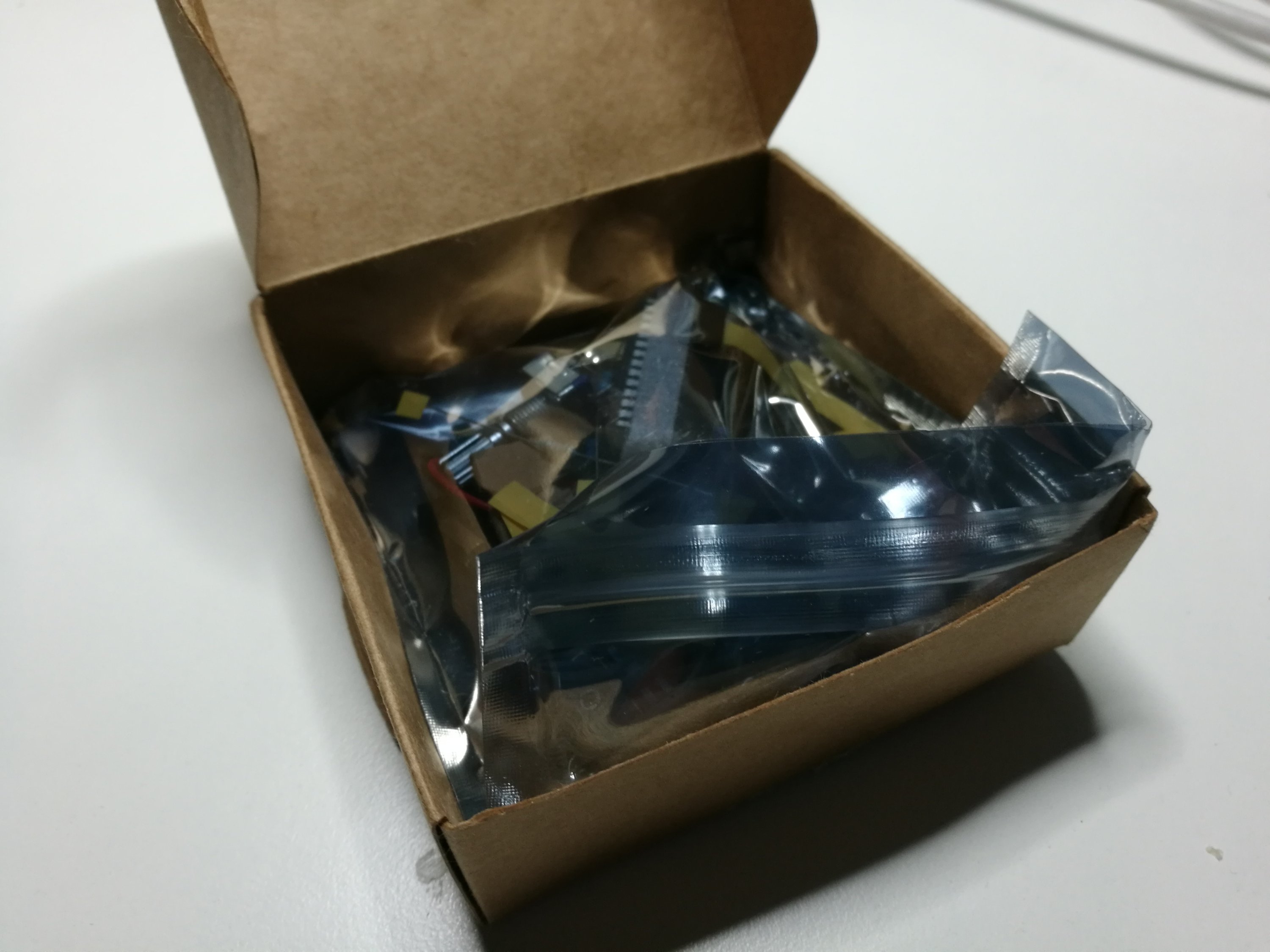 Parts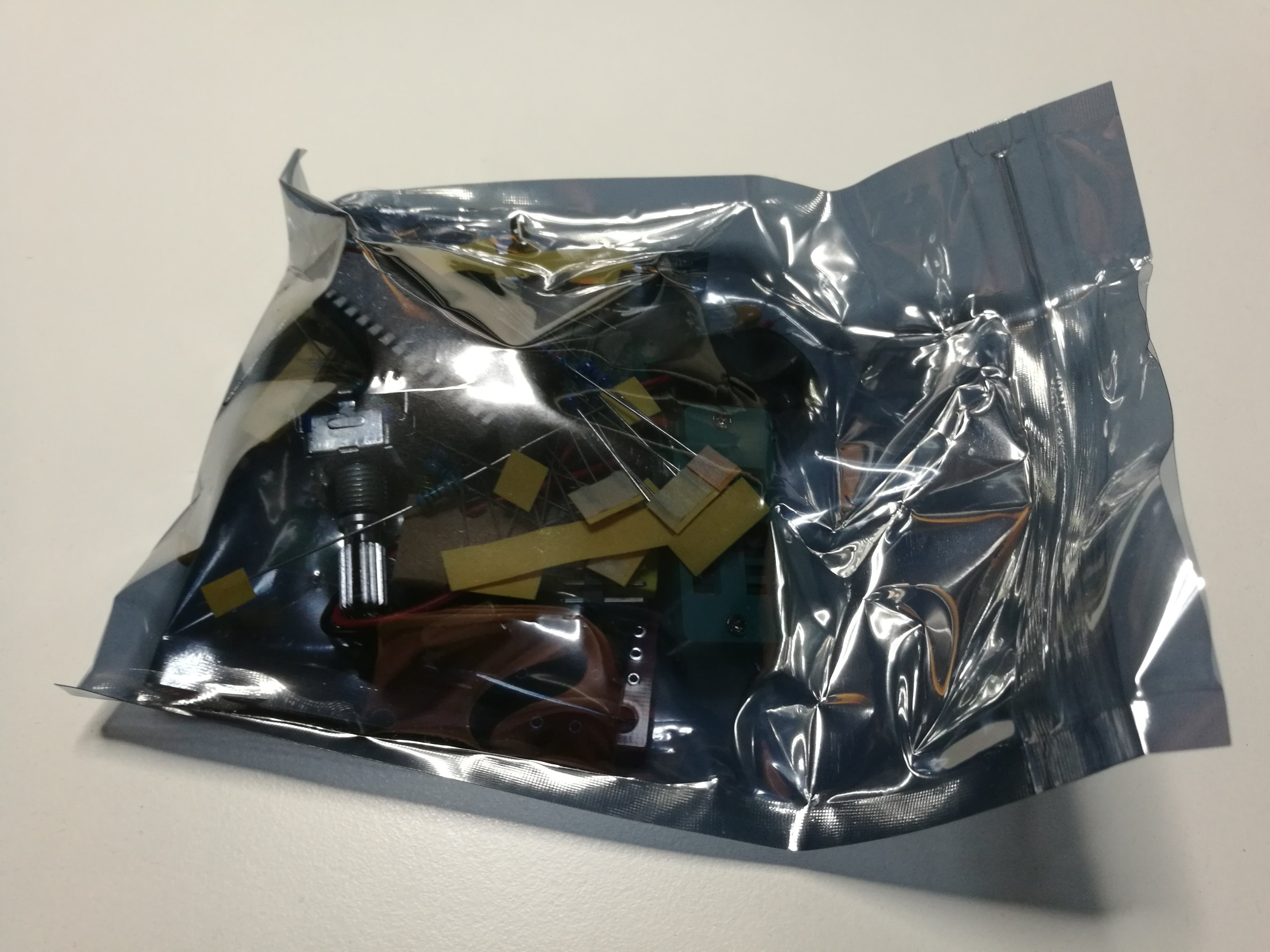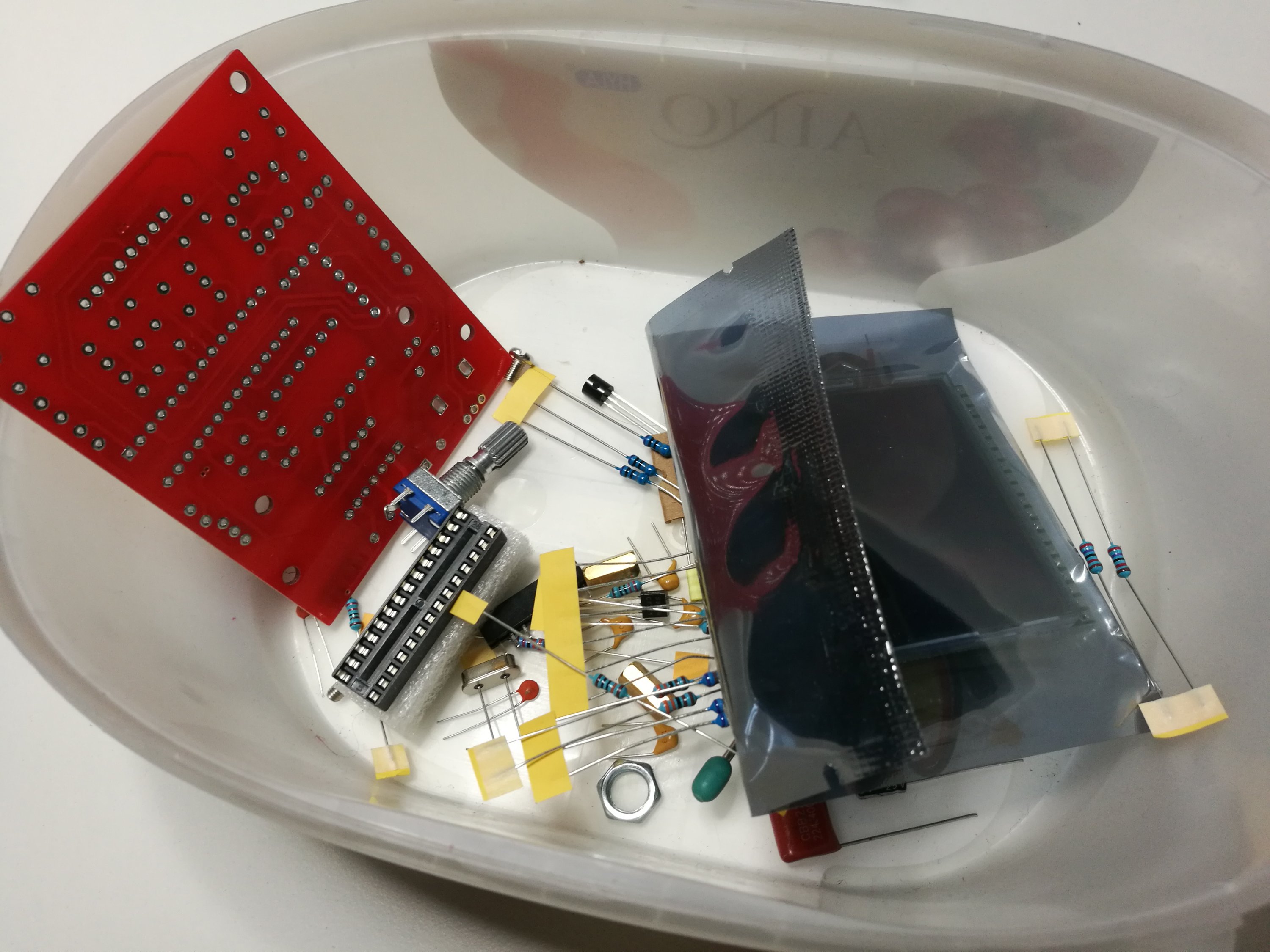 Circuit board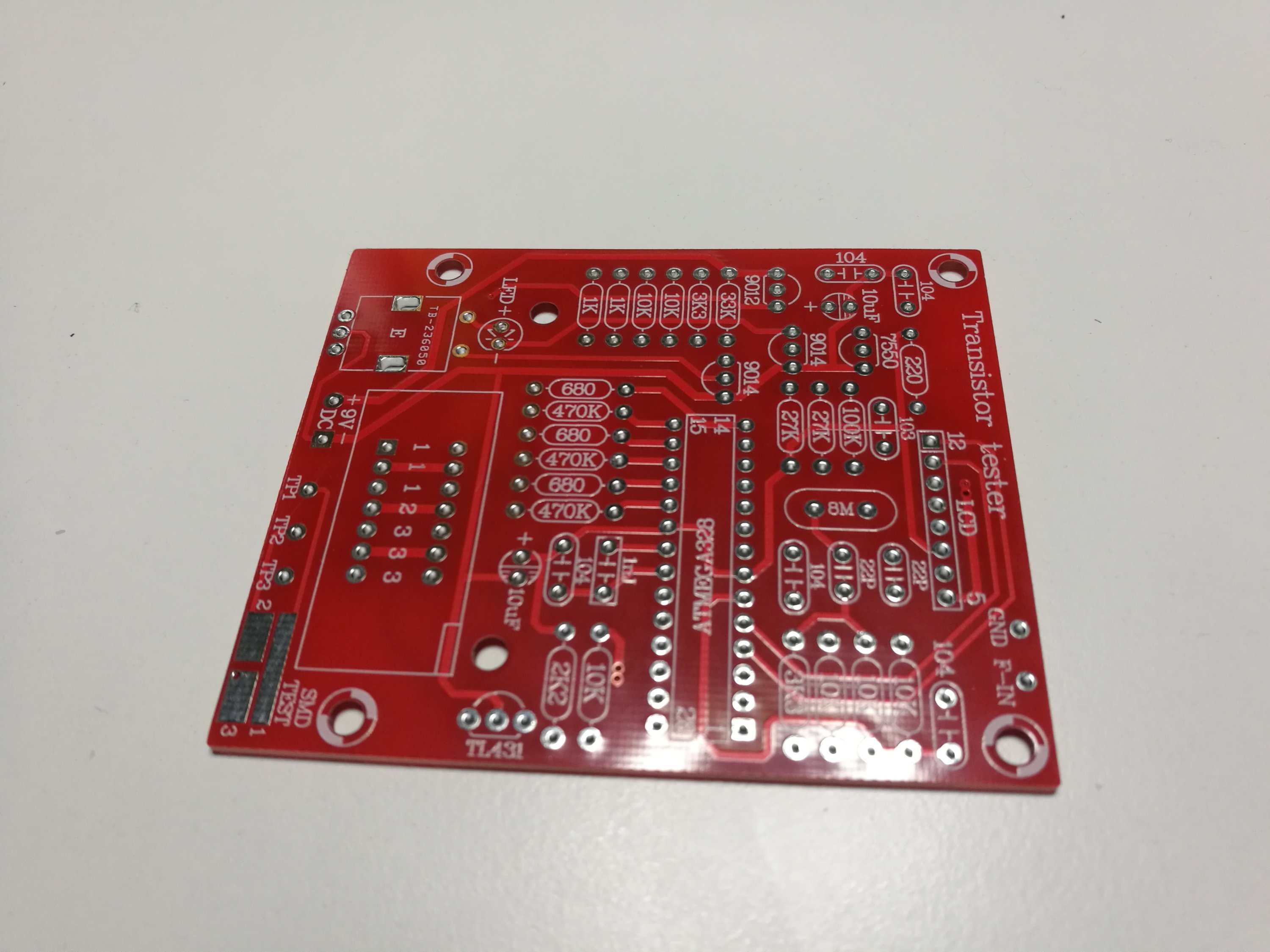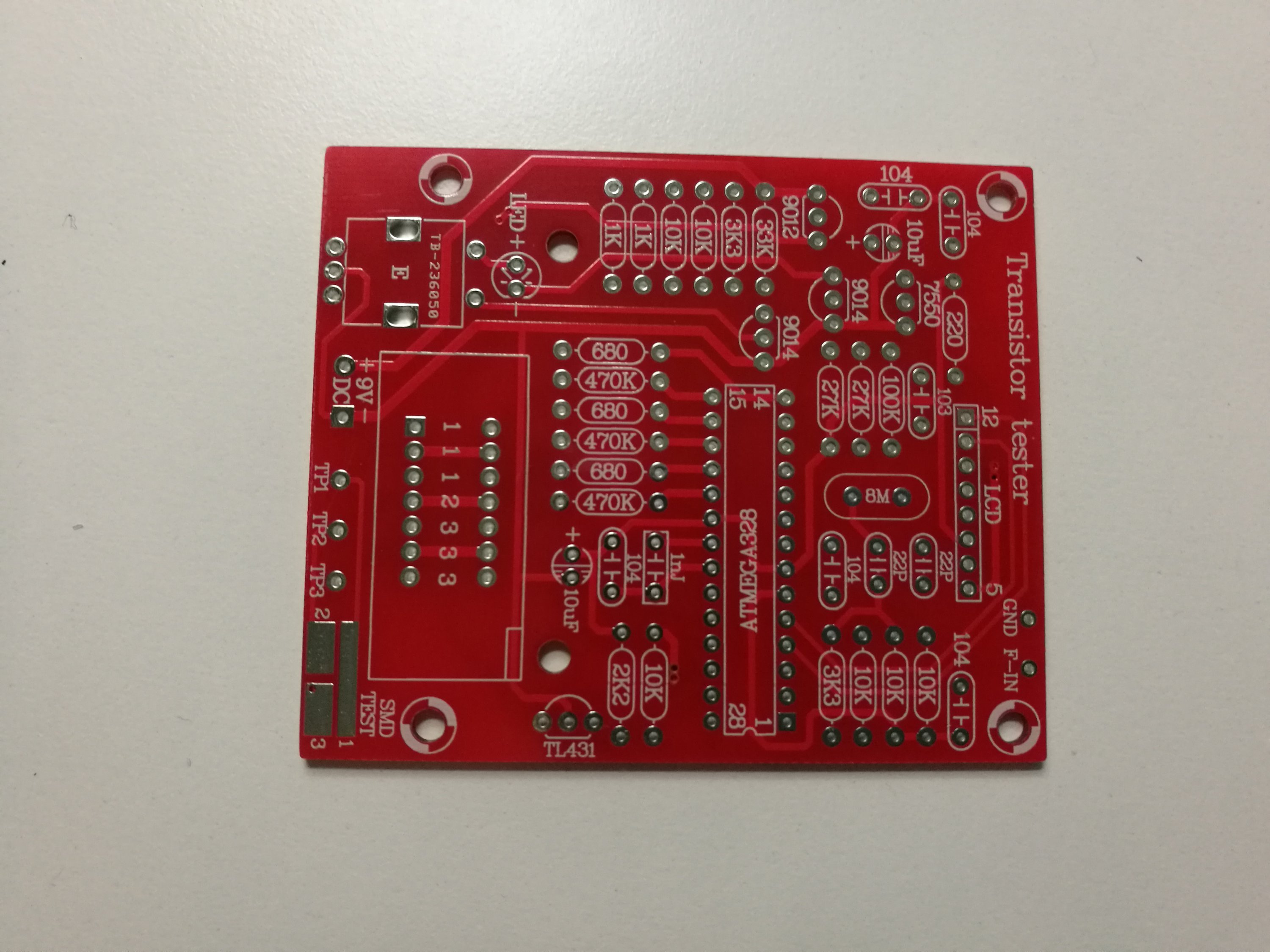 Circuit diagram from instruction manual: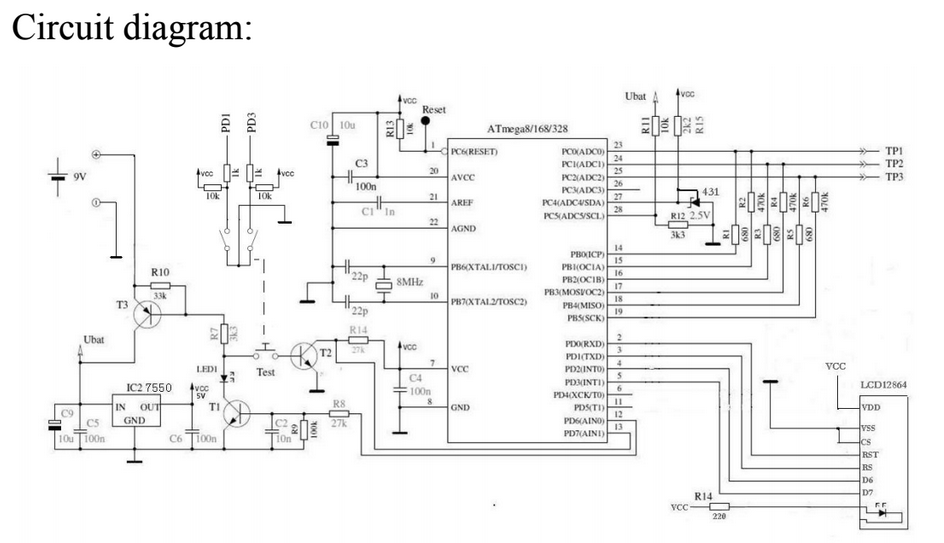 This design is clearly based on AVR Transistortester project that has some software at Github. Check also discussion.
Building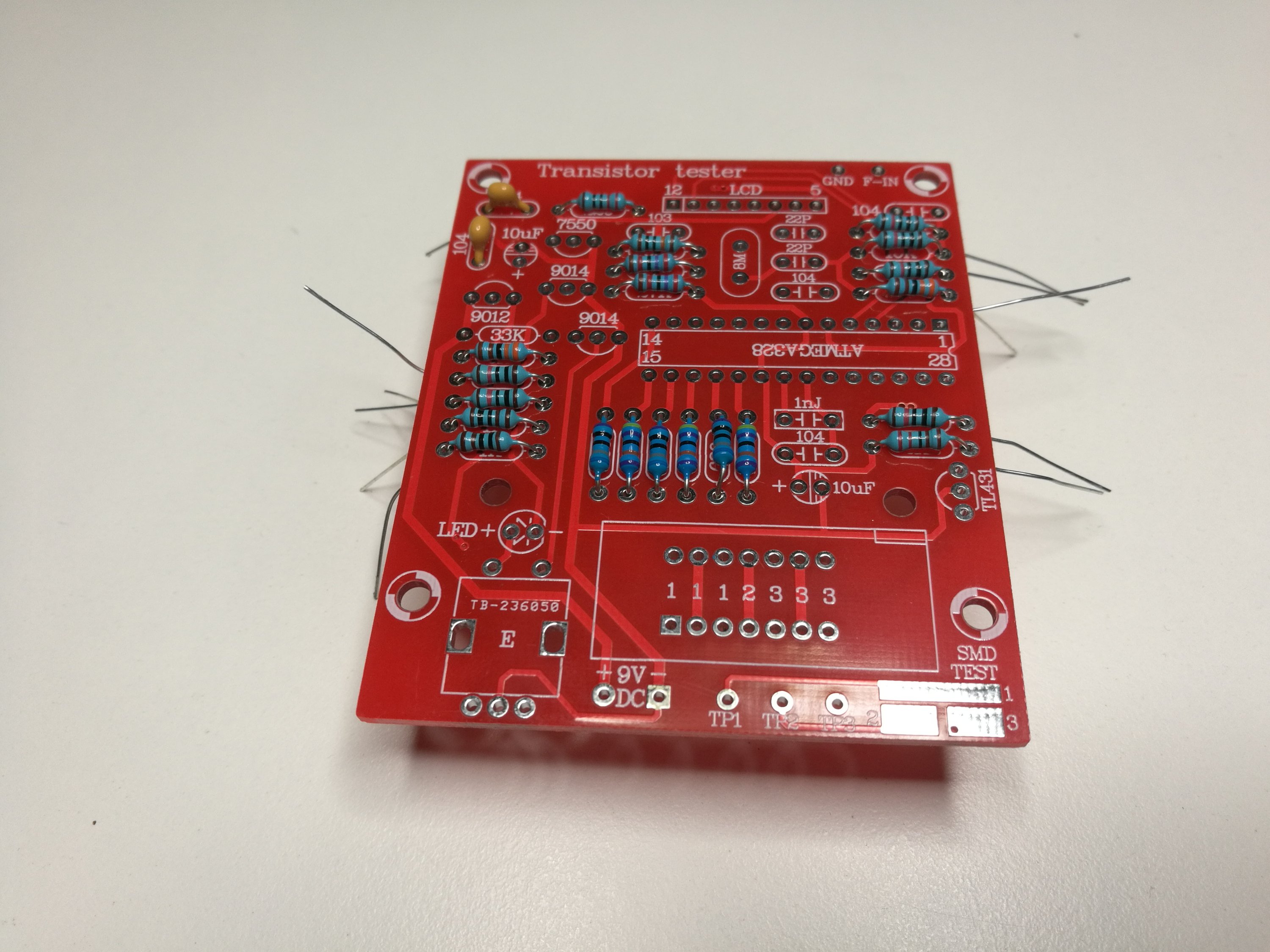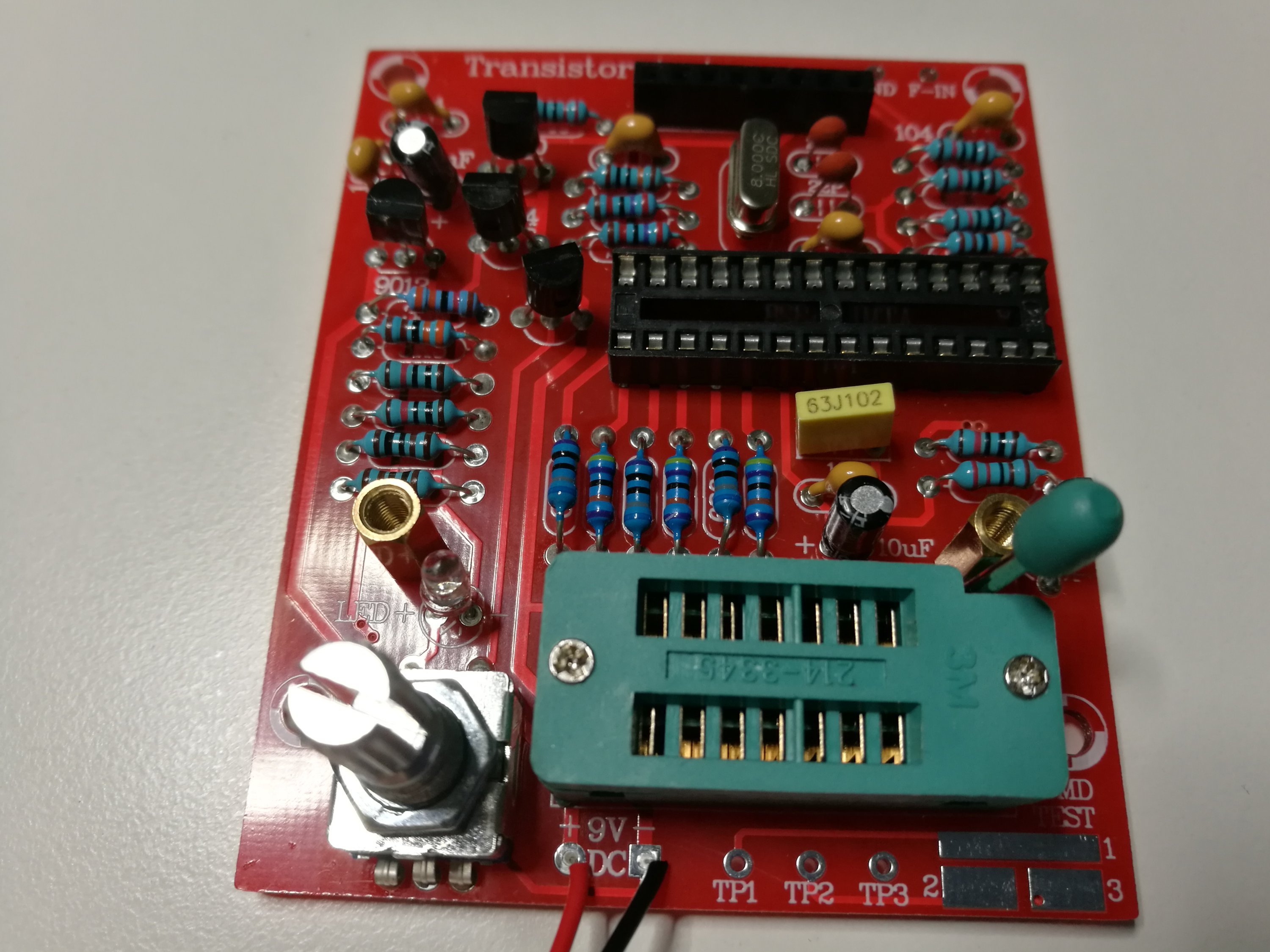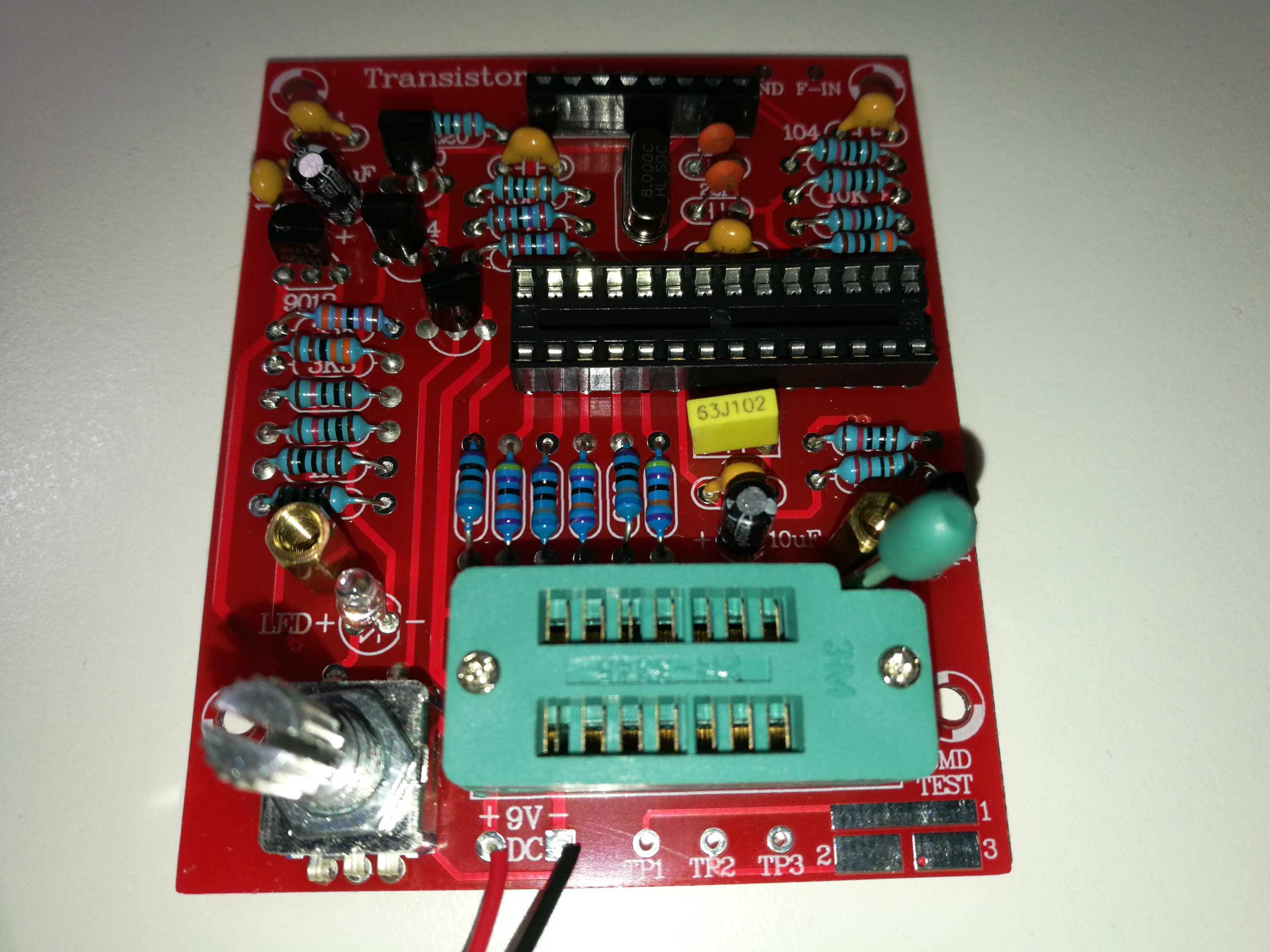 Testing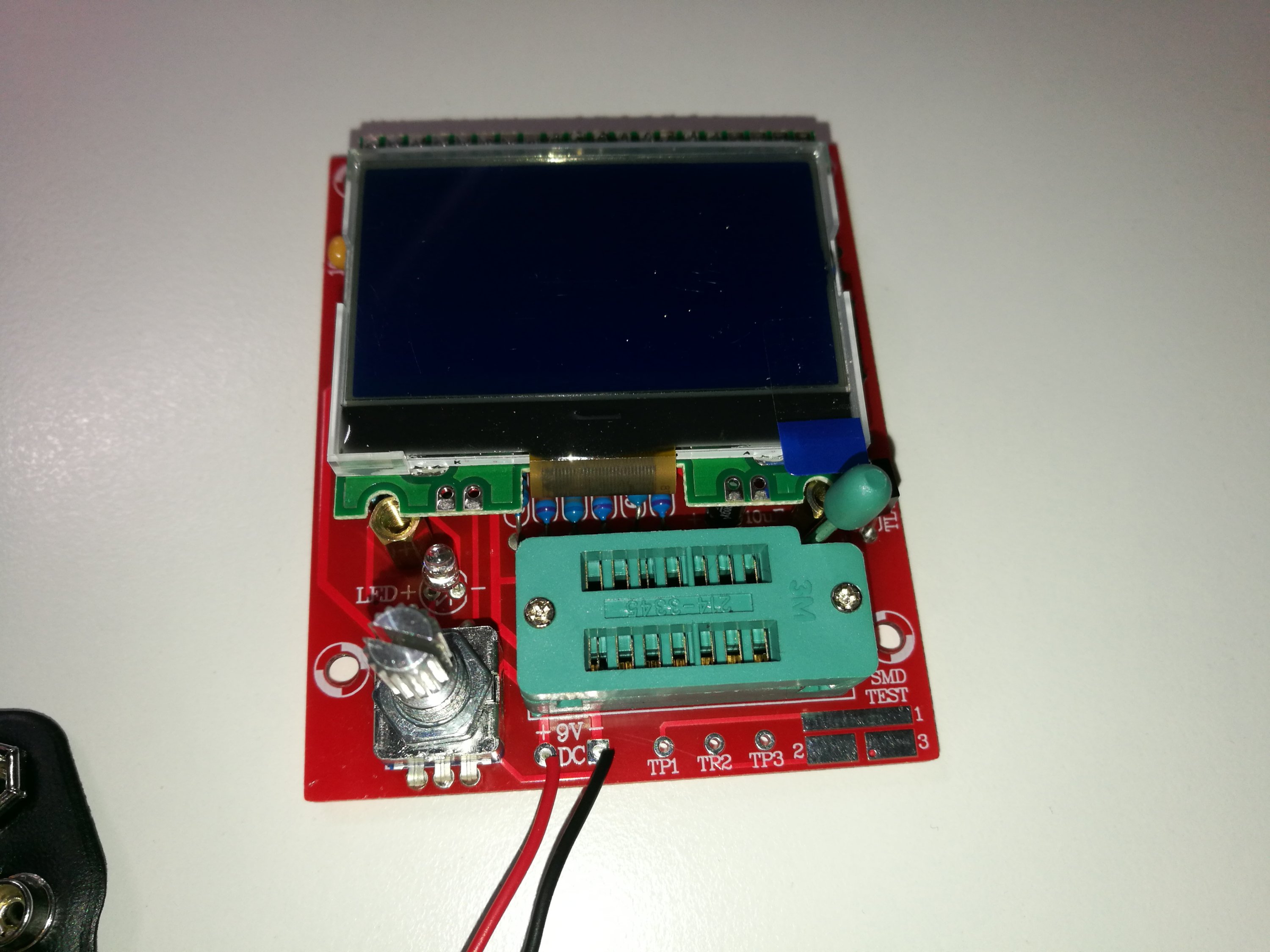 Automatic detection of PNP and NPN bipolar transistor, N, P-channel MOSFET, JFET field effect transistors, diodes, two diodes, thyristors, resistors, capacitors, inductors. The device s
upport two resistance measurements (so potentiometer can also be measured).
Each test takes about two seconds for normal components, but measuring large capacitance and high inductance measurements can take a longer time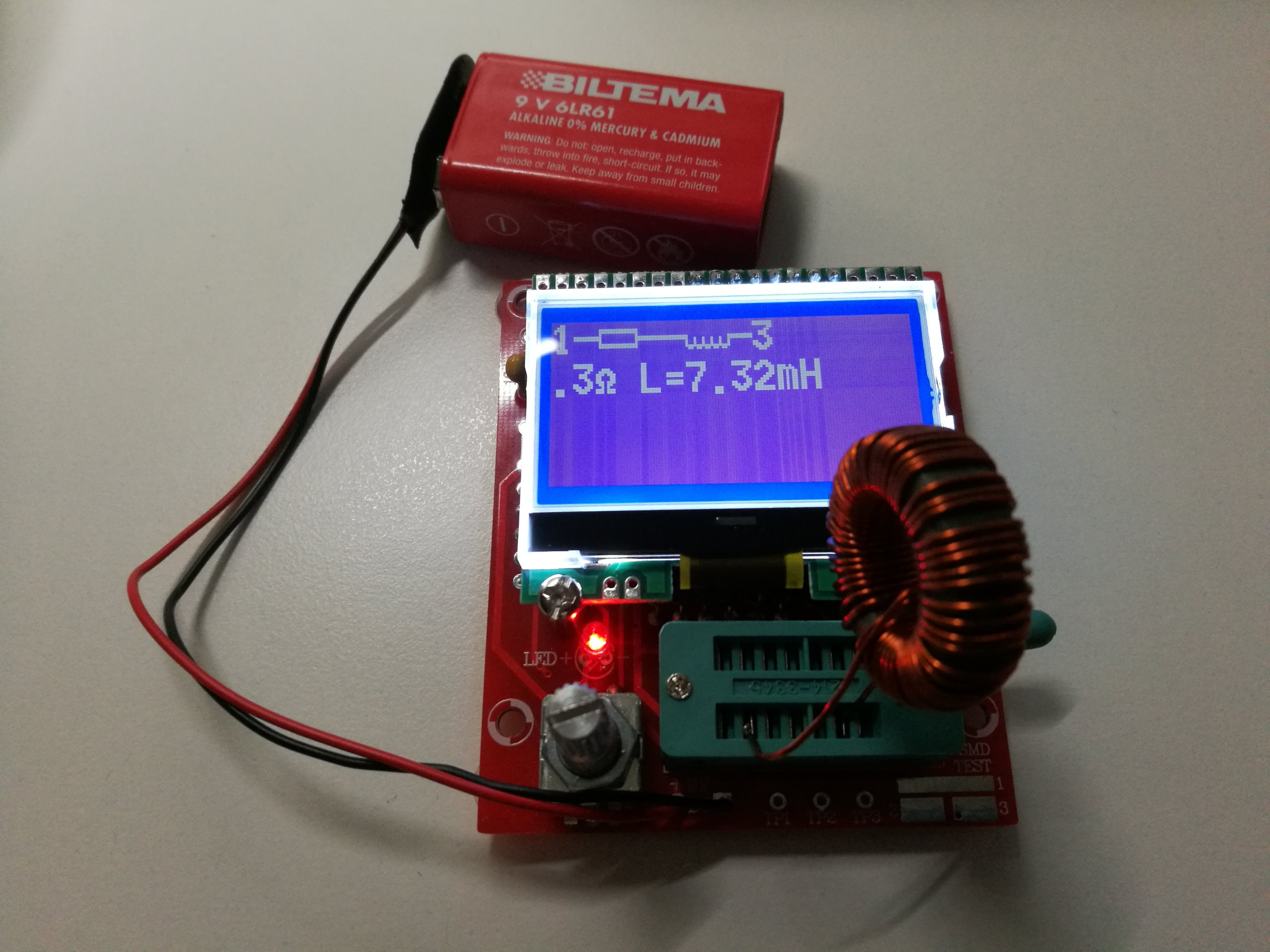 Inductance measurement range of 0.01MH-20H. If DC resistance of inductor is higher than 2100 ohms or inductance outside of that range, inductor is detected as being resistor. The highest resolution is 0.1 ohm resistance measurements, the highest measured value of 50 megaohms. The inductance measurement uses pulse measurement method. That pulse method works well with air core inductors and inductors with small core, but the measurement results can be quite much off if you try to measure inductance of large transformers (pretty different value compared to traditional RLC meter results, can can vary between measurements and way transformer wires are connected).
Capacitance measurement range is from 25pf to 100mF. If capacitance is higher than 90 nF, the device can also measure ESR (
a resolution of 0.01 ohms).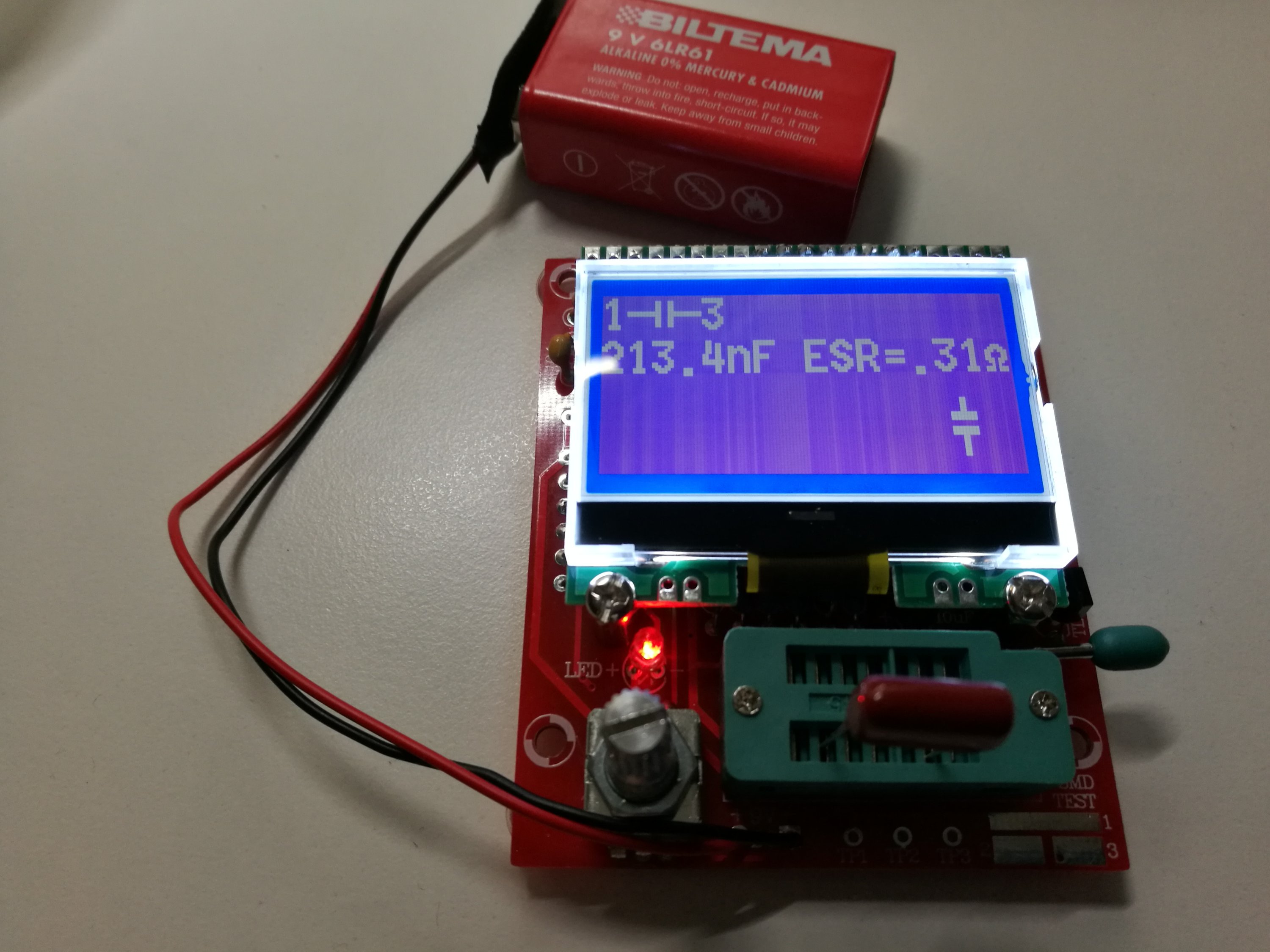 For semiconductors there isaAutomatic detection of PNP and NPN bipolar transistor, N, P-channel MOSFET, JFET field effect transistors, diodes, two diodes, thyristors. There is a
utomatic detection of current amplification factor (B) Pin Definitions and turn-on voltage of the transistor and the emitter junction (Uf).
This device can detect bipolar transistors and MOSFET
internal protection diode. For MOSFET it
can be measured threshold voltage and the gate capacitance of the MOSFET. For diodes and LEDs this can measure the voltage drop and internal capacitance.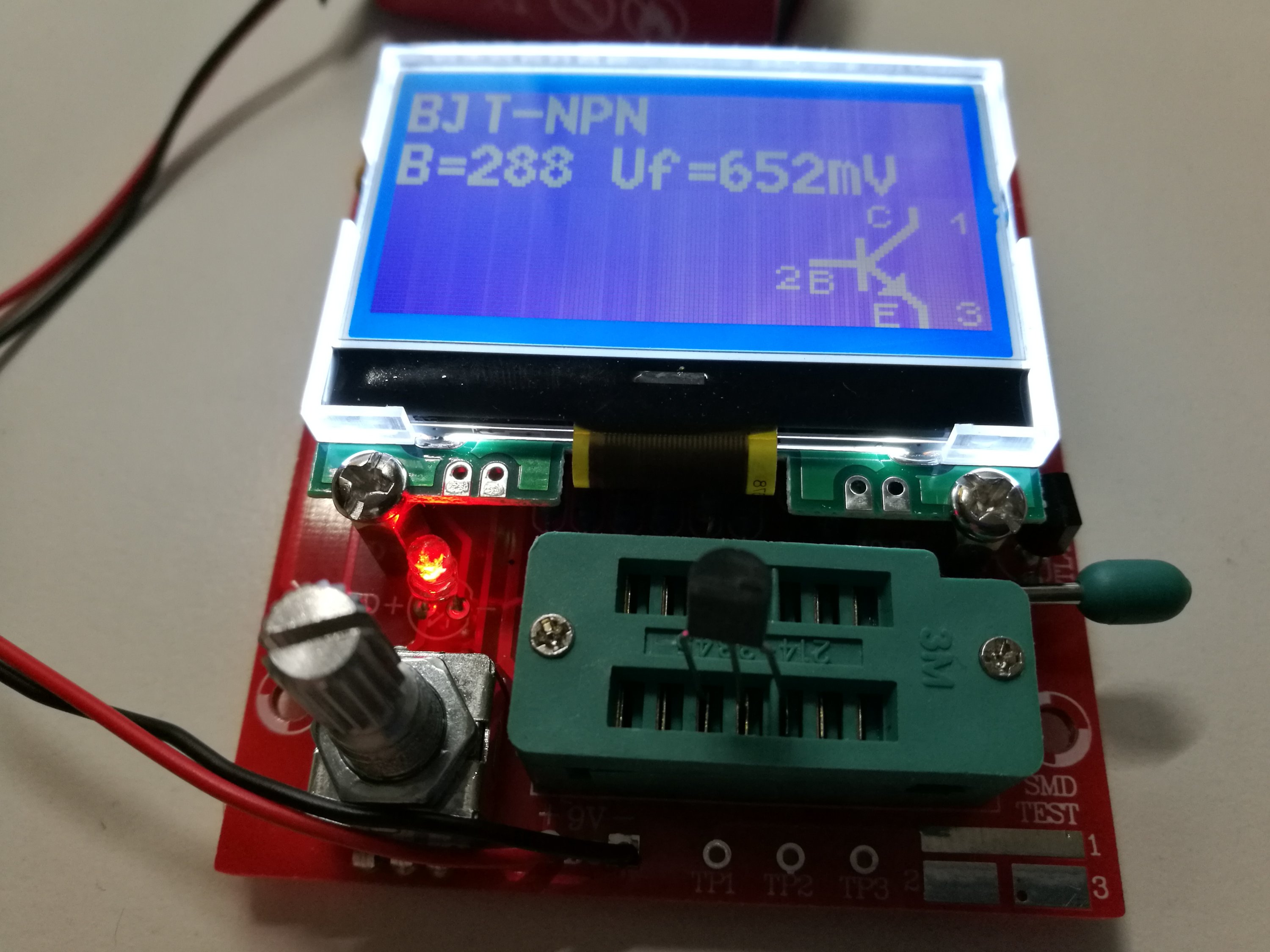 This
Original Hiland DIY M12864 Graphics Version LCR ESR PWM Transistor Tester Kit
is an excellent little jewel that can help you in parts measurement and detection.
It identifies very well each component and it gives a very approximate value of the their main specification, but there are some values that are not always accurate (Vloss, ESR, inductance). It
works quite well and for the price point.