Last week when I visited Arrow IoT summit I saw Bluetooth location services in use.  Two booth on the even showed Bluetooth positioning in two compartments. Quuppa Oy showed their own Bluetooth-based indoor positioning technology, which is used in many applications. With its unique Angle-of-Arrival (AoA) method and positioning algorithms, the system enables real-time tracking of Bluetooth® Low Energy (BLE) Tags and devices, with accuracy down to a few centimeters. They had some products on their booth to view.
Silicon Labs booth was more interesting for two reasons: they had an live demo and an old friends on the booth. Silicon Labs had a demonstration of fresh Bluetooth 5.1 standard positioning technology connected a DMX-512-controlled light. That allowed the light beam to follow a person carrying a small Bluetooth beacon circuit board. I have earlier written on Bluetooth 5.1 location technology at Bluetooth Enhances Support for Location Services with New Direction Finding Feature posting. This technology allows determining the location of Bluetooth beacon up to around 10 cm accuracy or even better.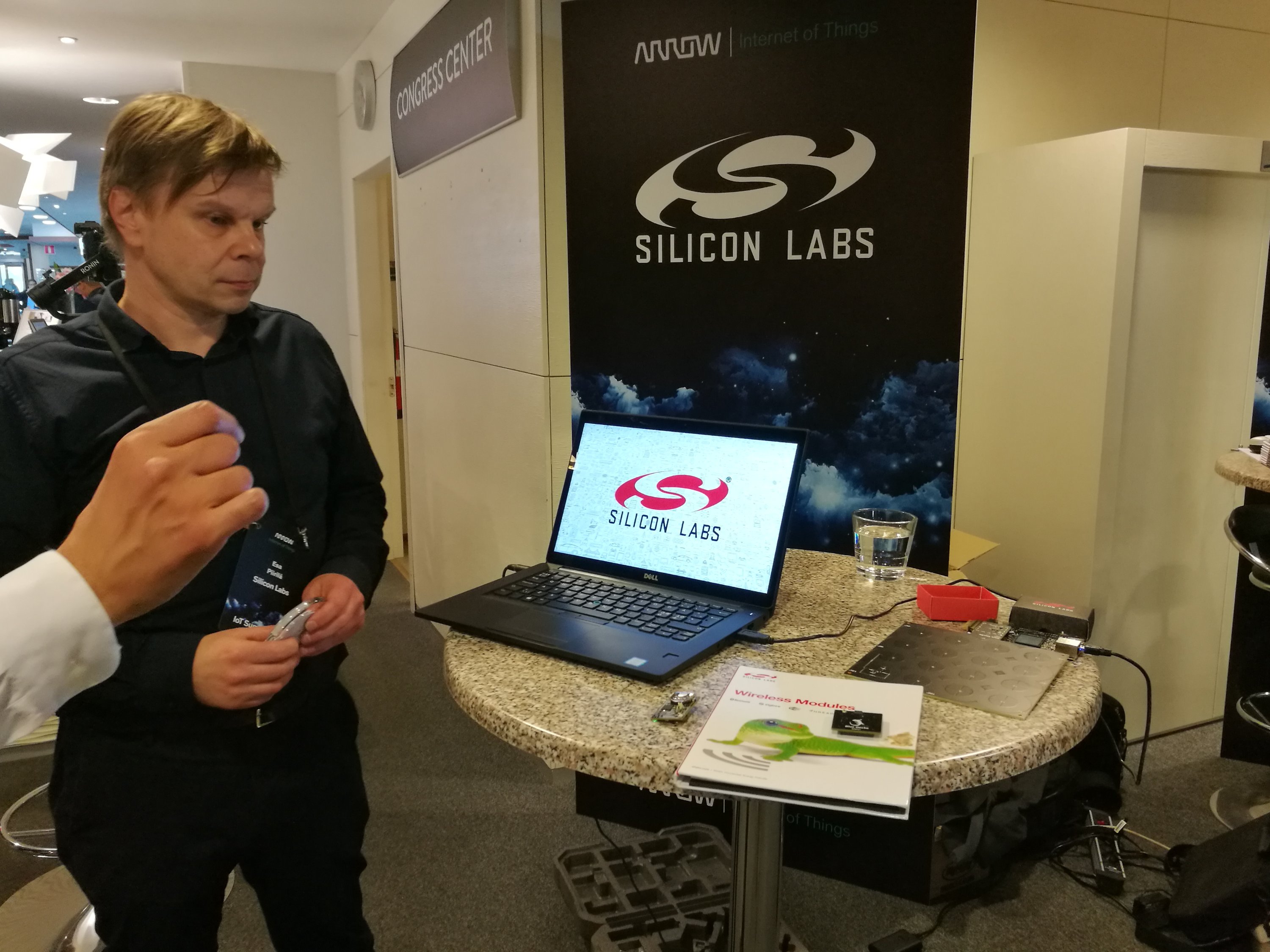 This video shot by me with smart phone shows how Bluetooth 5.1 locationing work with hardware from Silicon Labs. Esa Piirilä demonstrates how well Bluetooth beacon location is detection works and location information is used to control DMX-512 controlled moving light.
Both a simple Bluetooth beacon and a fresh base station demo system using multiple PCB antennas were based on Silicon Labs chips. Silicon Labs has information on their chips used at https://www.silabs.com/products/wireless/learning-center/bluetooth/bluetooth-direction-finding.
Here is picture of the location system Bluetooth 5.1 base station (early demonstration unit, commercial units expected in one year or so) and the DMX-512 controller light.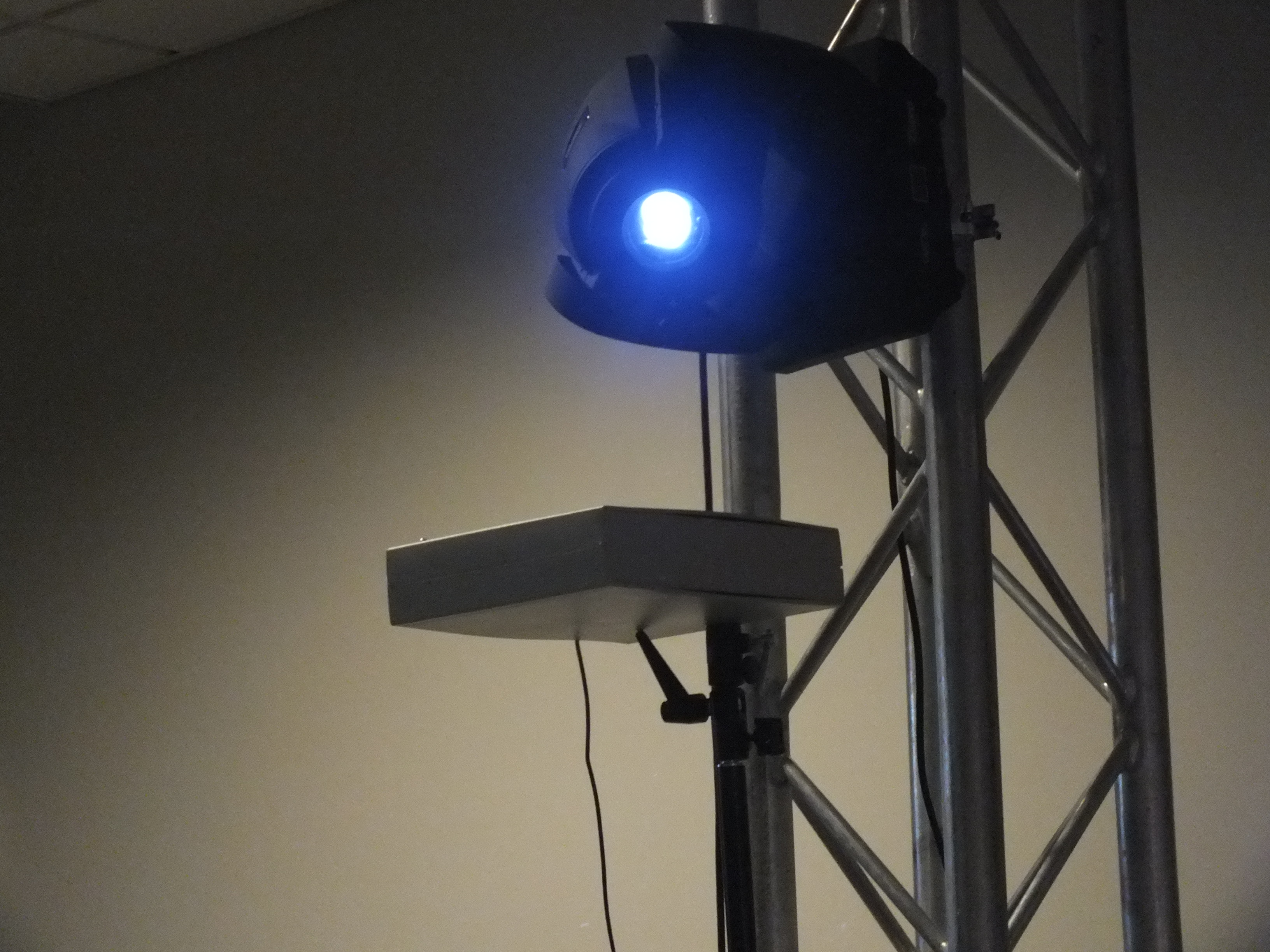 Here is view on electronics that is inside the Bluetooth location base station. This seems to use 16 circuit board antenna array (4×4 grid). With those antennas and some smart signal processing the base station can determine the direction and distance of the Bluetooth beacon. This base station circuit board has USB and Ethernet connectors for communication with computer.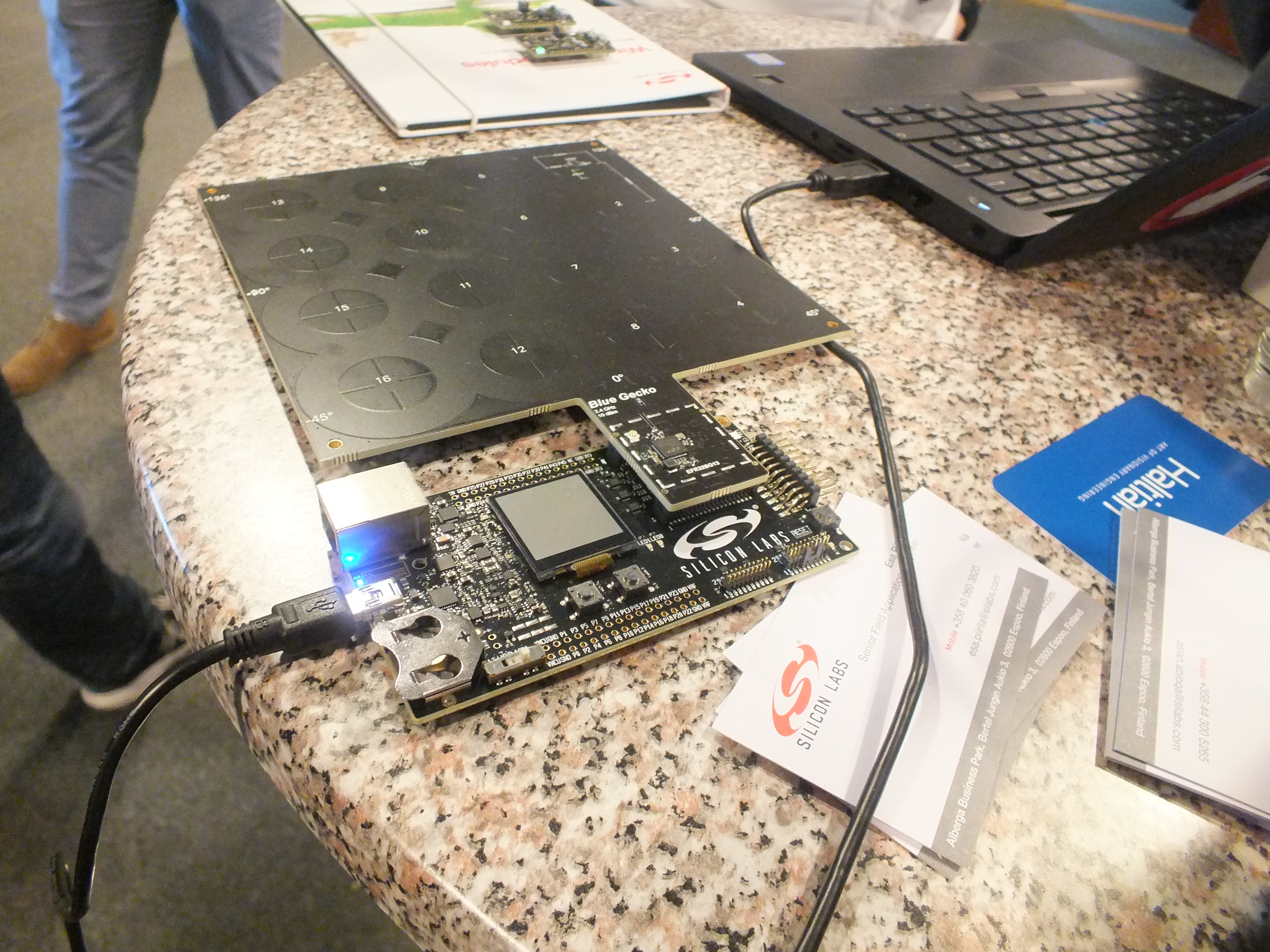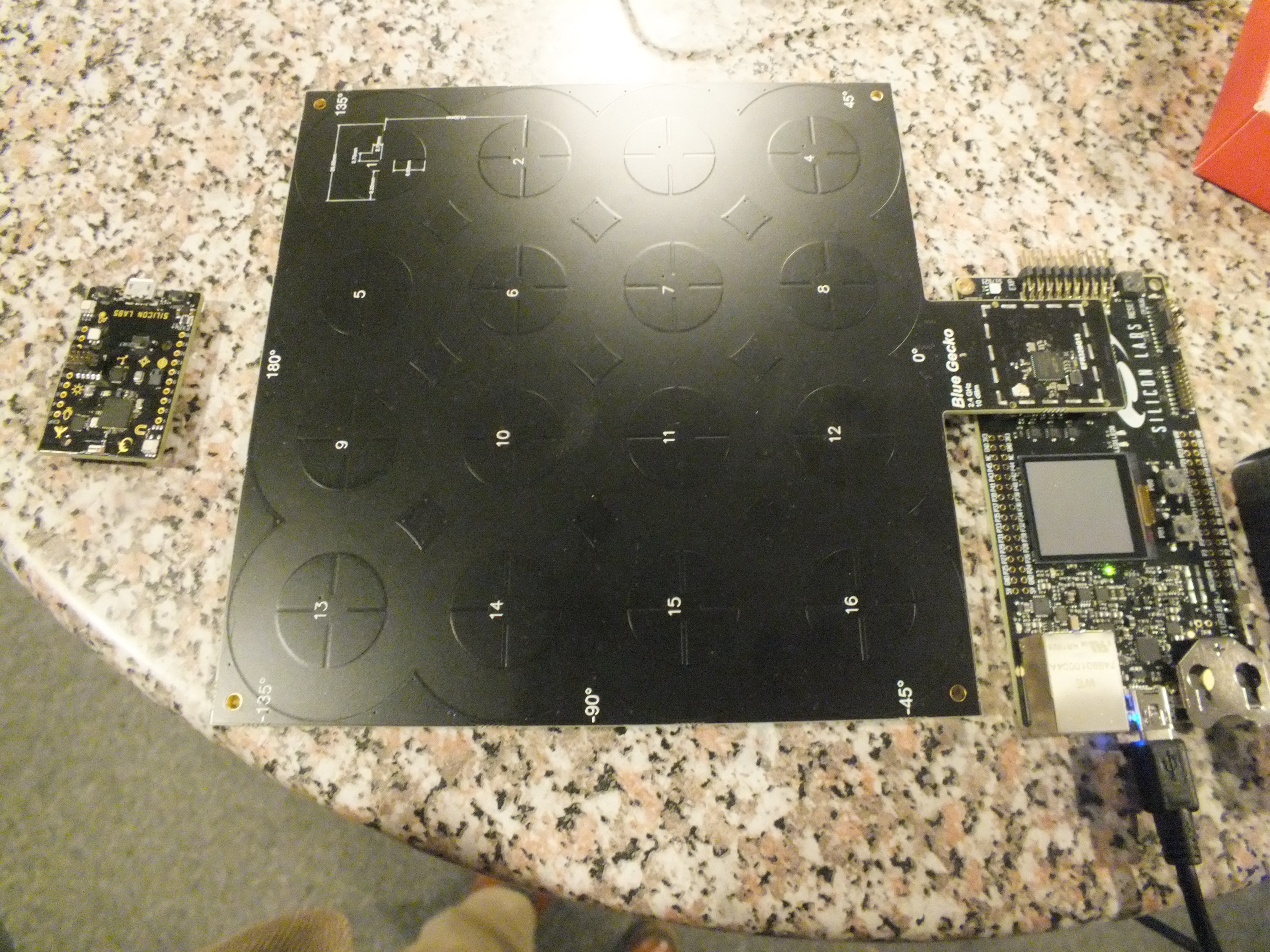 Here is the Bluetooth beacon that sends the signal being located.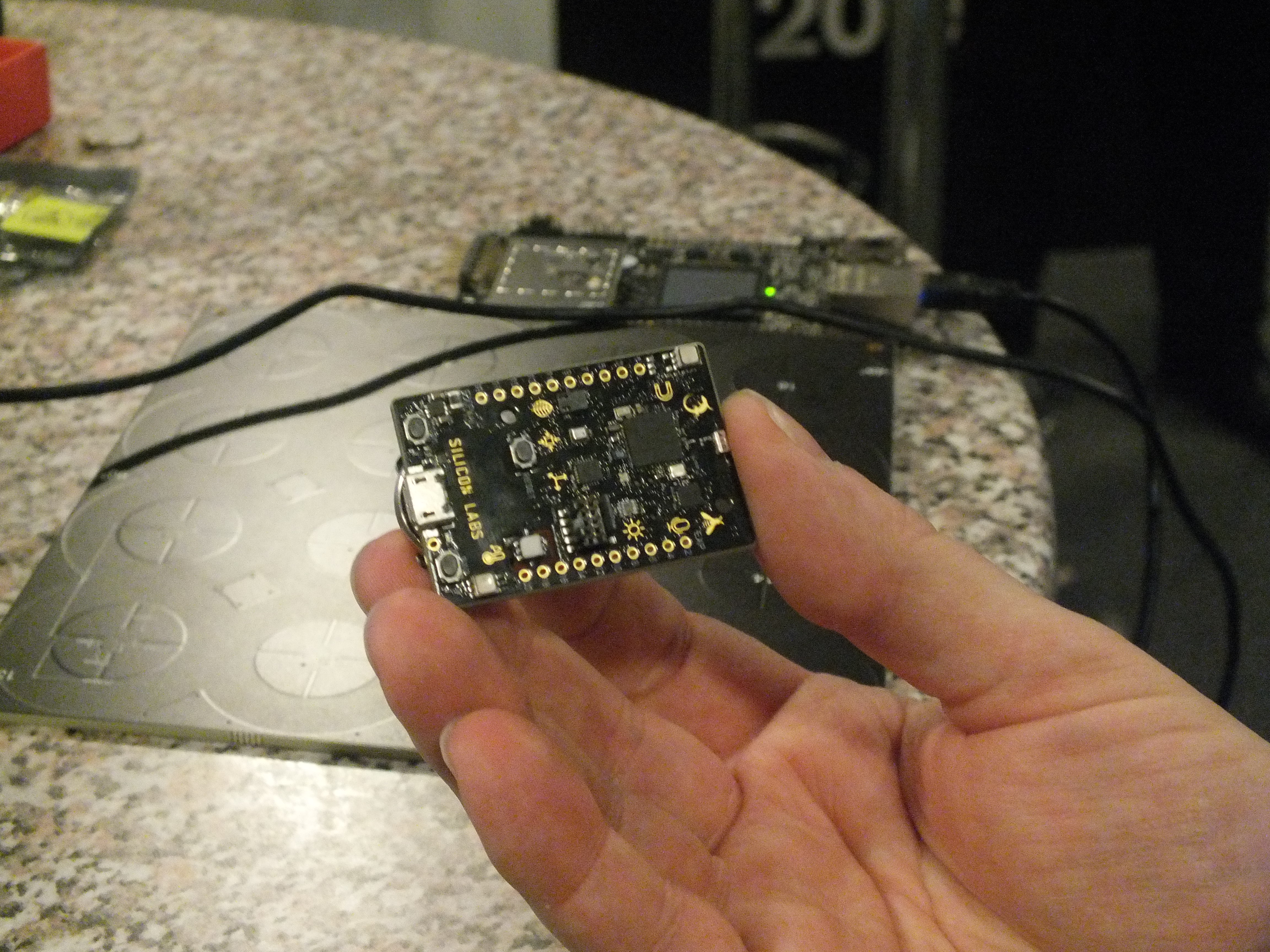 When discussing on the topic with people around, I heard that with Bluetooth 5.1 you can do the location with typical location arrangement where you have many location base stations (much more expensive than beacon) scattered around area (like Quuppa does the location on their system that was released initially few years ago). But Bluetooth 5.1 allows you to do location system also in reverse direction so that you could have many cheap Bluetooth beacons scattered around the are at known locations, and then have only few moving Bluetooth 5.1 location base stations (for example mounted to moving heavy machinery).