In search for some cheap and useful RF test hardware, I came by Geekcreit® Spectrum Analyzer USB LTDZ_35-4400M_Spectrum Signal Source with Tracking Source Module RF Frequency Domain Analysis Tool at sale price of aroundy $30/EURO30. It looked to have quite promising specifications:
Attribute: RF frequency domain analysis tool
Interface: usb
Power supply: usb
Standby current: ≤100mA
Sweep current: ≤350mA
Sweep bandwidth: 33mHz—4400mHz
Turn on the tracking source output bandwidth 33mhz—3000mhz
Sweep step: ≥ 33~68.75mHz/125Hz, 68.75~137.5mHz/250Hz, 137.5~275mHz/500Hz, 275~550mHz/1kHz
550~1100mHz/2kHz, 1100~2200mHz/4kHz, 2200~4400mHz/8kHz,
Sweep speed: ≥800 points / sec
Sweep dynamic log ratio: > 50dB
Point frequency or sweep output power: ≈0 dBm
Input detection: ≤10dbm
Background: ≈ -60dBm
Software used on the computer side: NWT4.11.09 version
Computer operating system: winxp, win7, win10
Provide software (English language) and instructions for use.
If you need the with shell version: please buy Product ID: 1494125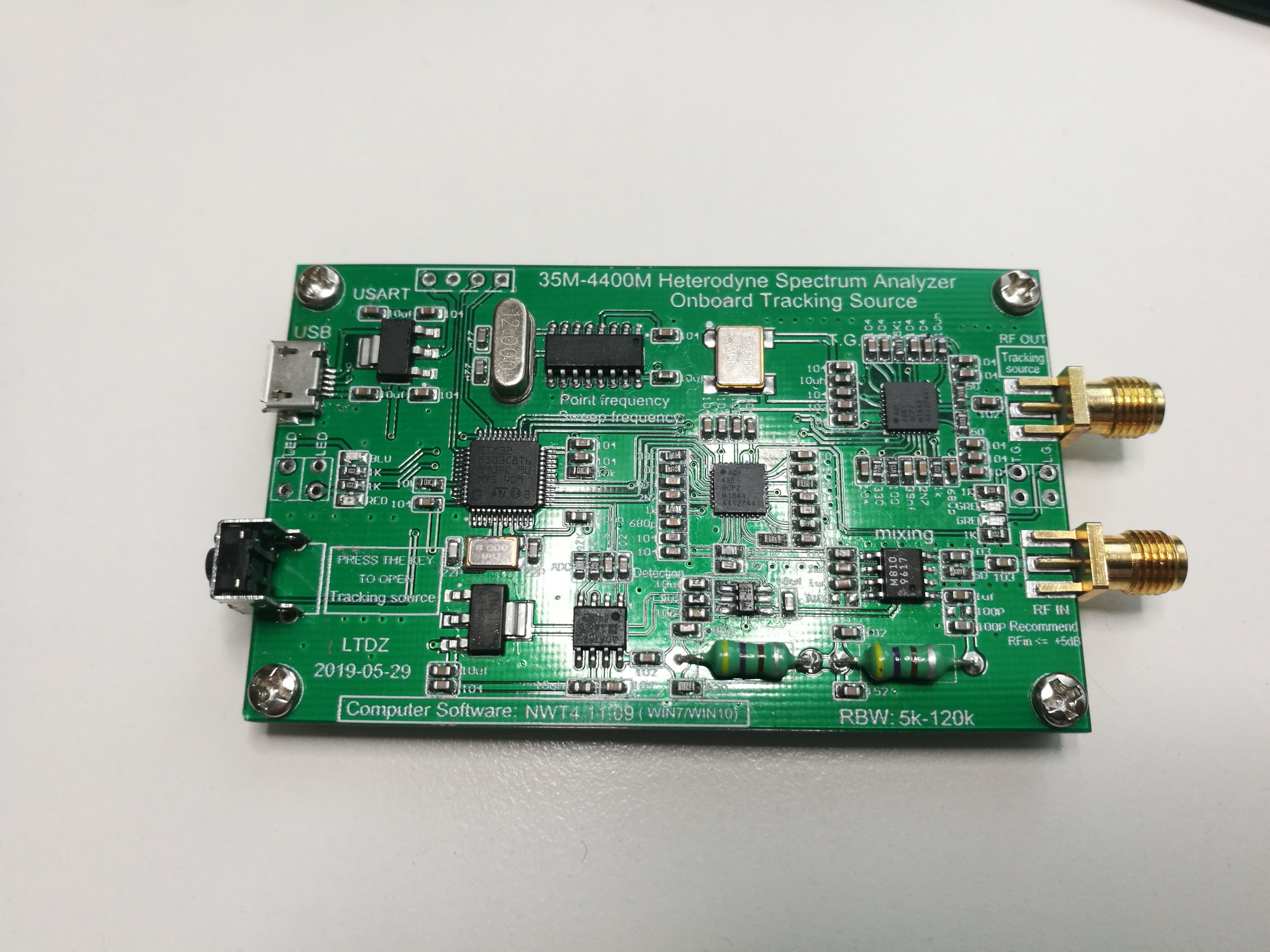 Ready for use: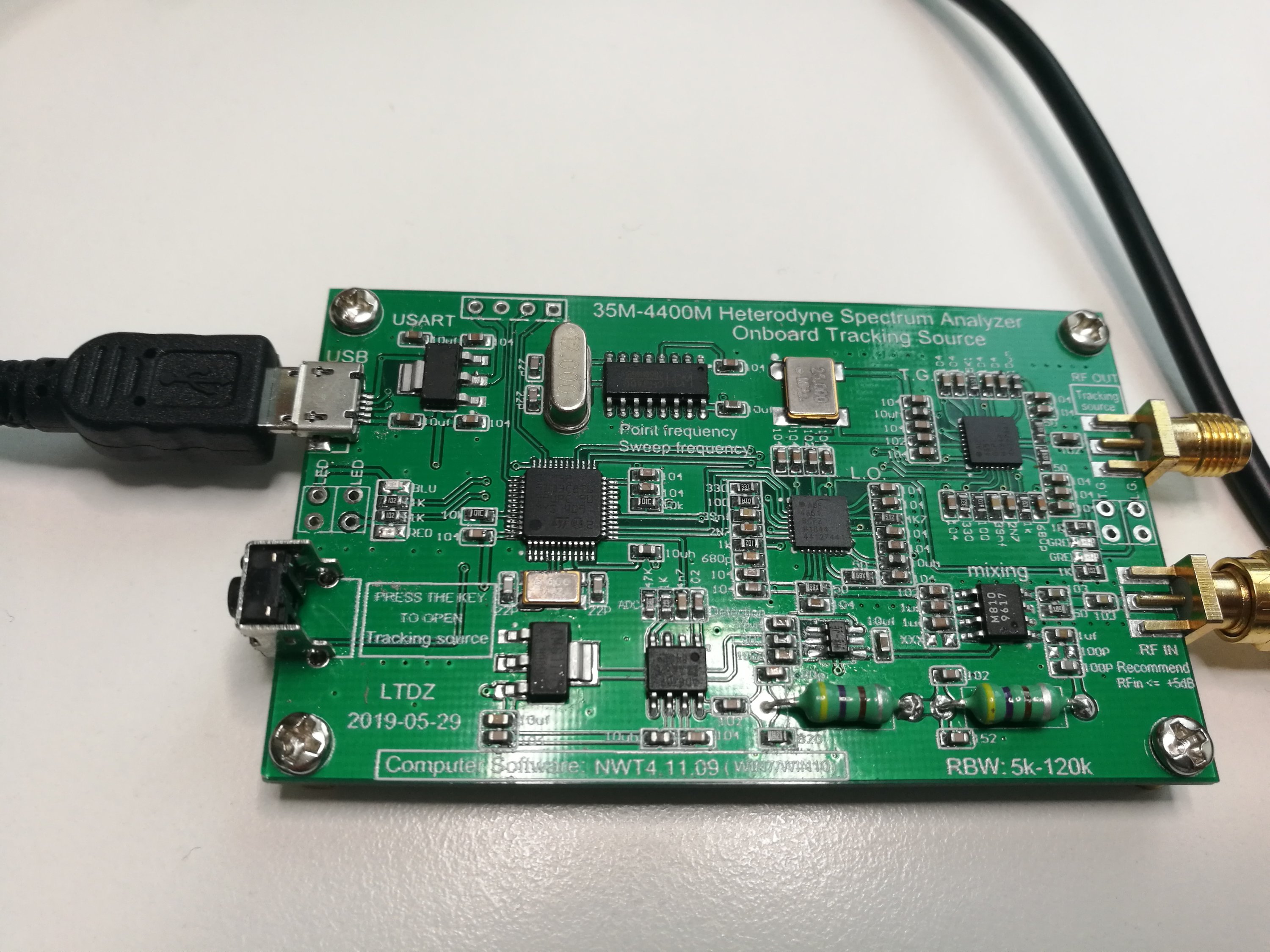 Did not come with case so I needed to build something of my own (there are more expensive versions with case):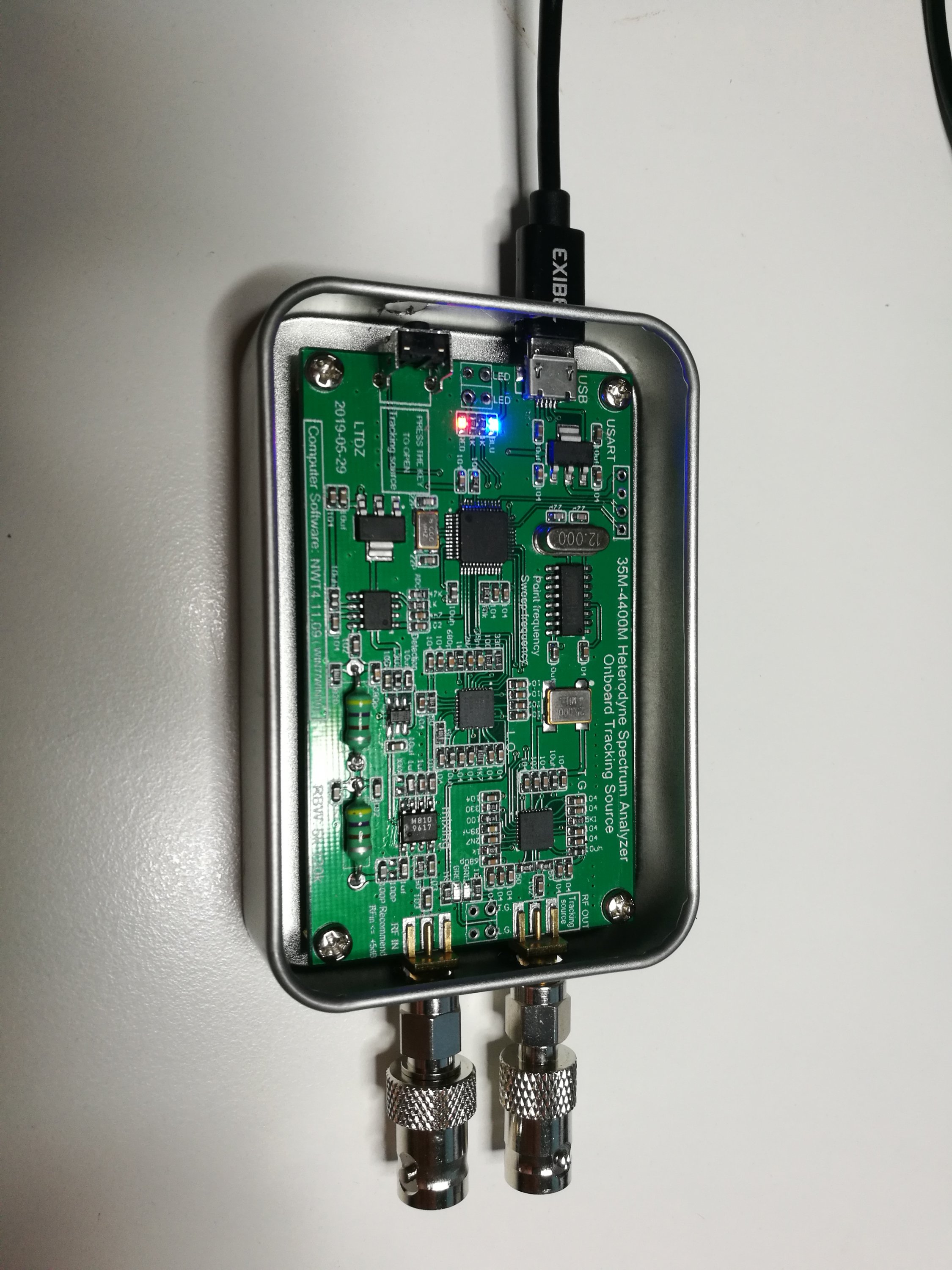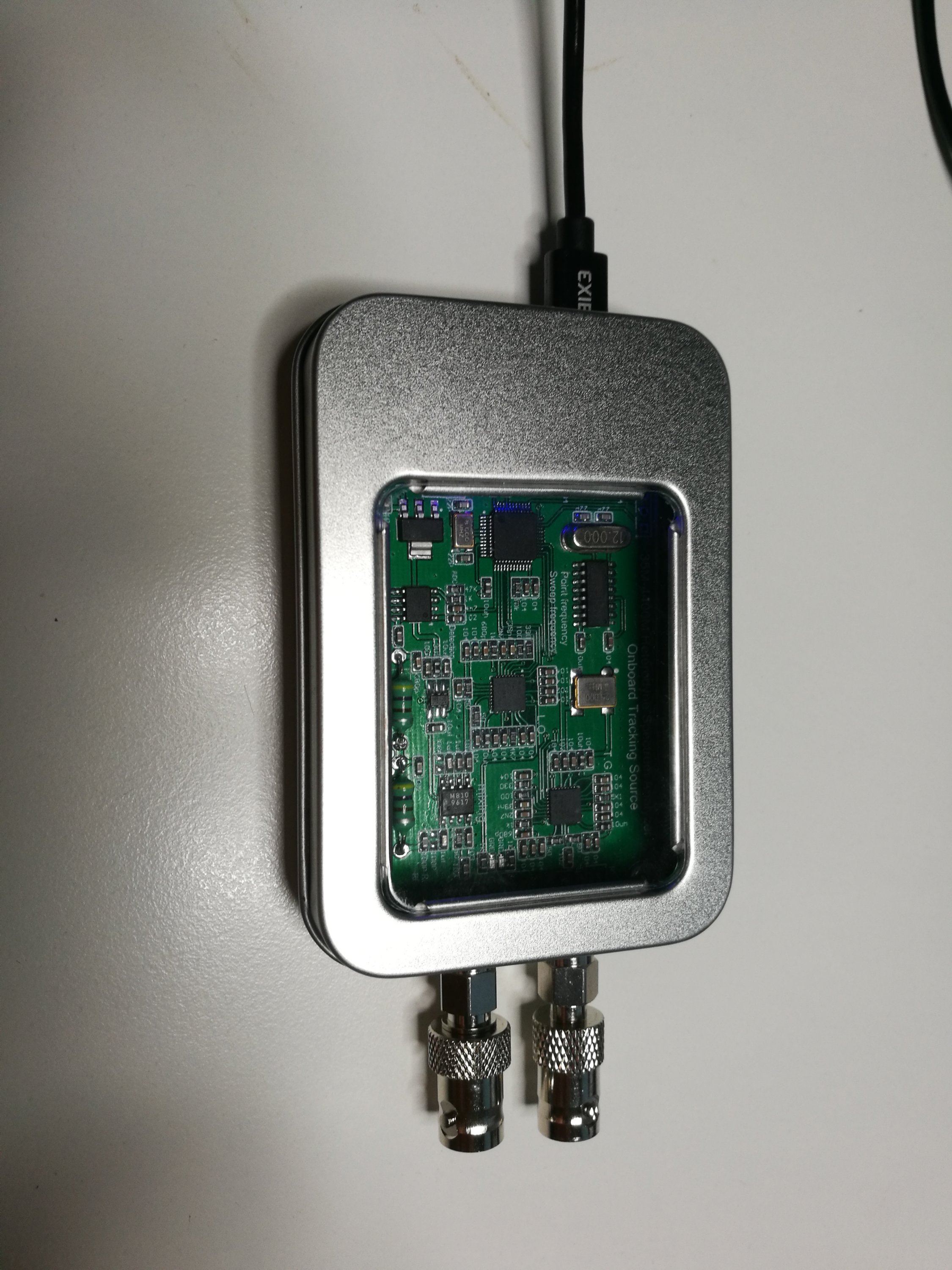 Software
The device connects to PC and needs of course software and documentation. The product page gave link to RAR file to download. I downloaded the RAR file mentioned but my 7zip tells that the RAR file is damaged. After some searching it seems that I was not the only one having this problem.  Thus lead me to look for alternative download location, like http://myosuploads3.banggood.com/products/20190421/20190421205201LTDZ35-4400M.rar that did not work better.
Finally I decided to test to update my 7zip to new version (2019-02-21). That helped a to solve the issue.  Not the RAR file opened nicely. I got the document and software files.

Here the winnwt_4_09.exe is the software installation package for Windows computers. It installed nicely to Windows 10 computer.
The CH341ER.EXE are the drivers for the USB to serial converter chip that the card uses. I did not need to install that, because I know my computer already had driver for this quite commonly used USB to serial chip. The device shows as COM port when connected to USB, in my case COM3
There are also two pdf files that have instructions for use (Chinese/English) and circuit diagram of the card.
The software is LinNWT / WinNWT which supports many similar devices. It supports many functions.
The main function is a frequency sweeping using tracking generator. It can be used to measure the frequency response of RF circuits. To use tracking generator, the user needs to press once the button on the board to turn on tracking gnerator before measurements (one press is enough, after turning on it stays on for many measurements.
Here is the control window: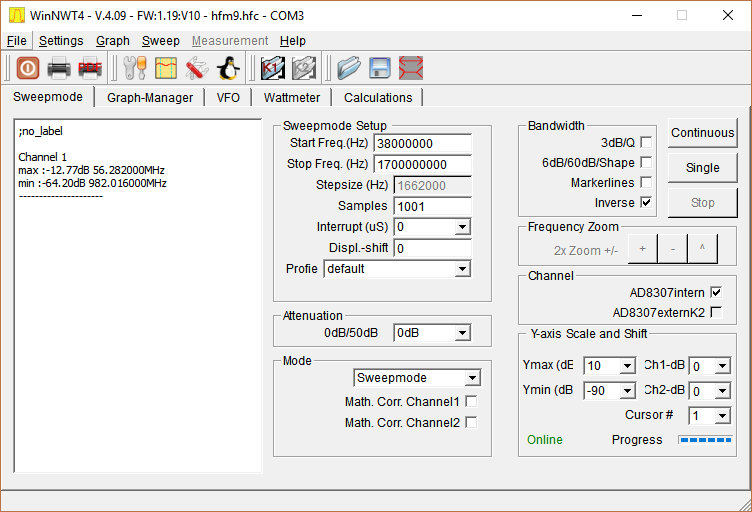 Hare is the measurement results window: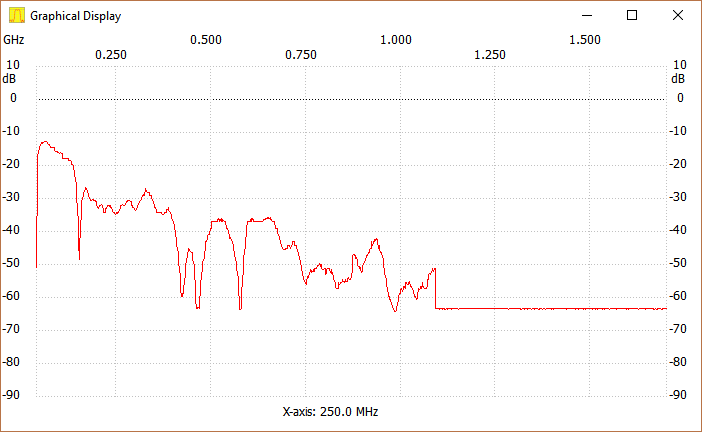 Other functionality is RF signal power measurement: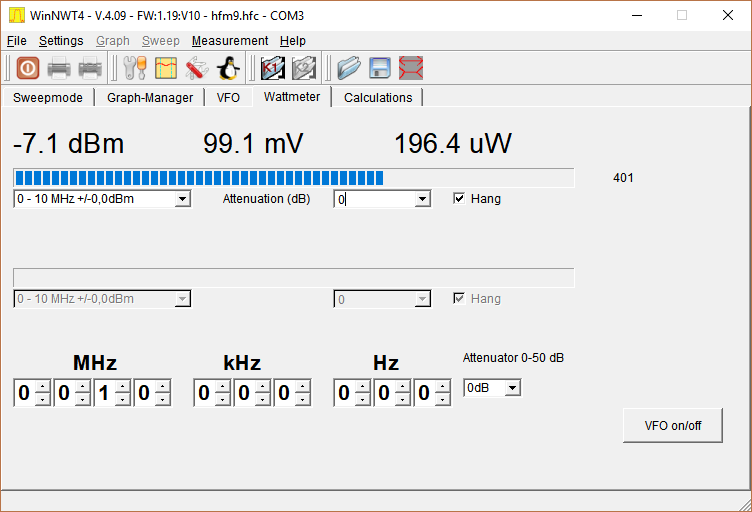 The tracking generator can also be used as RF signal source: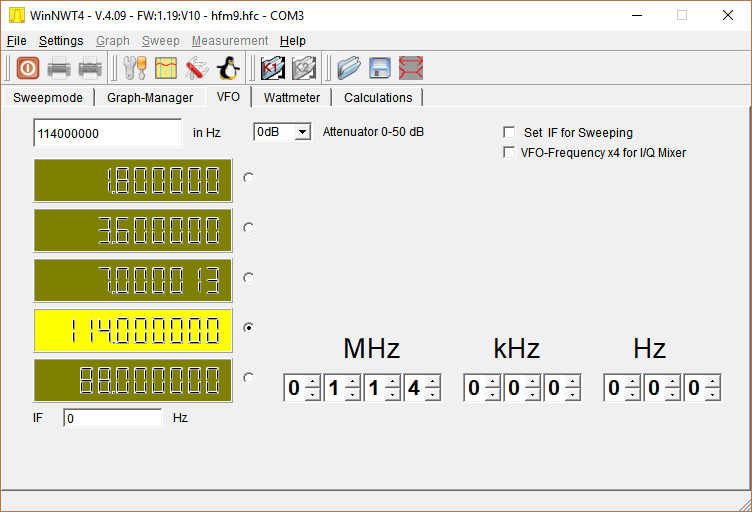 The software seemed to work OK.
https://www.banggood.com/Geekcreit-Spectrum-Analyzer-USB-LTDZ_35-4400M_Spectrum-Signal-Source-with-Tracking-Source-Module-RF-Frequency-Domain-Analysis-Tool-p-1450129.html?p=27131452996820140438
Alternative software sources
Because I has initially problems in getting the "official" software to work, I did some Google searches for alternative software or alternative download location. I found there some potential alternatives.
Page https://lzhomelab.blogspot.com/2015/02/recently-i-managed-to-buy-collect-and.html?view=magazine says to download the newest version of WinNWT4. The software should have been at http://www.dl4jal.eu/hfm9.htm but trying to download just gave "The requested file does not exist." Browsing http://www.dl4jal.eu/ did not help. It seems that software could not be found here anymore for some reason.
I also checked https://vma-satellite.blogspot.com/2016/12/vma-simple-spectrum-analyser-new.html. It looked interesting but download link did not work. Also page https://www.eevblog.com/forum/testgear/presenting-my-new-software-for-the-sma-spectrum-analyzer-138mhz-4-4ghz/ suggested "Download it from here http://www.filedropper.com/smasimplespectrumanalyzer-2016-08-30" but that file does not exist.
Page https://www.banggood.com/qa-answer-420788-1.html says try www.giga.co.za/Kit_Drivers/winnwt4_v4_11_09.zip and Before I tested those I got the original package to work.
Alternative software
At page https://www.banggood.in/qa-question-1450129-1.html one user says WINNWT5 appears to work. But sensitivity drops off above 446mhz to 0. That version should be available atwww.giga.co.za/Kit_Drivers/WinNWT5_v5_0_3_1730_setup.zip. I have not tested that.
Finally I found this page http://alloza.eu/david/WordPress3/?page_id=478.Page is in French and software in English. Fortunately Google translate helps to read the page. Here are some selected translations from the page:
SNASharp is a (free) software, written in C # language intended to drive (at first) scalar analyzers compatible with NWT software from DL4JAL: http://www.dl4jal.eu/

The supported protocol is at the level of the one managed by the version 4.11.09 of 29/09/2013 of LinNWT and WinNWT. These versions are not currently released by DL4JAL.

There is no installation to perform, just take the zip archive and unzip it into a directory.

All software writes (calibration files, new scanners supported, preferences …) are performed in subdirectories in the installation directory. Deleting this directory will erase all data.

This software worked well for me in the initial testing.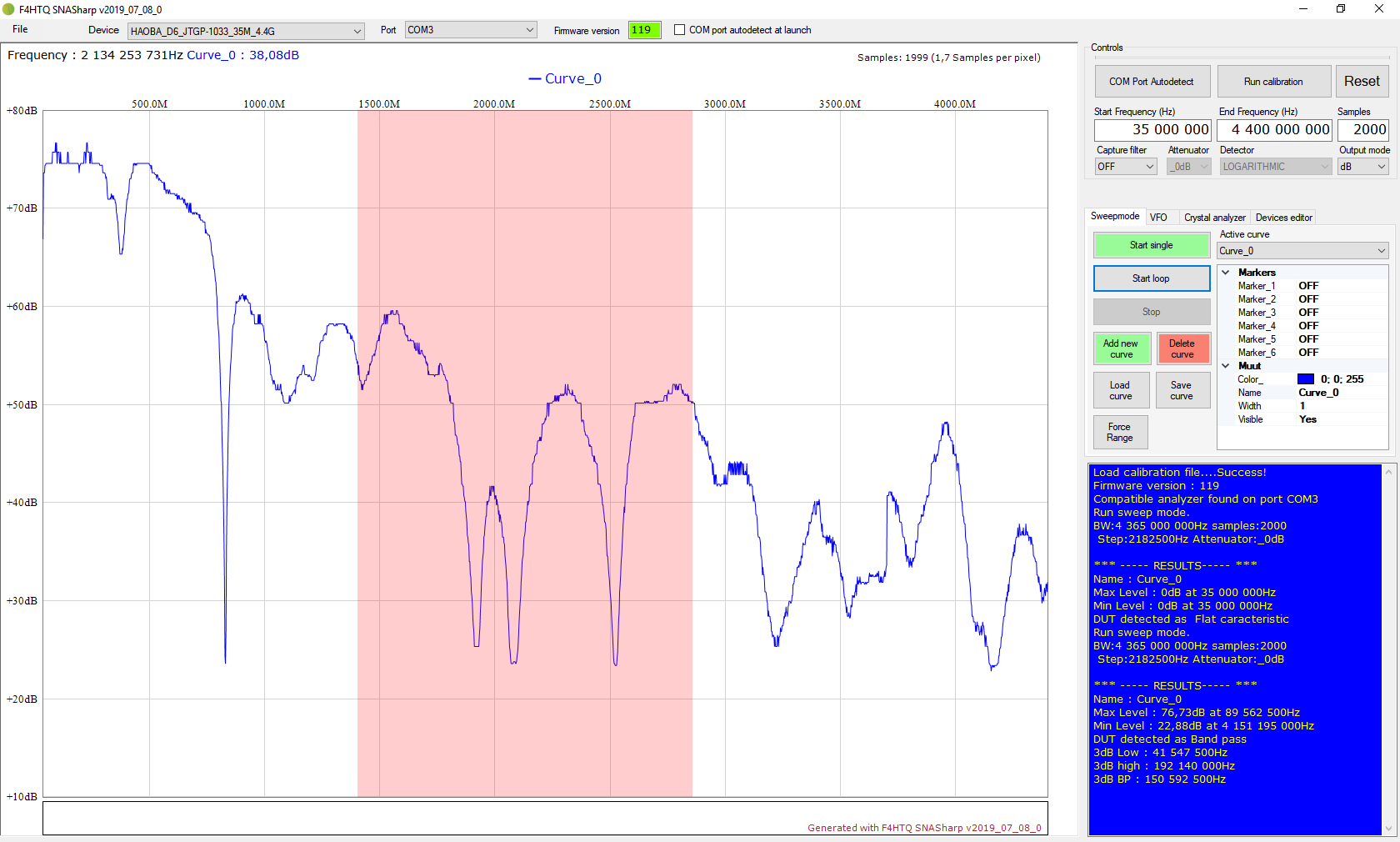 Documentation of hardware
In the original software+documentation package two pdf files that have instructions for use (Chinese/English) and circuit diagram of the card. Here is view to circuit diagram: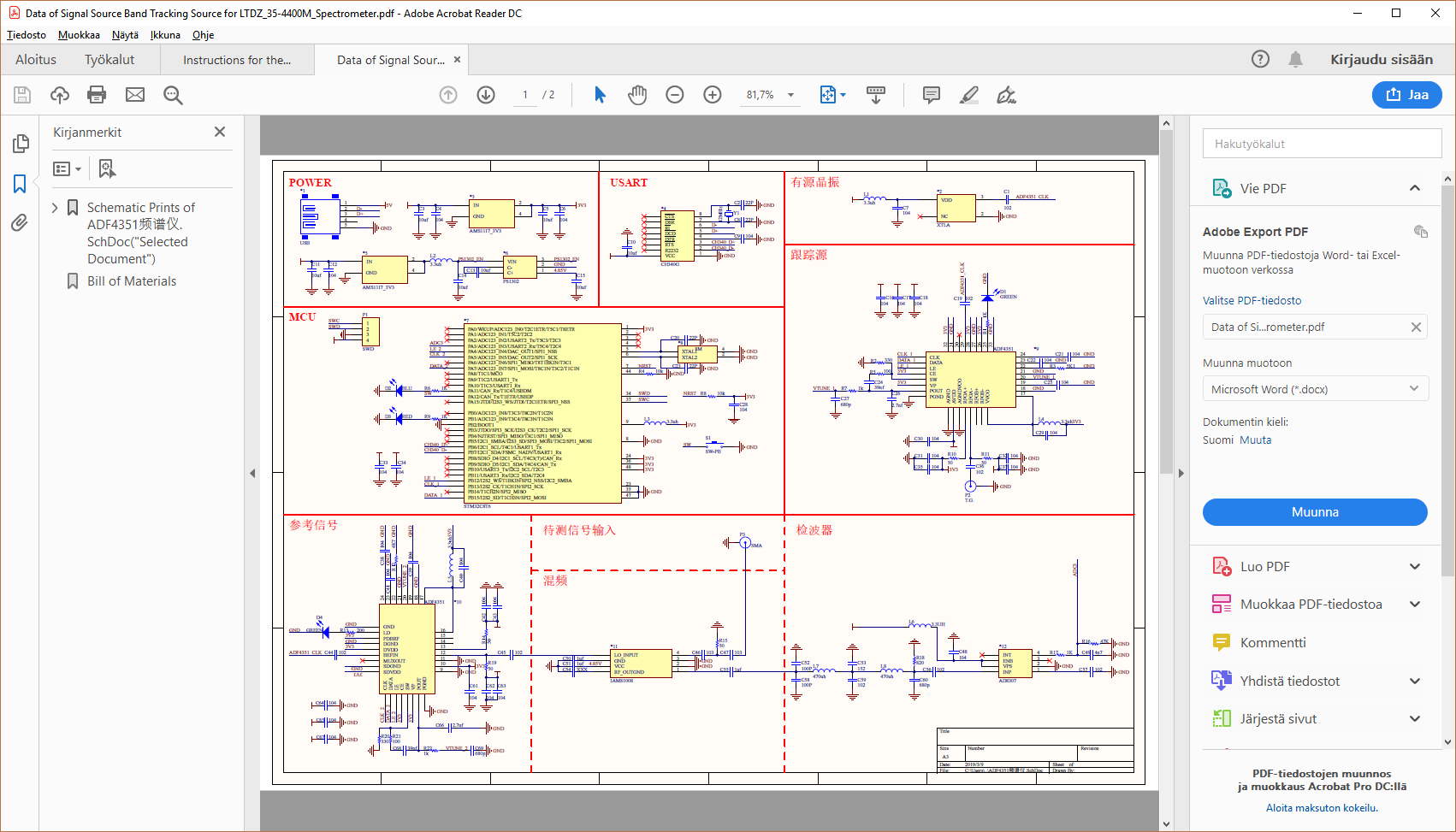 The web page https://vma-satellite.blogspot.com/2016/12/history-of-sma-simple-spectrum-analyser.html tells some story of the hardware:
The NWT devices where originally developed in Germany by amateur radio addicts. At one point this was featured in the magazine http://www.funkamateur.de. The software (WinNWT and LinNWT) was written DL4JAL for this magazine and is documented on his web-seite: http://www.dl4jal.eu. The initial devices were the FA-NWT, up to the NWT500, NWT7 and HFM9. They can offer a lot of extra functionality, like software controlled attenuator, etc.

The Chinese radio amateur BG7TBL cloned the design and used the ADF4350 chip for an increased frequency range. Other models followed up. They are all compatible with the original design, because they rely on the WinNWT/LinNWT software. Sadly, the Chinese selling the cloned hardware include the WinNWT/LinNWT without any authorisation, causing the author DL4JAL a lot of problems with people asking for help.
The more expensive NWT4000-1/2/3 models are either sold with or without a case. Bear in mind that you definitely need a case! If you don't have one, don't just buy the PCB version. It will not be immune to interferences and chances are that you will destroy it sooner or later, by touching some traces with a cable connector.
Page https://vma-satellite.blogspot.com/2016/12/vma-simple-spectrum-analyser-new.html points to manual at http://www.mediafire.com/file/jndwv7kmwzl77y6/VMA+Simple+Spectrum+Analyser+-+2016-12-27.pdf

Article links for more information:
https://vma-satellite.blogspot.com/2016/12/history-of-sma-simple-spectrum-analyser.html
https://lzhomelab.blogspot.com/2015/02/recently-i-managed-to-buy-collect-and.html?view=magazine
https://wiki.hackerspace-bremen.de/geraetschaften/amateurfunk/fa-nwt_plus
https://vma-satellite.blogspot.com/2016/12/vma-simple-spectrum-analyser-new.html
https://vma-satellite.blogspot.com/2016/06/138m-44g-usb-sma-signal-sourcesignal.html
https://vma-satellite.blogspot.com/2016/06/the-travellers-guide-to-spectrum.html
https://vma-satellite.blogspot.com/2016/06/sma-spectrum-analyzer-138mhz-44ghz.html
https://www.eevblog.com/forum/testgear/presenting-my-new-software-for-the-sma-spectrum-analyzer-138mhz-4-4ghz/