NanoVNA is very tiny handheld Vector Network Analyzer (VNA). A vector network analyzer (VNA) is an instrument that can be used to measure antenna or coax parameters such as SWR, impedance and loss. It can also be used to characterize and tune filters. It is a very useful tool to have if you are building and tuning home made antennas, filters or other RF circuits.
Earlier VNAs have been considered to be be very expensive instruments costing thousands or tens of thousands of dollars so they have only been available on advanced RF laboratories. But now the cost has come down. Nowadays there are cheaper alternatives available. Thank's to NanoVNA   the cost of owning a VNA has now been reduced to only US$50 thanks to the NanoVNA. The open source NanoVNA project by @edy555 and ttrftech has been around since 2016, but only recently have Chinese sellers begun mass producing the unit and selling them
NanoVNA is advertised as a standalone device with LCD display, portable device with battery. It can also controlled with PC software.The frequency range is from 50 kHz to 900 MHz.  I had earlier posted some videos on this device to http://www.epanorama.net/newepa/2019/08/11/nanovna-handheld-vector-network-analyzer-vna/
There are a ton of people selling them out of China. I ordered mine from my trusted source Banggood.com that sells one for around $65. Here is the device I received: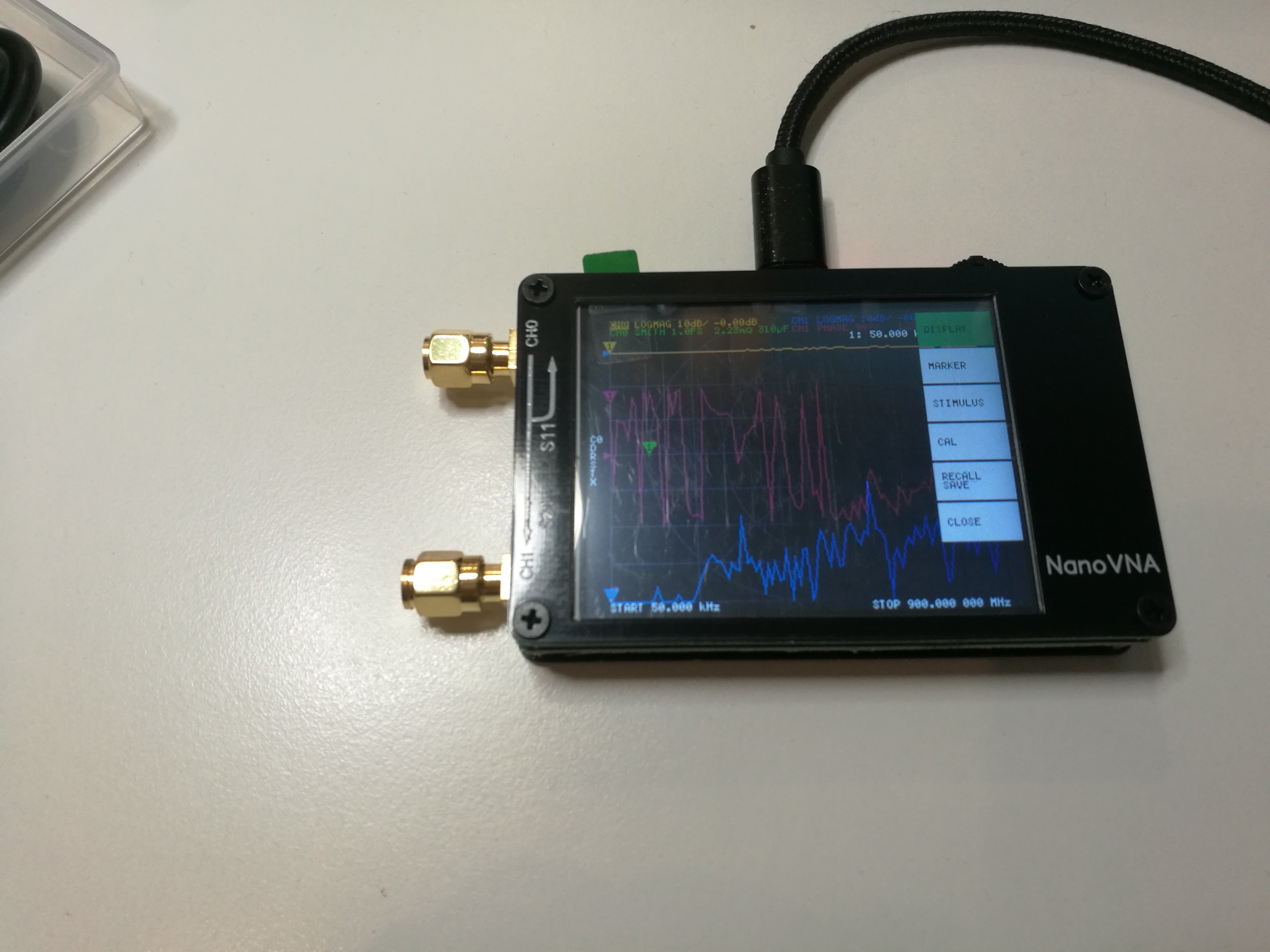 NanoVNA Vector Network Analyzer 50KHz – 900MHz Digital Display Touch Screen Shortwave MF HF VHF UHF Antenna Analyzer Standing Waveis a a DIY product with vector network measurement function. It includes a 2.8-inch touch screen, TX/RX measurement, can determine the complete S11 and S21 parameters (claimed that can be modified to measure S12 and S22). Here is the technical data from product page:
● RF output: -13dbm (maximum -9dbm)
● Measurement range: 70dB (50kHz-300MHz), 60dB (300M-600MHz), 50dB (600M-900MHz) enable extended firmware);
● Port SWR: < 1.1
● Display: 2.8 inch TFT (320 x240)
● USB interface: USB type-C communication mode: CDC (serial)
● Power: USB 5V 120mA, can use battery powered, maximum charging current 0.8A (battery Not included )
● Number of scanning points: 101 (fixed)
The firmware for the device is open source and available at https://github.com/ttrftech/NanoVNA. The device schematics are also available there.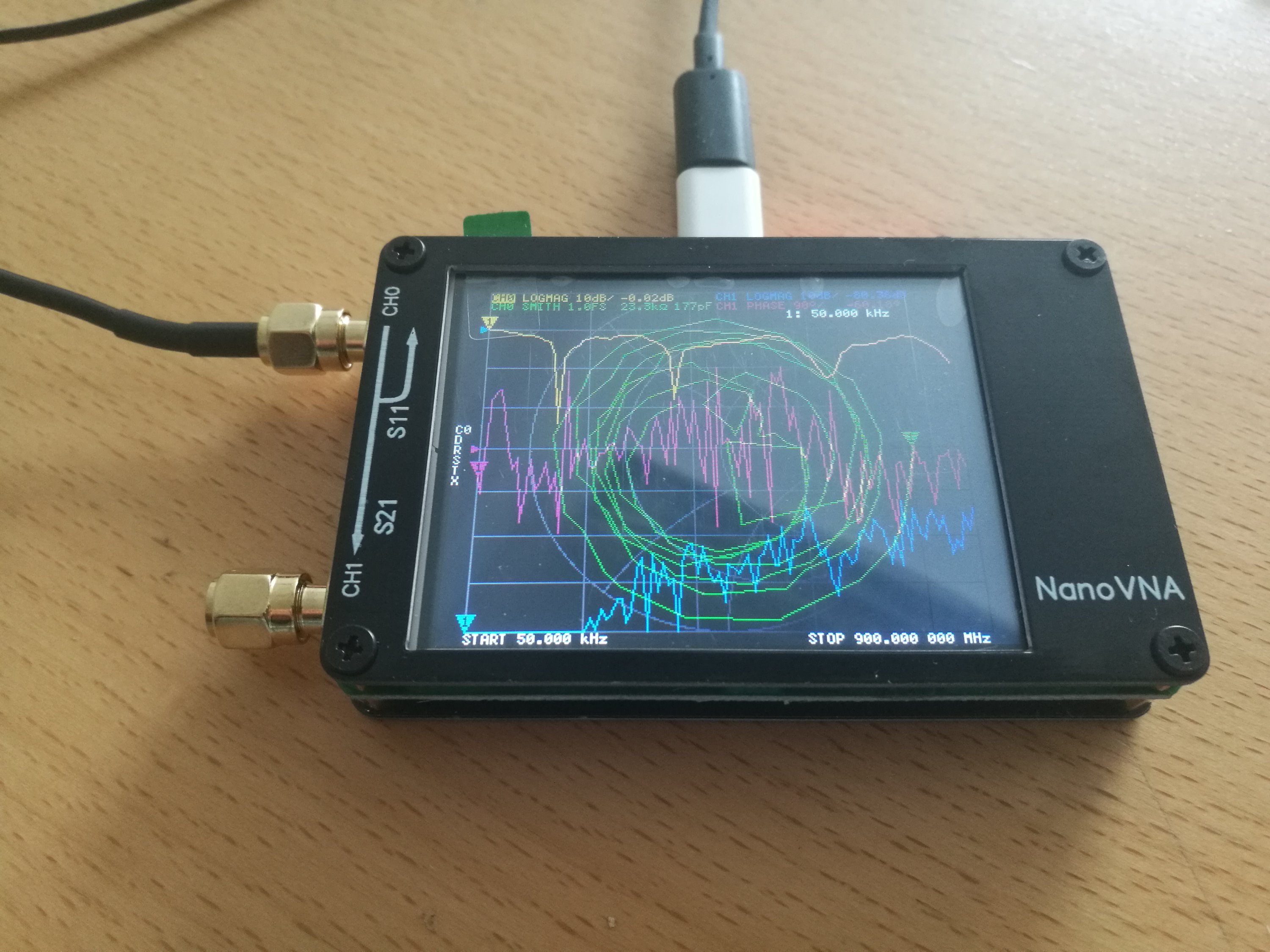 The product package included NanoVNA device, USB Type-C data cable, two 30mm SMA male to male cable and test connectors, one SMA female to female connector and calibration parts (SMA connector with open, short circuit and 50 ohms terminator). Everything came in a nice plastic box that is useful for storing and transporting all the parts.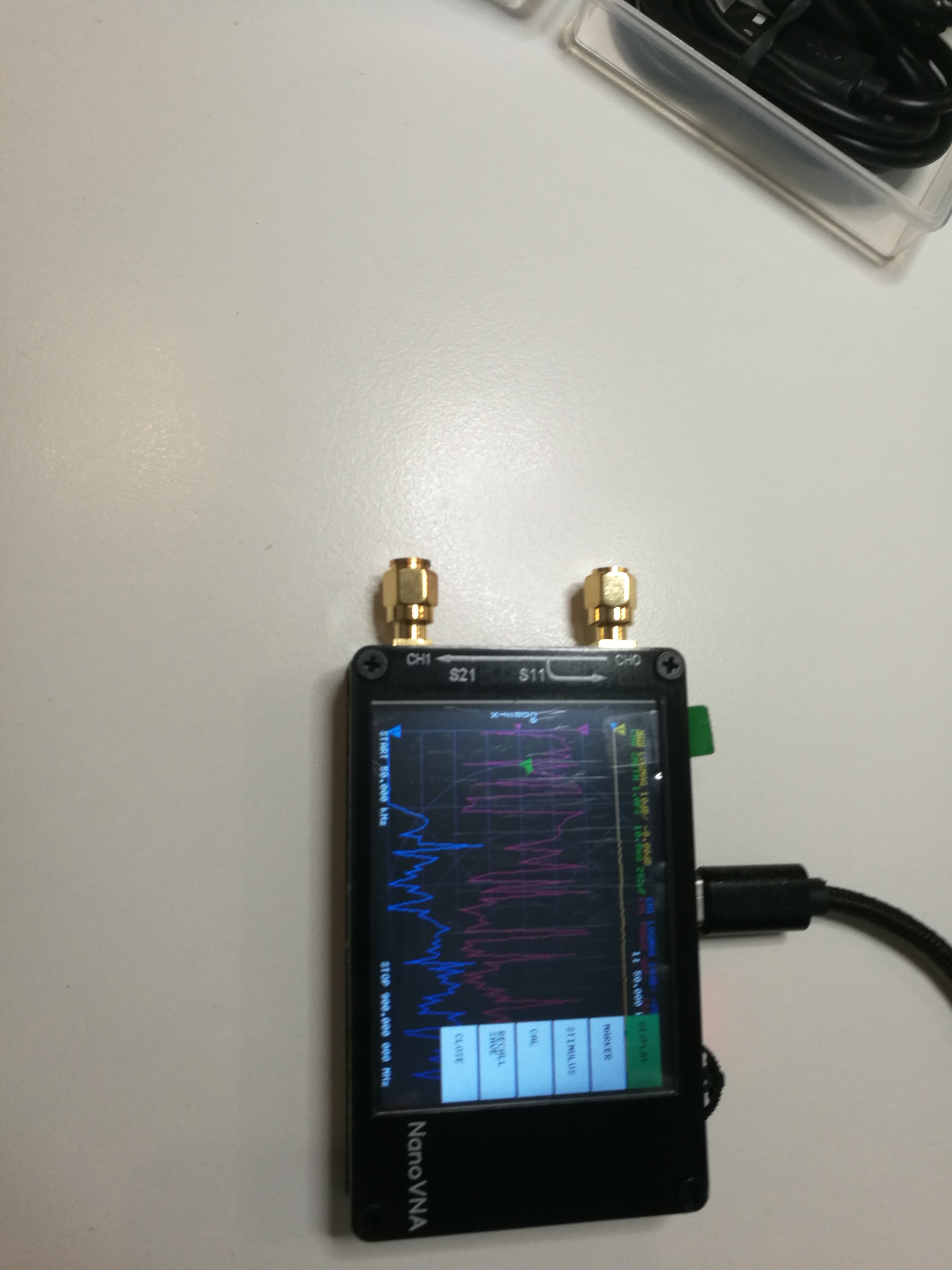 This is a DIY product that provides quite nice
vector network measurement capabilities in the size of a credit card
. It includes a 2.8-inch touch screen. The TX/RX method can measure the complete S11 and S21 parameters. The device promises to provide 70 dB dynamic range for frequencies from 50 kHz to  300 MHz. That's the basic frequency range the hardware was originally designed, but there are tricks that allow it to be extended.
The improved frequency algorithm can use the odd harmonic extension of si5351 to support the measurement frequency up to 900MHz but with somewhat lower dynamic range.The extended ranges 300M-600MHz band provides better than 60dB of dynamics, and the 600M-900M band is better than 50dB of dynamics.This is what the software supports, but tthere are
some hacks that claims can go even higher
above 1 GHz.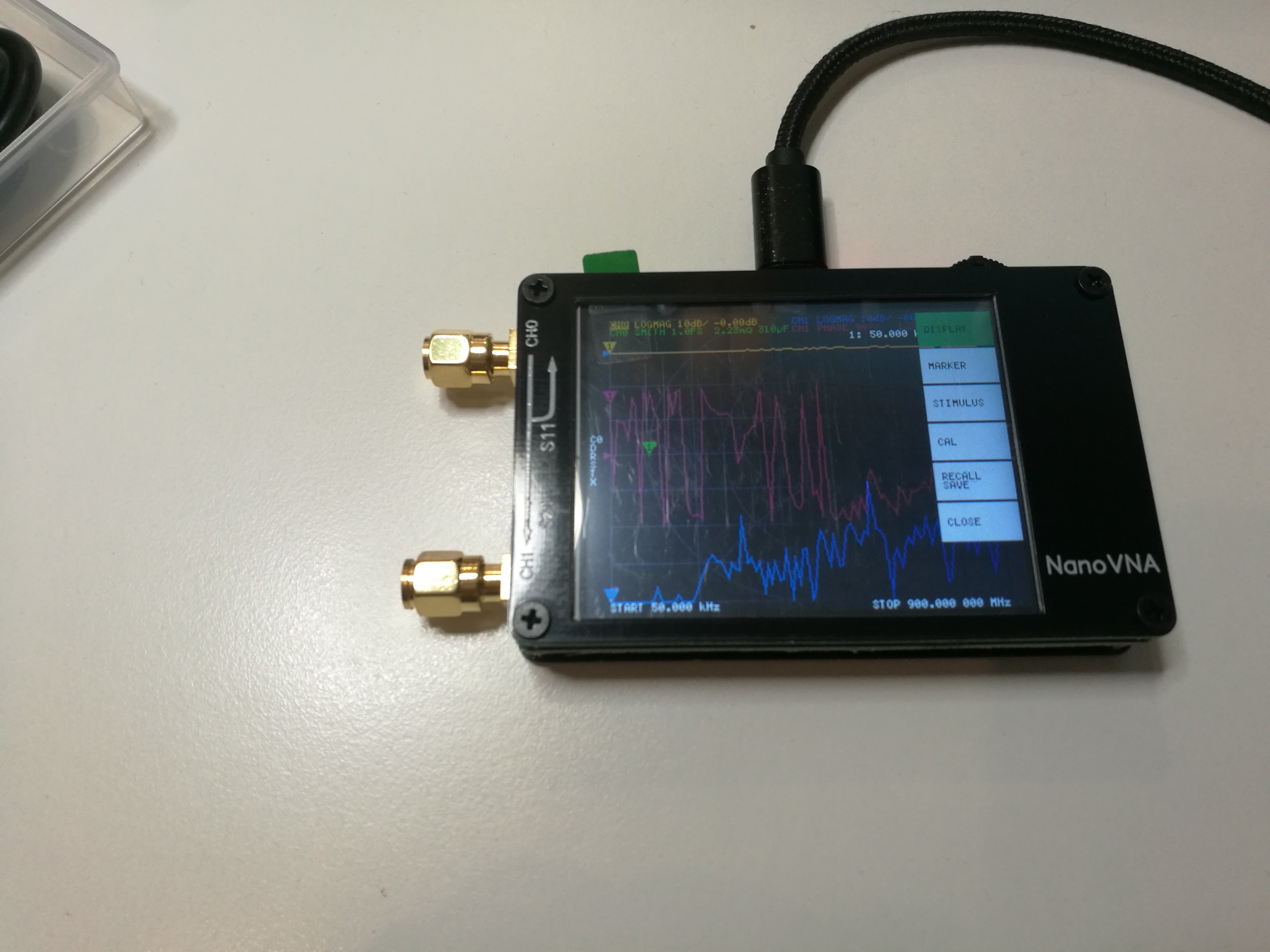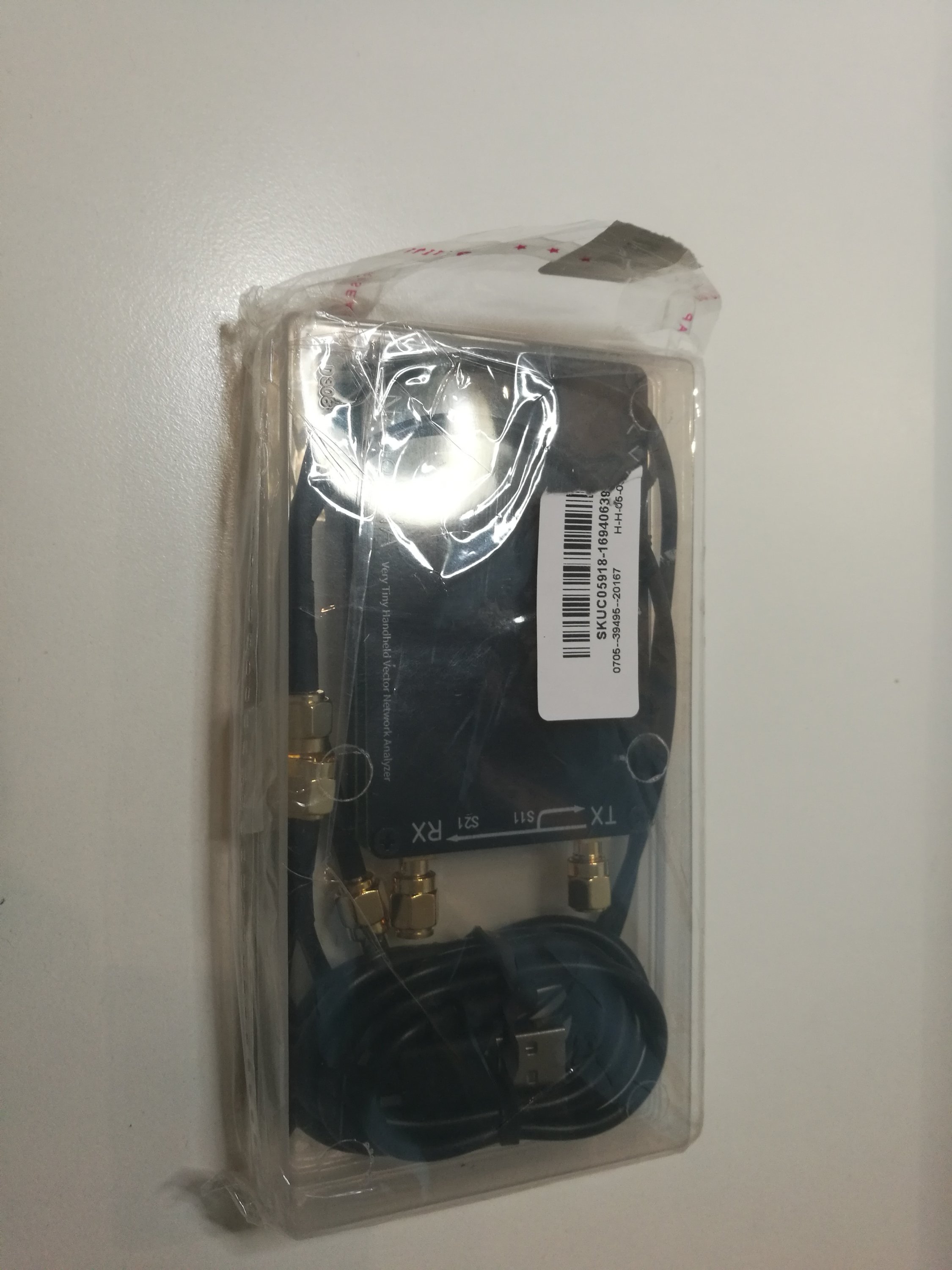 There is also PC software to work with this device. The device home page had software package that included NanoVNA v1.01 software did not work for me. After some Googling I found a discussion on the problem with this software on some countries (it was . vs , issue on number presentation) and the discussion recommended to download NanoVNA v1.03 from https://drive.google.com/drive/folders/1IZEtx2YdqchaTO8Aa9QbhQ8g_Pr5iNhr. NanoVNA v1.03 worked for me.
There were also some Python software code that I did not try this time.
Other issues:
The device supports rechargeable LiPo batteries, but the batteries are not included on the model I bought because of the safety of international transportation. I also liked to have the LiPo battery installed on my device. The device has battery charging circuitry, so installing suitable LiPo battery should make it very portable instrument (500mAh battery should give offline for 2 hours). Getting suitable LiPo battery and installing it is for another article.
Sometimes I feel that it would be nice if this device has a full case. I saw one 3D printable case for NanoVNA at Thingverse. I have downloaded the files, but I have not yet had access to suitable 3D printer to print it.
Related postings:
http://www.epanorama.net/newepa/2019/08/11/nanovna-handheld-vector-network-analyzer-vna/
https://www.rtl-sdr.com/reviews-of-the-nanovna-an-ultra-low-cost-50-vector-network-analyzer/
http://www.bbrc.info/articles/nanovna
https://groups.io/g/nanovna-users
https://brainwagon.org/2019/09/02/first-test-of-the-nano-vna-on-my-beacon-antenna/
https://github.com/ttrftech/NanoVNA
https://hexandflex.com/2019/08/31/getting-started-with-the-nanovna-part-1/
https://mtmotorstables.blogspot.com/2019/08/reviews-of-nanovna-ultra-low-cost-50.html
Getting the device:
If you are interested in getting one, use this link https://www.banggood.com/NanoVNA-Vector-Network-Analyzer-50KHz-900MHz-Digital-Display-Touch-Screen-Shortwave-MF-HF-VHF-UHF-Antenna-Analyzer-Standing-Wave-p-1471576.html?p=27131452996820140438 to get the version I got. It seems that the same web shop has also a slightly cheaper version (white color) in pre-order at https://www.banggood.com/NanoVNA-Vector-Network-Analyzer-50KHz-900MHz-Digital-LCD-Display-HF-VHF-UHF-Antenna-Analyzer-Standing-Wave-USB-POWER-p-1549963.html?p=27131452996820140438