Selling products whose design anyone can access, edit, or use on their own is pretty crazy. It's also good business according to 13 Open Source Hardware Companies Making $1 Million or More (video) article. The article mentions thirteen companies with million dollar revenues from open source hardware (OSHW).Companies providing OSHW allow all designs of the products to be shared through an open license, meaning that everyone is free to download, modify, and share all the schematics and associated software. You're encouraged to make, refine, or even sell your own versions of these products. If you are used to the business models of companies that take use of patent and copyright loving system, this business model might seem to strange. But it has proven to work just like open source software. Just five years ago, there were only a handful of OSHW projects actively supported. Now there are more than 200. It is estimated that the OSHW industry will reach a billion dollars by 2015. The article includes a presentation video and a slide set.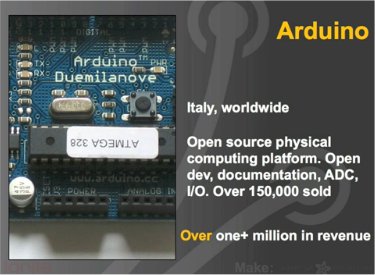 Image source: video on the article
I saw this article first mentioned at at 13 Open Source Hardware Companies Make $1+ Million post at Slashdot.