As the technology that powers smartphone cameras has steadily improved, the point-and-shoot has become an endangered species. The video capabilities of smartphones have greatly improved, and nowadays the best phones can shoot good quality high-definition video at good lighting conditions.
Still, smartphone cameras have some limitations. For example, because of the constraints of the lens, it is almost impossible to snap a really good close-up or a really good distance shot. Say, Can You Make Phone Calls on That Camera? article tells there are companies that are producing dozens of inexpensive smartphone attachments that can easily convert a mobile phone into a mini-professional camera. These products include zoom, fisheye and ultra-up-close macro lenses.
With a good smartphone camera can give amazing good pictures and video when lighting conditions are good (for example outside) but when it is dark the limitations will show easily (for example many inside locations). How to Shoot Great Video With Your Smartphone article tells that before you can overcome your smartphone camera's limitations you need to understand them. After introduction the article gives you lots of tips how to shoot great video with your smartphone, including instructions for simple DIY accessories like the one you see in picture below.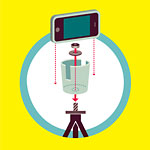 Some professional movie makers have even found smartphone cameras and tried them. Feature film shot on a smartphone to get theatrical release. Olive is the very first full length feature film shot 100% on a cell phone according to the film home page. Hooman Khalili first got the idea to make a feature film shot entirely on a smartphone in January 2010. A little less than two years later, his film "Olive", shot on a Nokia N8, is going to be shown in a Los Angeles theater for a week.
When I first read about this, it feels just like another gimmick. Marketing with "A feature film shot on a phone!!" gets a lot more attention, yeah. It would feel like "another indie short film" if shot on anything else. Yet for Nokia more marketing proof the Nokia N8 is the World's best ever Camera phone!
The news on film shot with N8 became much more interesting when some technical details how they do the shooting came up. First I was a picture of their camera setup in Amerikkalaisohjaaja kuvasi kokopitkän elokuvan Nokian puhelimella article. They have some way attached the full size movie camera optics to the N8 camera to the phone. Good optics are essential to get good quality shots and right film visuals like shallow depth of field. Here is a picture of the camera system from Olive – Behind the Scenes video.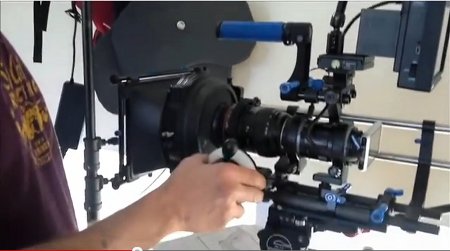 A 35 mm lens adapter was fabricated to fit the smart phone in order to achieve a shallow depth of field. Feature film shot on a smartphone to get theatrical release article tells that Khalili and his team had built what they needed from scratch, dismantling a 1940s-era movie camera to figure out how it should be done. And when it came time to attach the camera to the phone, the best they could come up with was double-sided tape. The downsize of the special construction was what the image you see on the N8 screen upside down, which is a little bit annoying I think. For more details take a look at Olive – Behind the Scenes video.
The one overhead shot in the movie was made by putting the phone in a remote-control helicopter. This is where the small size of the camera phone and built-in optics is comes very handy. Camera phone optics as such were OK for motorcycle shots.
A gimmick is a gimmick, and they have maybe made things difficult for themselves with results that maybe aren't as wonderful as they could be with some more traditional film gear. Bu if the result is good then all good. Tasty sweet is a tasty treat and what was used to bake it is insignificant. Interesting test for limitations of cell phone camera capabilities.