IGNITION WEST: Future of Mobile article constains an interesting slide set that puts together a deck on the current trends in mobile. The slide set by BI Intelligence service looks closely at the growth of smartphones and tablets, the platform wars, and how consumers are actually using their devices.
Android will be the OS of the future because it is implemented by more and more hardware makers! But Apple has done an impressive job of hanging in there. And, thus far, developers have not rallied around Android in the same way as iOS.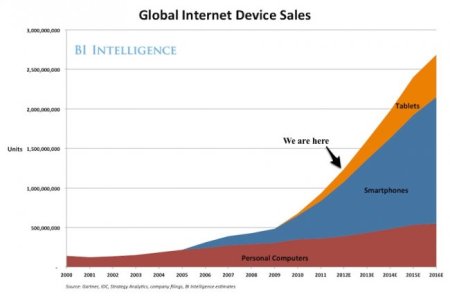 According to this production the number of PCs does not seem to be decreasing in the future. The growth of PCs seems to continue to grow at current rate. In addition to this are the bigger growth in mobile and tablets. Post-PC revolution seems to be so that PCs don't go away, just a larger number of new smart devices are taken into everyday use.