I saw an interesting writeup 100GbE To Slash the Cost of Producing Live Television at Slashdot. It tells that today live-produced TV is still largely a circuit-switched system. But technologies such as 100 Gigabit Ethernet and Audio Video Bridging hold the promise of removing a lot of of cable and thousands of connectors from a typical broadcast TV installation. 100GbE is still horrendously expensive today, but broadcast TV gear has always been horrendously expensive, so they could still be friends. If 100GbE follow the same price curve as for 10GbE or 1GbE, it could become the cheaper way to distribute multiple uncompressed 1080p signals around a television facility.
Ethernet-Based Live Television Production paper written for SMPTE11 Australia Conference contains some interesting examples how Ethernet could be the backbone of future TV production system.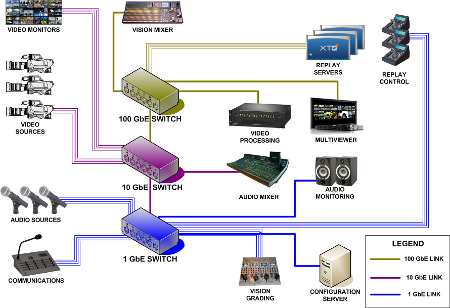 Global Television web page The future of live multi-camera production has the same paper downloadable plus slides from the presentation.
Looks interesting, but the downside of this approach could be that replacement tech rarely catches up. It seems that TV technology makers already moving beyond HDTV resolution. UHDTV4K goes mainstream. TVs at 4k resolution are already on sale (very expensive), which means that if you are not recording your repeatable content right now in 4k, you could have a hard time selling it again in the future. Japanese UHDTV standards aren't just about putting more pixels on a screen it is about all the infrastructure needed to create such content.