I some time ago wrote about phatIO file system based USB I/O and this is a continuation to this article.
On weekend I successfully tested phatIO Dropbox Integration. The idea is the files on phatIO can be exported to dropbox allowing a cheap way of exporting the phatIO functionality to other computers or other devices that support Dropbox. phatIO Dropbox Integration page says that this has this currently only been tested with phatIO hosted on a Linux and OS X computer and Windows 8 but should work on Vista/Server 2008/Windows 7. I tested that on my old PC running Windows Vista and got the idea working.
To make the phatIO Dropbox Integration to work you need to have several things to work: you need to have Dropbox account, Dropbox sync software installed and connect the phatIO to your Dropbox directory. To make the connection directories have to be linked, this can be done from an Administrator Command Prompt by typing the following to export the entire phatIO filesystem:

mklink /D C:UsersmeDropboxio F:io

where c:UsersmeDropbox is the location of your Dropbox directory and F: is the location of your phatIO device.
According to phatIO Dropbox Integration page and my own experiments Dropbox is not a realtime communication system – latency will be atleast a few seconds (relevant pins going high/low after 2 to 4 seconds after file is edited on remote computer).
This control system is output only system in a sense that you can't read the input pins on phatIO through the Dropbox (the changes on the files on phatIO will not be updated on Dropbox account).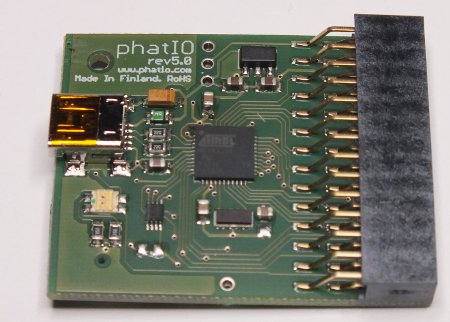 phatIO Dropbox Integration page says that similar functionality may be possible with Microsoft SkyDrive and Google Drive. I have not tried those yet. Google Drive has a sync application for Windows PCs.