Raspberry Pi is an almost mythical cheap single board computer that has very many fans. When last year Raspberry Pi Foundation launch of the Raspberry Pi Model B+ as the final evolution of the original RPi board while still costing $35 USD, it was considered to be an improvement over original Raspberry Pi B model, but it was considered to be slow compared to many other cheap Linux friendly SBCs available now.
It seems that the Raspberry Pi Foundation has improved their selection of products: New Multi-Core Raspberry Pi 2 Launches: Coming in at the same $35 price-point that has come to be expected from the Raspberry Pi, it looks like the new Model 2 will be packing a quad-core ARM processor with a GB of RAM.
The Raspberry Pi Foundation is likely to provoke a global geekgasm today with the surprise release of the Raspberry Pi 2 Model B: a turbocharged version of the B+ boasting a new Broadcom BCM2836 900MHz quad-core system-on-chip with 1GB of RAM – all of which will drive performance "at least 6x" that of the B+. It seems that the new chip BCM2836, is quite similar to BCM2835 (the chip used in original Raspberry Pi), but with 4 Cortex A7 cores @ 900 MHz (overclockable @ 1.1 GHz), the same VideoCore GPU, and 6 times faster according to Sysbench. Because it has an ARMv7 processor, it can run the full range of ARM GNU/Linux distributions, including Snappy Ubuntu Core, as well as Microsoft Windows 10. The hardware circuit layout looks pretty much the same as B+, so I expect the same extension modules to work on this as well: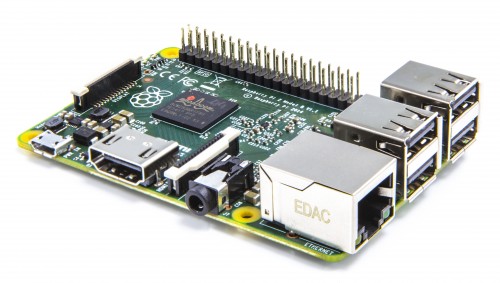 Raspberry Pi 2 is now on sale for $35 (the same price as the existing Model B+). It should soon show up for sale on Element14, RS Components, and other distributors. It is expected that this new model will catch up quickly as the predicted manufacturing mix for this year will be 80 per cent Pi 2, and 20 per cent Pi B+, as customers gradually migrate to the faster model. For geeks on a really tight budget, the $20 Pi A+ will still be available.
Here are the quick details now for all. I could not dig out more because just suddenly I started getting "Raspberry Pi – Down for maintenance" errors on Raspberry Pi Foundation site. Maybe this announcement caused more traffic to their site than what they expected. Hopefully the image linked from their site to this posting works for all.