One of the frustrating issues on traditional USB connectors has been figuring out how to them plugged in the right way. In theory you should be able to plug in USB plug with maximum two trials (both directions), but in practice it can take even more attempts.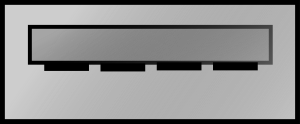 This is sometimes frustrating, for example when smart phones almost always use Micro USB for charging. Here it is, 2015, and we're still waiting for reversible USB. Apple uses reversible connector in their devices: Lightning is used to connect Apple mobile devices like iPhones, iPads and iPods to host computers, external monitors, cameras, USB battery chargers and other peripherals. It is reversible but is proprietary Apple only solution.
Could there be some general purpose USB solution? Reversible USB Type C connector is similar in size to the current MicroUSB connector but it is not  compatible with existing USB receptacles.  Although Type-C connectors promise to stop the one-way-only madness, and will be a part of the upcoming USB 3.1 standard, the ports themselves have yet to arrive in any meaningful way. But even with USB Type C launching later this year, it's going to take some time before it catches on everywhere.
Reversible USB is nothing new, but a plug that can jack into your current smartphone without all the hassle? Finally, a reversible Micro-USB cable article tells that there is a solution coming: Enter MicFlip (pronounced "Mike-flip"), which claims to be the world's first reversible Micro-USB cable. Although a Micro-USB port has a slightly trapezoidal shape that would seem to preclude a reversible connector, developer Winnergear says they've cracked it. That's no doubt to help justify the expected $20 retail price, considerably higher than that of the average Micro-USB cable. Would you pay $20 for a cable that solves Micro-USB's biggest hassle?
The project has been collecting funds ($15,000 Kickstarter) to mass produce the cable. Micro-Flip is the reversible micro USB cable Android devices deserve [VIDEO] article tells that Micro-Flip is on the right track to getting funded. Micro-Flip is set to begin shipping in October.
But is this the first and only this kind of project? MicFlip – World's First Reversible Micro USB claims to be the World's First Reversible Micro USB Cable: We reckon the MicFlip is a rare thing – 100% unique.
Maybe you don't have to wait for those Indiegogo and Kickstarter projects: It seems that Reversible Micro USB is already available without waiting for campaign to get their products shipped as there is cheaper and already available product that claims to do the same: prolink 2.1A Dual Face Micro USB Plug Charging Data Cable For Cellphone. I am waiting to me to get my cable to test.
What about other USB connectors? Could for example A connector to be made reversible? Yes it seems so. Würth Electronics' WR-COM is a bi-directional USB Type A connector is capable of accepting a USB Type A plug right side up, or upside down (8-pin design).
There is also reversible connectors for the cable. Trip-Lite sells USB cables with reversible USB connectors in them.
So reversible USB connectors are coming in many forms.