Rumors about a new Raspberry Pi have been circulating around the Internet for the past week or so. The time is now to reveal the truth, and the real news is even more interesting than what was rumoured: it's a $5 Raspberry Pi Zero. It's the smallest Pi yet, while still keeping the core experience.
In recent months, tiny Linux boards have followed the march of technology. The purest expression of this is the C.H.I.P., the $9 single board Linux computer. The Raspberry Pi Zero is even considerably cheaper – it is $5 computer. Building such a small and cheap board meant the Raspberry Pi foundation needed to cut a few ports from the Zero. Pi Zero includes a mini-HDMI socket, two micro USB ports, microSD card slot and unpopulated header. The core of the Raspberry Pi Zero is the Broadcom BCM2835 – the same system on chip found in the original Raspberry Pi running at 1GHz.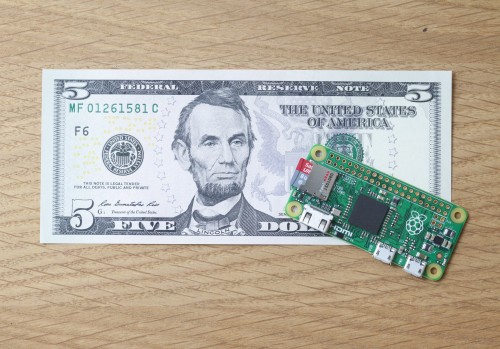 Raspberry Pi Zero, made in Wales and priced at just $5. Zero is a full-fledged member of the Raspberry Pi family, featuring:
A Broadcom BCM2835 application processor

1GHz ARM11 core (40% faster than Raspberry Pi 1)

512MB of LPDDR2 SDRAM
A micro-SD card slot
A mini-HDMI socket for 1080p60 video output
Micro-USB sockets for data and power
An unpopulated 40-pin GPIO header

Identical pinout to Model A+/B+/2B

An unpopulated composite video header
Our smallest ever form factor, at 65mm x 30mm x 5mm
Raspberry Pi Zero runs Raspbian and all your favourite applications, including Scratch, Minecraft and Sonic Pi. The Raspberry Pi Zero should be available from the usual vendors. For more details check Introducing PIZERO video.
One more thing: because the only thing better than a $5 computer is a free computer, Raspberry Pi Foundation is giving away a free Raspberry Pi Zero on the front of each copy of the December issue of The MagPi magazine.
Simply awesome news!
Not 1st April. Check. This is amazing. They keep surprising us.