An optical power meter (OPM) is a device used to measure the power in an optical signal. The term usually refers to a device for testing average power in fiber optic systems. Power meters are part of the toolbox essentials for all technicians installing or maintaining any type of fiber networks. They are used to measure that the optical signal level is in right range (not too high or too low). Together with a known level optical signal source and optical power meter can be used to measure fiber signal attenuation.
When I was in need for a fiber optic power meter, I found this pretty cheap model AUA-70A Fiber Optic Optical Power Meter Cable Tester Networks FC/SC Connectors -70 – +10dBm.  It looks like a slim upgraded version of CommScope Tyco AUA-70A Power Meter.
http://www.banggood.com/AUA-70A-Fiber-Optic-Optical-Power-Meter-Cable-Tester-Networks-FCSC-Connectors-70-10dBm-p-1032244.html?p=27131452996820140438
User self-calibration function
Linear (mW) and nonlinear index (dBm) displayed simultaneously
Unique FC / SC / ST generic interface, without complicated conversion
The optional automatic shutdown function
Optional on / off backlight display
Test range is -70dBm~+10dBm.
This optical power meter can measure power of the light at 7 wavelengths: 850/980/1300/1310/1490/1550/1625nm
Powered with two AA batteries
The display is time averaged power of signal on fiber. A typical OPM measures accurately under most conditions from about 0 dBm (1 milli Watt) to about -50 dBm (10 nano Watt), although the display range may be larger (with this meter 70dBm~+10dBm)
Here is one setup where I test the meter with cheap fiber visual fault locator as signal souce: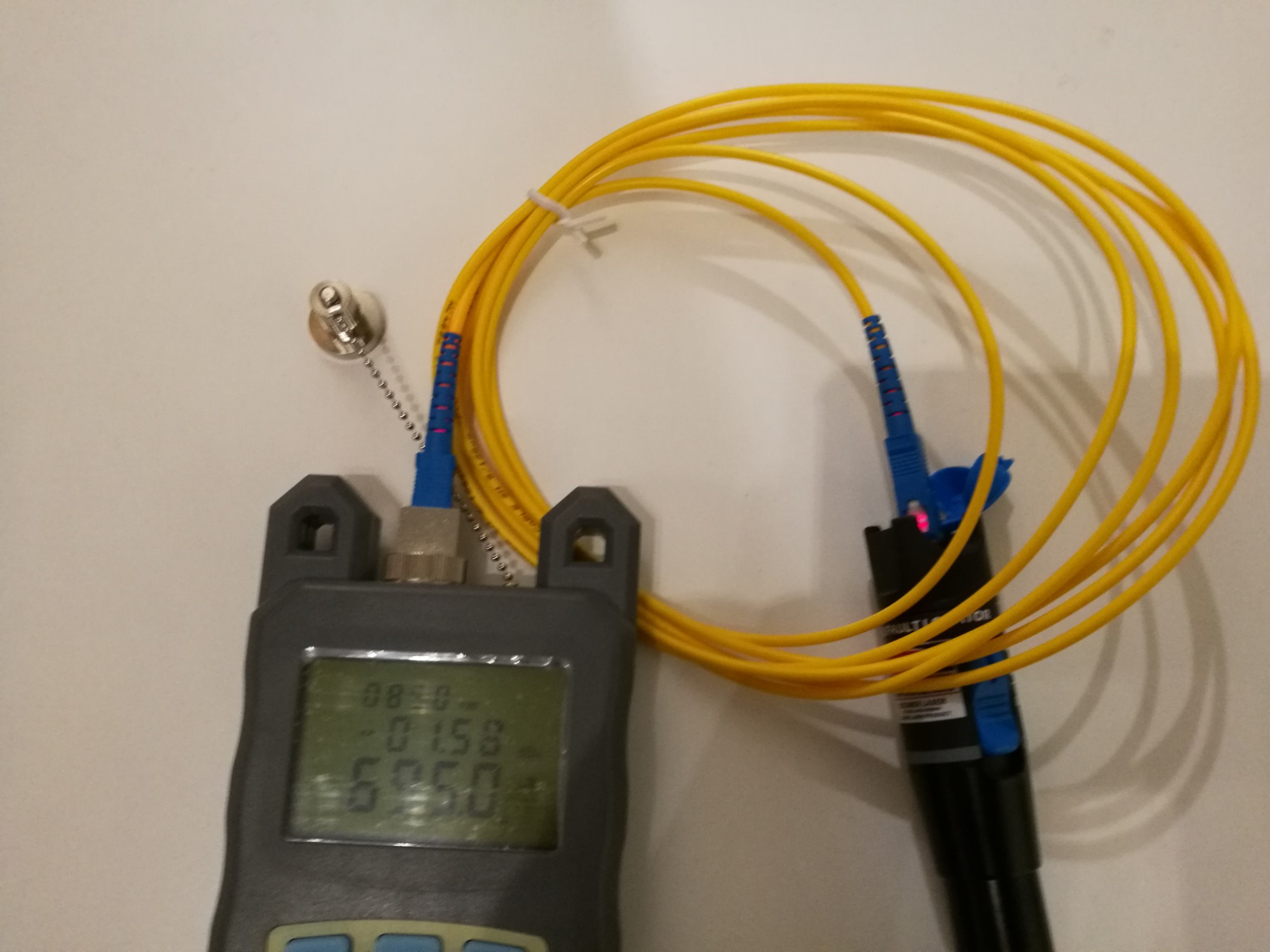 All the signal wavelenghts are measured with the same sensor, which I quess is InGaAs detector. Basically this meter consists of a photodiode, amplifier and display unit. This meter is traditional optical power meter that responds to a broad spectrum of light, however the calibration is wavelength dependent. Before making measurement, you need to set the meter to correct wavelength (test wavelength is usually known so not usually an issue) before you can get accurate results – if you select wrong wavelenght you will get wring results. For example with exactly same signal I get at 850 nm settings several times higher power reading than with 1310 nm setting.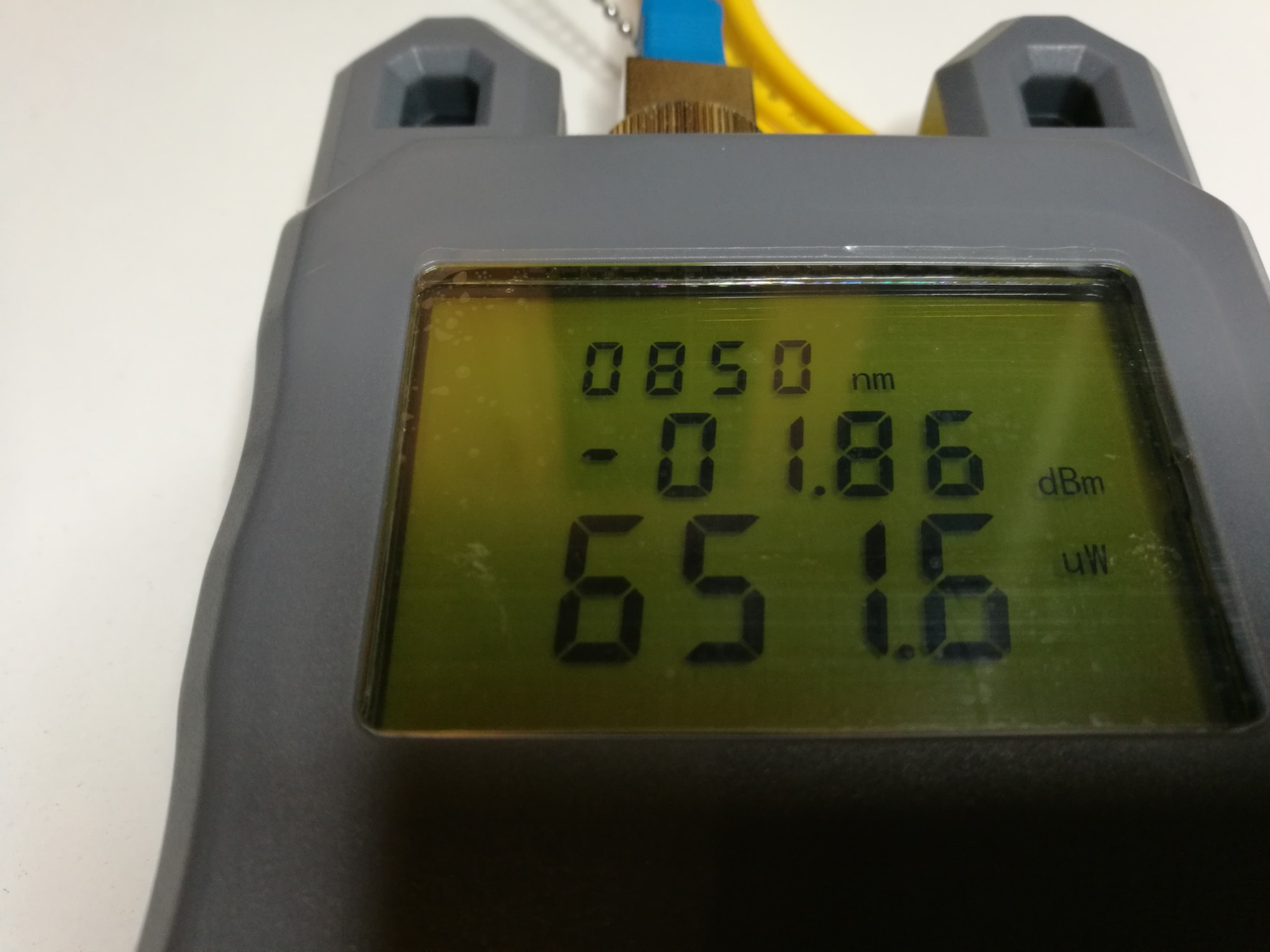 The meter comes with small bag that provides some protection to the device: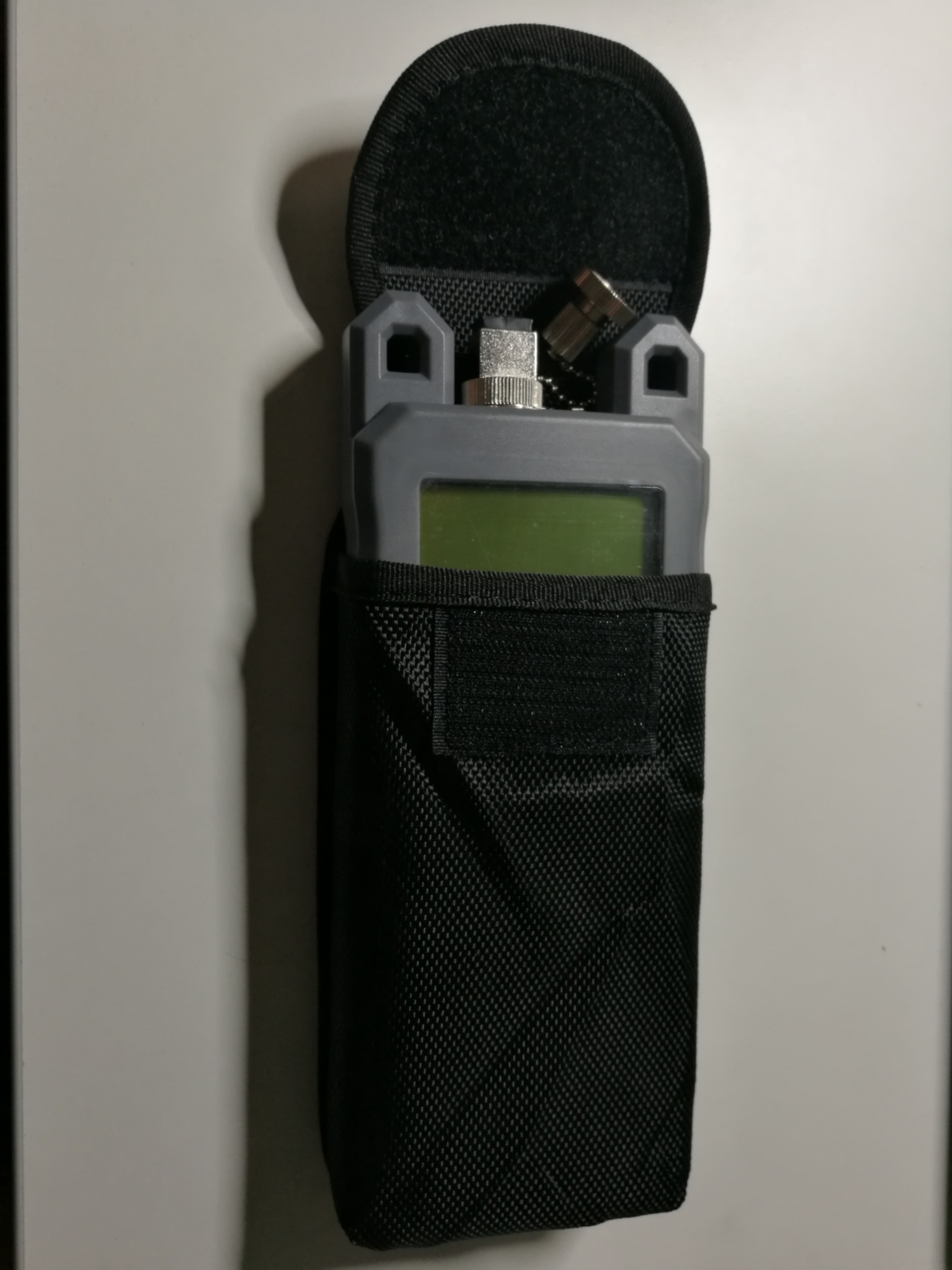 Pros:
- Meter works well
- Cheap
Cons:
- The case plastic is feels cheap, does not feel high quality
- What is actual accuracy this provides?
More related material: Links to information on fiber Ethernet signal levels:
https://www.juniper.net/documentation/en_US/junos12.3/topics/reference/general/fe-ge-fiber-optic-specs.html
https://www.ccontrols.com/pdf/abc3.pdf
http://etherealmind.com/can-fibre-optic-ethernet-cables-be-longer-than-the-standard/
https://www.juniper.net/documentation/en_US/release-independent/junos/topics/reference/specifications/transceiver-m-mx-t-series-10-gigabit-optical-specifications.html