Modern smart phones use lots of powr, have high capacity batteries and many people want that they can be charged quickly. Fast charging is a name for battery charging technologies that charges the battery faster that normally by increasing the charging power.
The standard USB charging is somewhat complicated enough with several standard versions and manufacturer specific features. The standard USB charging depending on version supplies 5V voltage and the device can take maximum from 500mA to 2.1A current (you can measure the current taken with suitable USB tester). There are several issues how devices being charged can determine how much current they can take from the port safely. I have covered some of the details at Apple and other USB charger secrets article. The USB charging is universal way to charge devices and widely used dispite risks like information security: Please stop charging your phone in public ports or use USB condom or similar protective devices. Best is to have your own charger, but make sure it is not a safety risk – bad USB charging can potentially harm or even kill you in several ways (electrocution, fire risk, exploding bad battery in phone).
The practical limit of power from normal USB port is 10W (5V 2.1A).  When phones need more power than available from normal traditional USB port connectors, some changes needs to be made. One possibility is to use New USB Type-C Connector that allows much more power to be transfered (theoretically up 100W on certain conditions). Your next phone could have USB Type-C (and that's a good thing) as These powerful, reversible charging ports are all the rage. The downside is that switching to USB-C means you'll have to remember to pack your new cable with you when you leave the house and you needs need to be careful when shopping chargers with USB-C connectors because some of them are dangerous.
There has been also developments in trying to get more power out of normal USB connectors (USB A, micro-USB).  You've probably heard of quick charging, turbo charging, adaptive fast charging, rapid charging, and Qualcomm Quick Charge 2.0 before. What you may not know is that all of them are actually basically the same thing, based on the same licensed technology from Qualcomm known as Quick Charge. The idea in this technique is that when phone and charger support those technques and are compatible, they can push more voltage and/or current theough USB connecor that the normal USB specs allow (devices on both ends of cable need to understand what they are doing to make things work and not fry electronics).That means both your phone and your charger need to support quick charging in order for it to work.
Quick, Rapid, Turbo, And Fast Charging Explained: What You Need To Know About Charging Your Smartphone article tells that you might not need an OEM-branded charger to get the maximum charging speed out of your smartphone. And understanding that could save you a fair bit of money.  So, how do you know if your phone supports quick charging? You'll need to do some research on the web. You're going to have to consult Qualcomm's Quick Charge website or your device manufacturer if you want to know for sure without actually trying a quick charger. Everything you need to know about Qualcomm Quick Charge article has overview on quick charge's latest deails (there are several revisions of quick charge).
But there is more on quick charging than that. There are some manufacturer specific quick charging systems. For example Honor 8 phone from Huawei supports fast charging. Obviously it's not Quick Charge, but Huawei/Honor's own spec. It is possible to use other USB chargers with Honor 8 as long as you have suitable USB-C cable or USB-C adapter -However it won't charge fast as you have to use the bundled charger that came with the honor 8 for it to charge fast (orignal claims 0 to 50% in about 30+ minutes!)
What is special on factory supplied charger compared to normal USB charger? Original Honor 8 charger is dual voltage 9V and 5V 2.1A Fast Charging. Honor 8 9V2A fast charging only works with the factory-provided charger that can which from 5V to 9V when Honor 8 commands it to do so (using method I don't know yet).  If your charger does not full support dual voltage Adaptive Fast Charging, this will still charge at 5Volts using 2.1A.
5 things I learned traveling with the Honor 8 article tells that Huawei's Quick Charge is weird: The Honor 8 supports 9V/2A quick charging, but it's not your regular rebadged Qualcomm QuickCharge, as you might be used to from most other Android phone makers. For faster charging speeds you'll need to use a Huawei Quick Charger like the one bundled in the box (nice bump over bog-standard 5V charging). It was also noted that Huawei's Quick Charger can quick charge QuickCharge 2.0 phones just fine, even though the reverse isn't true. Weird.

Here is some of my measurements of currents and voltages that are present on USB A connector when Honor 8 is connected to original charger: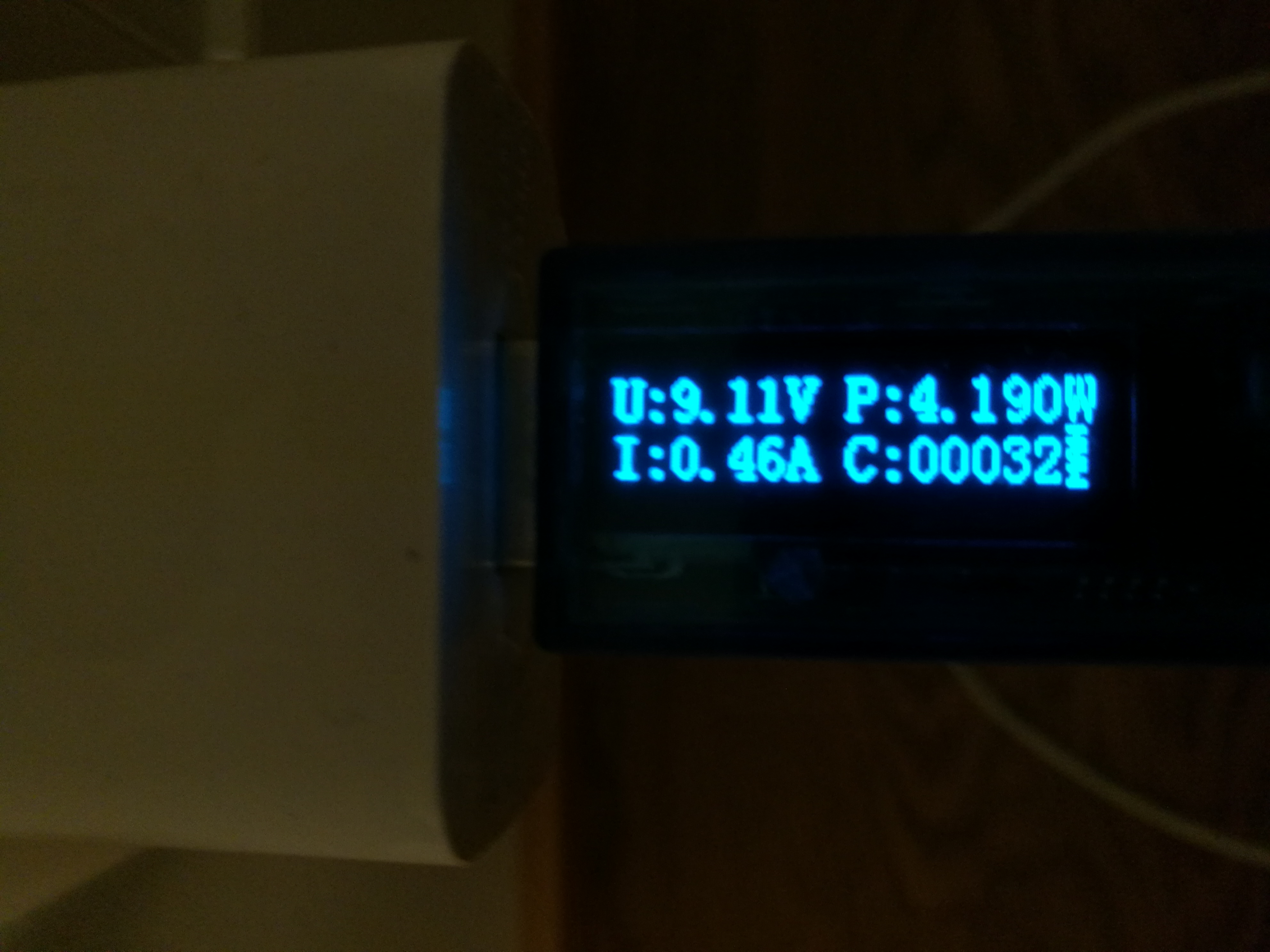 B