Touch interfaces are hardly futuristic at this point, but multi-touch hardware like the Microsoft Surface or the iPhone is just starting to become a big deal. Now it is time to learn how they work and maybe try to build our own.
maximumpc.com site has published an interesting article called "Build Your Own Multitouch Surface Computer". The art of building DIY multi-touch surfaces isn't exactly simple but the results shown on article stunning: multitouch surfaces with responsiveness rivaling Microsoft's $12,000 offering, built in a garage on a shoestring budget.The article documents the whole process, from start to finish, so that you can try building one of your own, if you're so inspired.
Build Your Own Multitouch Surface Computer article can be found at
http://www.maximumpc.com/article/features/maximum_pc_builds_a_multitouch_surface_computer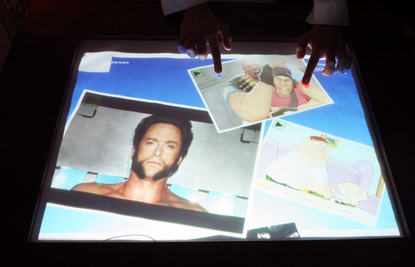 The screen uses FTIR (short for Frustrated Total Internal Reflection) setup. It involves three vital components: a sheet of transparent acrylic, a chain of infrared LEDs, and a camera with an IR filter. The LEDs are arranged around the outside of the sheet of acrylic so that they shine directly into the thin side surfaces. The net effect of the setup described above is a sheet of acrylic full of internally reflecting infrared light. When a finger is pressed against the acrylic, it causes some of the light to be reflected down, through the acrylic and into the cabinet, where it is detected by the webcam.