A quite typical audio/visual presentation equipment nowdays in many setups includes PC, video projector, audio mixer, amplifier and speakers. Typically you run presentation software through our laptop to a projector and the audio from mics, pianos, guitars, etc to a mixer and then to power amps then to the speakers. The problem many people are having (i have received many mails on this) is a low-level hum/static sound that arises when they connect the computer to the mixer in any form (headphone output into one of the mixer's channels or to the RCA input on the mixer). Typically the problem goes away when the computer is taken off from AC power and runs on the internal battery.
Many people have asked are there in any easy ways to fix it? Ther answer is yes. The situation you have is a classical example of a ground-loop problem. A ground loop occurs through differences in resistance in the electrical system. When you connect your computer to your stereo, a path is provided for electricity to flow from one wall socket to another as the electrical system tries to balance itself. This causes your speakers to hum.
Good news is that there is an easy ways to fix it: audio isolation transformer. Feed the audio signal from PC to suitable isolation transformer and from the transformer to your mixer. The end result is that the humming noise is gone (no matter if PC is powered from mains or not) and the sound from PC goes to mixer (pretty much) unaffected by the process. The following picture shows how to wire the isolator between PC and the PA system. There are many different kind of isolators available, usually the easiest to use ones with PA system are line level audio isolation transformers with RCA connectors and DI-boxes.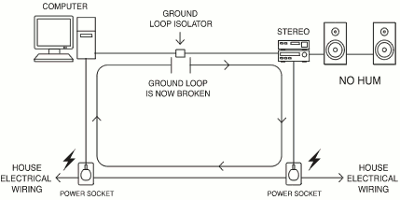 Image source: Xitel Ground Loop Isolator
More details on those isolators can be found on the following web pages:
http://www.epanorama.net/documents/groundloop/audio_isolators.html
http://www.epanorama.net/phpBB3/viewtopic.php?f=12&t=47729
http://www.epanorama.net/phpBB3/viewtopic.php?f=12&t=20937
http://www.xitel.com/USA/prod_gli.htm
Video links
http://www.youtube.com/watch?v=oqUfX0VYTKU
http://www.youtube.com/watch?v=elnekf5kufU&feature=related
http://www.youtube.com/watch?v=PhKXenKOjmU
http://www.youtube.com/watch?v=UqXMyPesH4Q