I bought some time ago High Speed USB 2.0 4-Port Hub (White) from Dealextreme. The main reason for buying that was need for USB hub and the LEGO like design of this HUB, also the price was very reasonable ($5.30).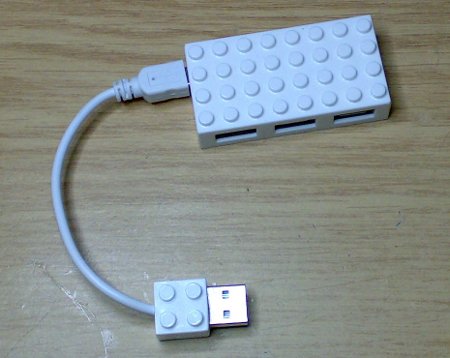 The computers (Vista and XP) detected the device well. It was just plug and play to get things working. Did what USB hub was supposed to do.
The shape of this USB HUB looks like LEGO bricks. It's compatible with LEGO bricks, for sure. You can plug in LEGO bricks on top of this case. A regular 2×2 brick fits firmly over the hub in any position. The LEGO like design actually works.
The design is not 100% same as LEGO, but close enough for working well on most case. If you put a minifig in top of the USB HUB, in some positions it gets a little loose, but fits in any case. The bottom of the HUB looks pretty close to LEGO, but you can't stack normal LEGO pieces well below the HUB (they do not exactly fit and become loose).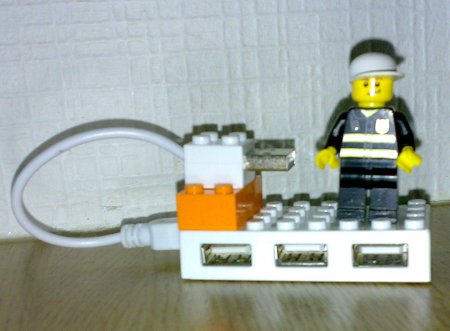 The USB HUB comes with matching LEGO styled USB cable too. The USB cable could be a little longer, but I've got plenty of spare USB cables lying around the house so its not an issue. The cable with came the first HUB I received broke down instantly because it seem that the manufacturer had used too little glue on the connector. I sent a complaint and they sent me a new unit, which has well built cable. Later I fixed the cable with fixed it with soldering iron (one wire broken) and some superglue and it's fine now. So now I have two working USB HUBs.
You can easily open these hubs as they are just clicked together at the bottom with four small pillars.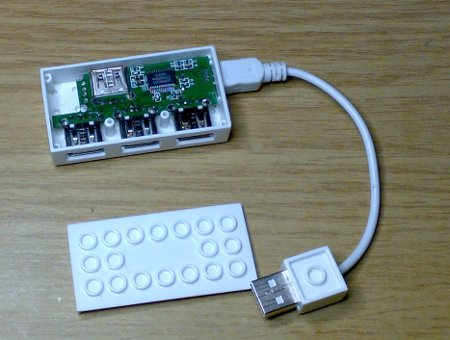 Inside the HUB there are not many components. All the main functionality is implemented using GL850G USB hub IC (check datasheet). In addition to that only one crystal, few resistors and few capacitors are needed (and ofcourse the USB connectors).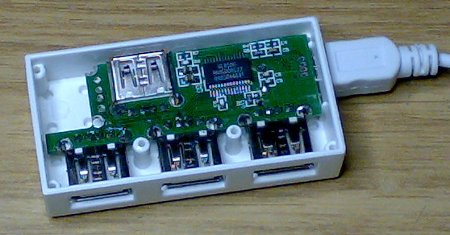 Cheap, works well and cool design! A product worth buying.