How many servers does it take to power Amazon's huge cloud computing operation? Like many large Internet companies, Amazon doesn't disclose details of its infrastructure.
Estimate: Amazon Cloud Backed by 450,000 Servers article tells that a researcher from Accenture Technology Labs estimates that Amazon Web Services is using at least 454,400 servers in seven data center hubs around the globe. Huan Liu analyzed Amazon's EC2 compute service using internal and external IP addresses and published the results in Amazon EC2 has 454,400 servers, read on to find out more…. blog article.
Liu then applied an assumption of 64 blade servers per rack – four 10U chassis, each holding eight blades – to arrive at the estimate. He estimates that Amazon has 5,030 racks in northern Virginia, or about 70 percent of the estimated total of 7,100 racks for AWS.
Photos from a 2011 presentation by AWS Distinguished Engineer James Hamilton (codered in A Look Inside Amazon's Data Centers) show 1U "pizza box" rackmount servers rather than blades, but it's not known if that was a recent depiction of Amazon's infrastructure.
This is not the first analysis of Amazon's scale. Take also look at analyses from Randy Bias and Guy Rosen. It clearly places the size of Amazon's structure well above the hosting providers that have publicly disclosed their server counts, but still well below the estimated 900,000 servers in Google's data center network.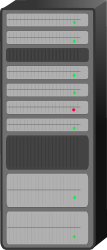 One potential benefit of using a public cloud, such as Amazon EC2, is that a cloud could be more efficient. In theory, a cloud can support many users, and it can potentially achieve a much higher server utilization through aggregating a large number of demands. But is it really the case in practice? If you ask a cloud provider, they most likely would not tell you their CPU utilization. Host server CPU utilization in Amazon EC2 cloud tells one story of CPU utilization in Amazon EC2 cloud and how it was measured. The research used technique that allows us to measure the CPU utilization in public clouds by measuring how hot the CPU gets. Most modern Intel and AMD CPUs are all equipped with an on-board thermal sensor already (one per core), and in Amazon EC2 researcher was able to successfully read these temperature sensors.
Host server CPU utilization in Amazon EC2 cloud article tells that among the servers measured, the average CPU utilization in EC2 over the whole week is 7.3%. The reason why utilization so so low it that, because an instance is so cheap, people never turn it off.