More than a year ago I was approached by an independent filmmaker about light dimmers. The problem fo them was how to get affordable light dimmers to control the film lighting. I was told that many independent non-commmercial filmmakers use a HarborFreight router speed control to dim the lights used for moviemaking. The reason is that they are are cheaper and far heavier (15A) than building our own from a 600W house lights dimmer. The problem with these router speed control devices is that they do not dim down enough to turn the lights off. They also don't quite go to full brightness but that is a minor problem as they have a switch that bypasses the electronics and provides full power.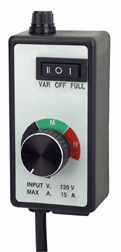 After some discussion I got one of these units mailed to me to see if there is a way to modify those to work as better light dimmer.First thing I did was to open the device to see how it was built out. Based on what I saw the circuit was pretty close to a traditional light dimmer. And there seemed to be also some adjustment trimmer for some adjustments. Looked promising.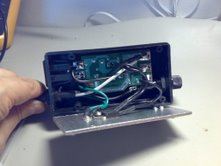 The nest task was to test the device. The problem that those are designed to operate 110-120V AC 60 Hz power has a slight problem to me. In Finland the mains power is 230V AC 50 Hz. Getting real 120V 60Hz power and finding 120V AC light bulbs is hard here where I live. I got one 120V lamp with the router speed control device so I had suitable lamp. Getting real 60 Hz power would involve some expensive power converter or using 12V to 120V AC true sinewave inverter or something similar that I did not have at the moment. So I decided to do my first testing with 110V 50Hz power that I get easily with a suitable voltage conversion transformer (I used fully isolating transformer for safety).
I did some testing. I found that the controller trimmer potentiometer controls how dim the output can go. I was able to get lamp very dim. Here is the picture of the dimmer electronics with a well insulated screwdriver adjusting the trimmer (there is a hole on the circuit board that gives access to the trimmer). Well insulated screwdriver and isolation transformer powering the whole circuit makes it possible to do ajustments with live circuit pretty safely when you know what you are doing. I mailed the results back to person who sent me the router speed control and he tested the results with real 60 Hz power (they worked).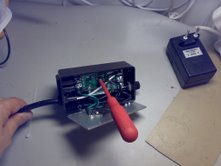 The adjustment instructions: Set the potentiometer lowest setting. Then adjust the trimmer so that you get as dim light as possible without noticeable side effects. When you set the trimmer to too low setting, turning potentiometer will cause the output to be completely off (lap turns off). When dimmer reaches this full iff state, the dimmer potentiometer need to be turned quite much (one third or one fouth) until the light turns back on, quite bright already. The ideal setting I think would be that the lowest dimmer potentimeter setting would just set the bulb to be just barely on (lamp filament dark red and does not make much light), so you have always full control range from it to full setting without problems.
In this way a relatively cheap router speed control device is converted to a relatively inexpensive high power light dimmer.