Ground loop elimination in video systems does not always ask for a complete isolation of the grounds. There are passive hum suppressor transformers that will very effectively remove the hum from the video signal, but do not affect the video signal otherwise. Those special transformers act like a common mode coils, which stop the annoying ground loop currents on the shield of the coaxial cable, but provide a straight path for the signal inside the cable. This type of device is capable of passing the signals from DC to tens of MHz without problems. The hum suppressor transformer both reduces the current flowing on the cable shield and compensated the voltage differences that would otherwise be between cable ends and eventually get to the signal.
The humbugging transformer/coil consists just of many (tens to hundreds) turns of 75-ohm miniature video coaxial cable wind on a suitable transformer core. The aim is to have a coil that has high enough inductance to keep the cable shield current low and still withstand the voltages/currents it gets exposed to in typical applications without saturation. This kind of hum reduction coil works by mutual inductance. The coax cable is wound around a transformer core so that both the inner and shield of the cable become inductors. The tight coupling ensures that any voltages/currents flowing on the cable shield, caused by variations in earth potential differences, are transformed into the inner conductor. This type of transformer is typically constructed to a specially selected toroid transformer core.
This type of hum suppression transformer has found it's way to the professional video application (rental companies) and computer video applications (computer to video projector connections). The transformers of this type are usually called "hum bug transformers", "hum-bucking transformers", "anti-hum video transformers", "hum suppressor transformers" or "video isolation chokes". T The humbugging transformer presents a simple transmission line to the signal, so that its signal amplitude capability is essentially unlimited, and its bandwidth extends from DC to that frequency where line losses become excessive. Isolation increases with increasing noise frequency. The choke provides protection against moderate levels of 60 Hz hum, and protection against very high levels of RF noise. ypical performance figures are 30-40 dB hum level reduction up to 2-10V volt voltage differences at mains voltage frequency (50 Hz or 60 Hz). The maximum voltage the humbugging transformer can handle at low frequencies depends on the transformer specifications, usually limited by transformer core saturation. The humbugging transformer choke is primarily used in Broadcast TV because it passes the DC component of the signal. It is used in studio, and in remote ENG.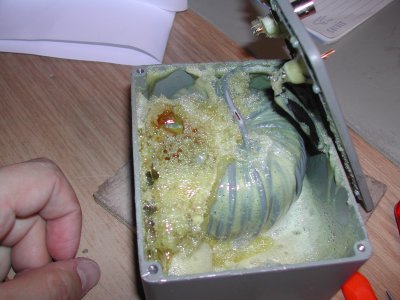 This picture shows the inside a commercially sold "video hum bug transformer" sold by Finnish company RGB. The price range of this kind of commercial device is usually 100-200 US dollars range. I had to open this unit to change the BNC connector that was broken on a field use. This device consists of a toroid shape transformer core and around 50 turns of very thin 75-ohm video coaxial cable wrapped around it. You can make your own working similar device by taking he core from a 100-400W toroidal mains power transformer and winding 30-50 turns of thin 75-ohm coaxial cable around it. This will work well but is somewhat larger and heavier than the commercial devices like this. It is possible to optimize the size with careful selection of suitable core material and number of turns.
Here is an inside views of some humbugging video transformer products that I have made. They have performed very well on many video systems to solve ground loop problems.