Lightning Reveals Its Power in Slow Motion article on Wired has a series of videos that combines severe weather, electricity, and technology. The maker of those videos, Tom Warner, documents the powerful beauty of lightning with an array of optical and electromagnetic sensors. "Lightning is one of nature's most spectacular phenomena," says Warner. "I want to understand how lightning behaves." Since 2007, Tom has used Vision Research 'Phantom' high-speed video cameras capable of recording lightning at up to 54,000 images per second. The camera continuously records in a looping memory buffer.
The first video and the picture below (from that video) shows a downward-propagating negatively charged, stepped leader. The lightning branches out in many different directions, causing one leader to make a connection with the ground, creating a bright return stroke.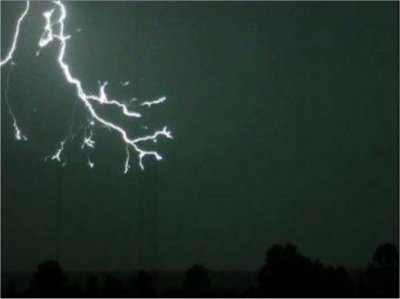 After watching the videos it is a good idea to also read how to protect buildings and electronics against lightning damages. K1TTT on grounding and lightning protection highlights the need for single point grounding system. Check also surge suppression links and documents on ePanorama.net.