According to news around Internet Intel and Nokia are combining their respective Linux operating environments to power future smartphones and tablets. The Intel-Nokia collaboration began in earnest in June when the two companies announced the beginning of a "long-term relationship," focusing on developing new chip architectures, software, and a new class of Intel-based mobile computing devices. The goal for MeeGo is to put more flesh on the bones of last year's announcement. The MeeGo software is expected to be released in the second quarter of this year and products are slated to emerge in the second half.
MeeGo project combine two disparate, unwieldy operating environments under one roof. The combined operating systems are Maemo from Nokia and Moblin from Intel. MeeGo will support both Intel and ARM processors. This means that Intel will be now sponsoring a mobile Linux distro which will have ARM as one of it's main supported processors. The MeeGo will be hosted by the Linux Foundation as an open source project.
At today's smartphones the biggest players are Symbian, Apple's iPhone OS, Microsoft's Windows Mobile, and Google's Android. The market stress from iPhone OS and Android could have ben part of why Intel and Nokia felt it was necessary to team up. MeeGo is also targeted to devices beyond today's mobile phones: netbooks, tablets, and televisions.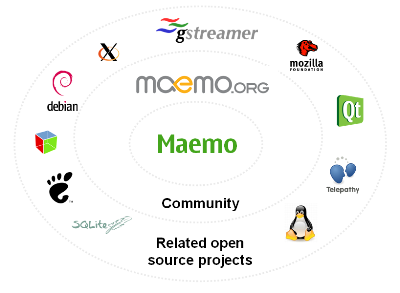 Both companies stressed that applications that run on Moblin and Maemo will run on top of MeeGo. MeeGo will use Nokia's Qt application development environment. Using Qt, developers can write once to create applications for a variety of devices and platforms (including Symbian that Nokia also continues to use), and market them through Nokia's Ovi Store and Intel's AppUp Center.
MeeGo is supposed to be the result of merging Maemo and Moblin, bringing together the best pieces of those (already quite similar platforms). For example both Maemo and Moblin started off Gtk-based, using the Clutter toolkit on top of Gtk. Now both have switched over to Qt.