Wired article April 22, 1993: Mosaic Browser Lights Up Web With Color, Creativity tells that NCSA Mosaic 1.0, the first web browser to achieve popularity among the general public, was released this day 1993. The web in the early 1990s was mostly text. NCSA Mosaic was the first web browser with the ability to display text and images inline, meaning you could put pictures and text on the same page together, in the same window.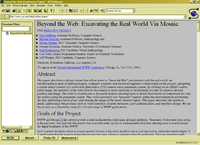 It was a radical step forward for the web. I remember seeing that web browser pretty soon after the release at the Helsinki University of Technology (now Aalto University) Unix computers.
And pretty soon I started working on my own web pages. It was time to forget playing with Gopher. I saw that web page with graphics are the future. I started browsing web actively.
And pretty soon I also discovered that web browser bookmarks has one problem: I could access them only on the computer I stored them to (and there were many separate computer systems at the University and also the computers at home). Instead of storing my bookmarks to one computer it was a good idea to put my best links to a WWW page, so I could easily use them everywhere from different computer. This how my electronics web links collection started. Those pages have over the time transformed to ePanorama.net.