Could humans be infected by computer viruses? press release tells that a scientist at the University of Reading has become the first person in the world to be infected by a computer virus.
A high-end Radio Frequency Identification (RFID) chip was implanted into Dr Gasson's left hand last year. "Our research shows that implantable technology has developed to the point where implants are capable of communicating, storing and manipulating data," he said. "They are essentially mini computers. This means that, like mainstream computers, they can be infected by viruses and the technology will need to keep pace with this so that implants, including medical devices, can be safely used in the future."
If the future is that we all become part machine as we look to enhance ourselves we need to think about security issues of those devices very carefully.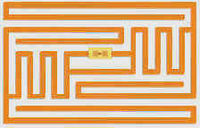 Image source:http://fi.wikipedia.org/wiki/RFID