I have written a lot of on electret microphone connections on my Powering microphones document. Here are some additions to my documents on electret microphones I found at SANKEN Basis of Wiring Method web page.
The first circuit diagram shows the traditional "2 wire" method of wiring an electret capsule. Practically all electrets I have worked with have been wired using this same idea (2 wire capsules have the FET is included in the microphone head wired in this way).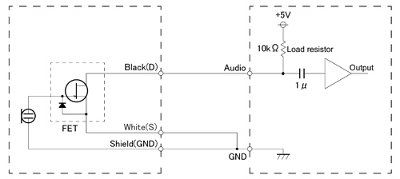 Image source: http://www.sanken-mic.com/en/qanda/index.cfm
This method can have approx.10dB gain because of FET DRAIN output which is usually good thing. The downside is that this kind of microphones can have have some unevenness in output level because of FET gm difference. Also the mic may have a negative phase output signal when it has a positive sound wave. Usually those are not a bog deal.
Here is another way to wire a 3-wire electret capsule with somewhat different properties: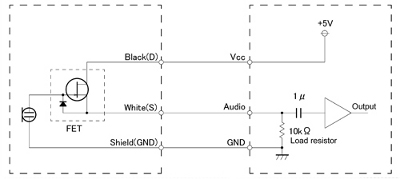 Image source: http://www.sanken-mic.com/en/qanda/index.cfm
In this circuit there is no gain because a signal is FET SOURCE output (so the output signal level is around 10 dB lower). And I expect to get a positive phase output signal from positive sound wave.
Third thing I have sometimes wondered is the wiring of the mini XLR connectors used on some wireless microphone transmitters. The hCOS-11D PT Wiring Method for AKG Transmitter page gives one idea of such wiring. The page has also links to wiring instructions for many other transmitters.