Chipshow's LED tube page gives some views what LED tubes look like.

As you can see there are many LEDs inside a LED tube. The most economical way to run sich LEDs from mains power is to connect many LEDs in series and then use some current limiting circuit to set the drive current right for those LEDs. One LED tube can contain one or more such sets of series connected LEDs.
LED Light Tube Circuit Diagram gives a quite simple looking circuit diagram for a 230V mains powered LED tube: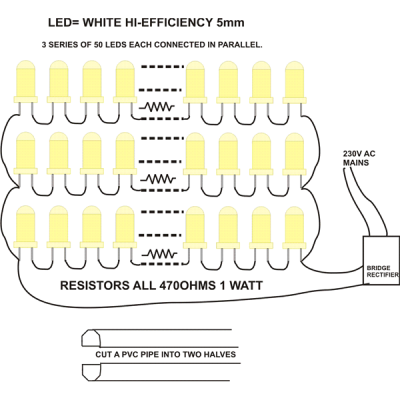 The circuit looks pretty simple. The downside of this kind of design is the power loss by the current limiting resistor and the fact that the light output flickers at 100 Hz frequency. I would also expect a poor regulation on mains voltage variations (if mains voltage changes the light output changes quite much). I have not tried this particular design, but those are normal problems on this kind of simple LED circuits.
LED TUBE LIGHT (AC) article tells how to make a LED Tube Light. This kind of tube light is a row of LED's which runs on 110 or 220 volts AC, just like your ordinary Fluorescent Tube Light. The following circuit diagram is for 110V operation (article has instruction for modifications for 220V operation).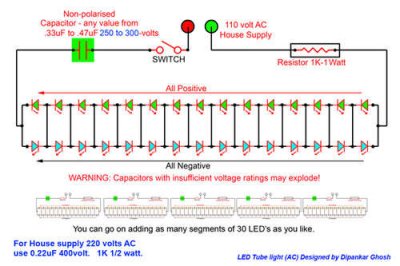 This circuit diagram use a capacitor+resistor for current limiting and uses just 30 LEDs in series. Maybe a little bit better (lower losses) than resistor only solution.
The ideal solution for driving those LEDs would be a suitable constant current type power source. This could be for example built with a mains power rectifier + filtering capacitor followed by a low loss constant current source (switch mode power supply wired to constant current mode).
LED short-circuit such a situation-led tube article tells some information how to detect damaged LEDs on the LED tube circuit before they cause more serious problems. The above circuits do not have any such protection, so damaged short circuited LED (or more than one) can cause danger of circuit overload (overheating of resistor, too much current to other LEDs etc.). At least potential dangers.
National Semiconductor Newsletter: Multiple LED Strings. One LED Driver (e-mailed to me) says:
When lighting designers arrange a series of LED strings in applications such as street lights or industrial lights (and this applies to LED tubes built in the same way), each string needs to be driven at a consistent current by an individual LED driver. However, the output voltage often varies due to differences in the manufacturing of the LEDs. To compensate, LED drivers provide higher-than-needed voltage to ensure proper operation of each LED string. Too much voltage, though, can waste power.
National Semiconductor newsletter says that their LED drivers with Dynamic Headroom Control (DHC), such as LM3464, monitor the output voltage of the LED strings and dynamically adjust the voltage to get the highest efficiency on the output. LM3464 drives four strings of up to 80V per channel for LED-intensive applications such as industrial, outdoor area, and automotive lighting.
And for bonus those that work on lowe voltage lights: LED Ideas web page gives a design for LED tube lamp that runs on 12V DC power. There are good pictures on the mechanical construction of the circuit inside tube and even how to built those fluorescent tube bi pin contacts ourself.