Google announced on Tuesday a new feature of the Android operating system called Android @ Home. This framework and associated functions promise to transform an Android device into a home automation controller that connects and directs all of the devices and appliances in the user's home: gaming consoles, lighting, appliances, irrigations systems and anything else developers can envision. Looks somewhat interesting. Why does it matter that Google has put out a little widget that will let people control fans and LEDs using Android?
Google Releases The Android Open Accessory Toolkit For Adding Devices To Tablets And Phones. The Android 3.1 platform (also backported to Android 2.3.4) introduces Android Open Accessory support, which allows external USB hardware (an Android USB accessory) to interact with an Android-powered device in a special "accessory" mode. Android Open Accessory Development Kit will allow designers to use open source hardware interfaces like Arduino to connect multiple input devices to almost any Android system.
There is one limitation in adding Arduino board to Android device: Many previously released Android-powered devices are only capable of acting as a USB device and cannot initiate connections with external USB devices. Android Open Accessory support overcomes this limitation and allows you to build accessories that can interact with an assortment of Android-powered devices by allowing the accessory initiate the connection. A library based on the Arduino USB Host Shield library provides the logic for the USB micro-controller board to act as a USB Host. This allows the board to initiate transactions with USB devices and provide 500mA at 5V for charging power. A USB micro-controller board that is based on the Arduino Mega2560 and Circuits@Home USB Host Shield designs (now referred to as the ADK board).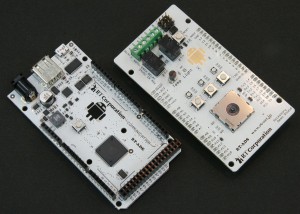 Android USB accessories are specifically designed to attach to Android-powered devices and adhere to a simple protocol (Android accessory protocol) that allows them to detect Android-powered devices that support accessory mode.
The Arduino boards will act as reference designs for manufacturers to base their future systems on. Because Google is using Arduino, hobbyists and tinkerers can connect to Android devices with a bit of coding. Rope in a powerful and well-loved hacking partner (Arduino) and you buy yourself not only a healthy platform but a healthy community. This looks really interesting.