Implementation UDP into microcontroller Igor Atmel-UDP device:
UDP/IP infrared remote control web page shows implementation UDP/IP on firmware level (similar as emulation of RS232 interface or USB interface).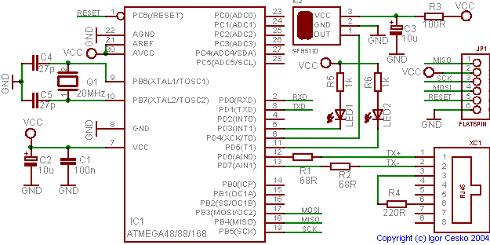 What makes it really cool is that the ethernet is bitbanged using nothing but the bare pins of an ATMEGA168. The downside is that this Ethernet implementation is 10 Mbit/s transmit-only: it cannot receive network packets. In think this is a cool hack, that could be enough for some projects.
By the way ATMEGA168 is same chip as used on Arduino Diecimila. Maybe this idea could be adapted to Arduino boards as well if the board is modufied for this (Arduino runs on 16 MHz, this circuits needs 20 MHz clock).
If you want a real full standard Ethernet interface that can transmit and receive, you need to use a real Ethernet controller for it (Ethernet chip or interface built into the microcontroller).