Ethernet for Vehicles Advances article tells that Ethernet technology in the car (a concept that was once unthinkable for the automotive industry) has been gaining momentum lately. The irony of this sudden trend is that a few years ago, Ethernet wasn't seen as a solution to any applications in the car (one exception for this rule is that BMW cars supporting Ethernet have been on the market since 2008).
There are many existing in-vehicle technologies such as CAN, LIN, LVDS and FlexRay. Just few years ago MOST (Media Oriented Systems Transport) was seen as the de-facto standard for multimedia and infotainment networking in the automotive industry, but is has has now fallen out of favor. So now it seem to be right time for Ethernet.

A coalition of automakers and automotive suppliers said recently that they are forming a special interest group (SIG) aimed at driving broad-scale adoption of Ethernet in vehicles, largely to serve the expected boom of camera-based applications in cars. NXP and Broadcom are playing a big role in the launch of the new special interest group, known as the OPEN (One-Pair-Ether-Net) SIG. This SIG is focused on the idea of creating a single physical layer that would enable easy use of Ethernet with vehicle cameras. OPEN Alliance is designed to encourage wide scale adoption of Ethernet-based, single pair unshielded cable networks as the standard in automotive applications.
NXP said it would be the first supplier to license Broadcom's BroadR-Reach ethernet technology (technology originally designed to extends the range of twisted pair connections from 100 meters to up to 500 meters) for in-vehicle networking. Broadcom has also introduced their Automotive Ethernet Product Portfolio. BroadR-Reach allows full-duplex operation over a single twisted pair at 100 Mbps (same type of cabling 80-110 ohms unshielded or shielded twisted pair cabling as used in FlexRay works).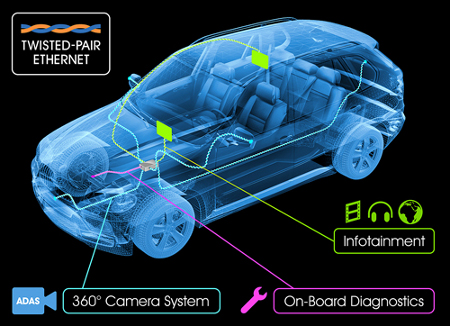 Interest in one pair Ethernet technology has grown dramatically as the automotive industry accelerates its adoption of Ethernet based networks. BMW and Hyundai have teamed up with Broadcom, NXP Semiconductors, Freescale and Harman to make ethernet the computer networking technology of choice inside the car. Infotainment systems maker Harman said that higher-bandwidth connectivity will address customers' growing demand for seamlessly integrated information, entertainment and safety features in the car.
I have been for long time wondering why the automotive makers have been very hesitant to spec Ethernet in the past since it's such a well-proven technology? Ethernet has gained momentum in many sectors, because it's a fast, mature technology with high production volumes in the computer industry. Now it is the time for the auto industry is to leverage the computer industry's enormous Ethernet know-how.