I just used reasonably priced wireless Internet in plane. I flew yesterday with Norwegian Boeing 737 plane. When the plane took off there was a surprising announcement on the plane: This plane has a free wireless Internet system on board. As soon as the plane is in flying altitude and the fasten your seatbelt light has bee turned on you are free to start to use your tablet or laptop with WLAN. Norwegian says that it is the first flight company that offers WiFi internet in the plane in Europe.
I tried the WLAN connection with a small tablet (5″ Deal Android tablet). When I opened the web browser I was forwarded to Norwegian plane home page that gave view to flight information like flight time, altitude, speed and route map. Quite ueful. That page has a button to activate free Internet connection. When I pressed I was forwarded to a web address in row44.com domain. The registering felt to be taking long time (at least 30 seconds). After registering Internet connection worked. I could access Internet well, but the connection had noticeable latency (extra several seconds) every time I opened a web page. But after some waiting things worked quite similarly what I would get with Internet through cellular network data (works but takes time to load pages). So not very broadband connection but worked acceptably.
I tried to figure out some details of the system they used. When looking at WLAN frequency use I saw there were two different channels in use with same similar naming. I quess they have two WLAN basestations on different channels to cover the airplane, not just one base station. The system seems use some form of Web Accelerator server on board. I got some 504 errors sometimes, and the error page told that the web accelerator system had problem with satellite connection. So based on that the system seems to be using a satellite uplink from plane to Internet. I could not do any actual performance testing of the network, because I could not get any speed test pages to work on my tablet (I am not sure if that problem was with my crappy tablet or if those pages were somwhow blocked). Some general details of the system can be found at Row 44 web page.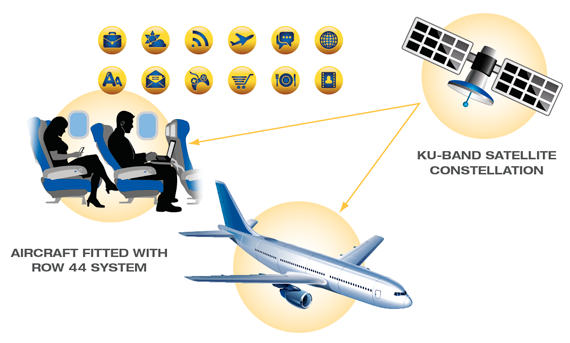 I think that Internet connection during flight is a good idea. Norwegian is planning to offer WLAN in all of it's planes during 2012. I am waiting for other flight companies to catch up on this.