When browsing Dealextreme New Items one day I saw Logic Analyzer w/ DuPont Lines and USB Cable for SCM – Black product that was described as USBEE AX PRO. I had previously looked at the USBee but thought they were too expensive. This one was really cheap (around 10 Euros). I have not tried USBEE software before (but I have seen some good comments on it), so it is worth to try and compare how well it performs against Saleae Logic. The specifications of the product seemed to be pretty OK for a cheap logic analyzer: Max. sample rate: 24MHz @ 8 channels; Input voltage range: 0~5V; Low input voltage: < 0.8V; High input voltage: >1.4V. 24 MHz on the low side for a logic analyzer but is enough for debugging quite a lot of common protocols. Support protocol: SPI, IIC, UART, SMBus, I2S, CAN, Parallel, Custom, Search, Async, 1-Wite, PS/2.
The product came after some waiting. The package included just logic analyzer, USB cable and signal cabled (dupont line). The color of the device was black (in original product picture it was white). Interesting that the USB cable that came with the device was Nokia USB cable (KDE-2).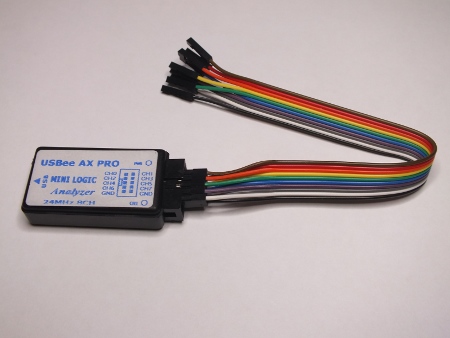 The package did not include any instructions or software. Then go to Internet and find the software. Google search headed me to USBEE download page. I downloaded USBEE AX PRO software and installed it. MiniLogic analyzer is detected. The applications with voltmeter just show some random voltage because the box I got does not have analogue input like (real USBEE AX PRO has analogue input). So this box is a clone that only supports the digital logic analyzer functions, and doesn't have the analog circuitry (ADC) to read analog voltages. So this box is really is more like an USBEE ZX.
Some of the programs on the software suite worked well, some not entirely correctly and some not at all. Some of the USBEE AX software worked OK, some did not work as expected. For example in logic analyzer program the sample rate settings did not seem to affect anything. Output programs did not work at all. So did not anything that needed analog inputs (scope, multimeter etc..) Simple pulse counting program and frequency counter for example worked as expected.
Maybe I needed some other software that worked better. I saw that the USBEE download page has USBee Suite for DX, AX, ZX, SX and BusBee software. I tried it. The logic analyzer functions in that worked as expected when I set the software to 8 channel logic analyzer mode (turn off oscilloscope channel). I has some problems with 24 MHz sample rate (missing data), but with lower sample speeds everything worked as expected. The Windows tooling is pretty nice, it comes with built-in serial decoding.
To know sure what is inside the device I looked inside the box.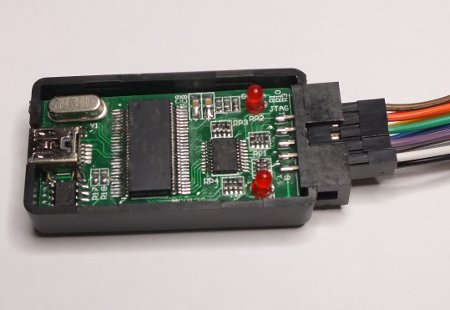 Yes. This device is a clone based on CY7C68013. It supports only digital logic analyzer functions. It does not support oscilloscope channels (no input pins for them). It does not seem to support signal output functionality (one feature I was looking when getting another logic analyzer). Considering all the hardware that goes into this product the sales price is cheap. If you try to buy CY7C68013 at small volumes, that IC itself costs more than the price of this whole product.
Other hardware details that I found out was that the device itself runs on 3.3V voltage (there is a linear regulator on the backside of circuit board that regulates USB around 5V to 3.3V). The inputs seems to be implemented with HC245 (if I read the code on IC right because it was in quite unreadable condition) between input pins and CY7C68013. There was 150 ohms series resistor from input pin to HC245, probably to provide some protection. There was also pull-up resistors for each pin (around 100 kohms to 3.3V) to keep the pins up when not connected anywhere. On strange thing: HC245 is a bidirectional bus buffer IC, so I wonder why did they not implement the output in this device because the hardware was already there!
Another thing I found out was that the USBee software license says that you may not use this Software in conjunction with any pod providing similar functionality made by other than CWAV. So using this box with the original software is against the license. So good that I bought this cheaper one and not the more expensive model. The reason why this kind of cheap clones seem to pop up is that the logic analyzer hardware on those is similar to CY7C68013 evaluation board, all that is needed to program the right USB ID into the board to make it being identified the device you want.
If this box can't be used with original USBee software without breaking the license, then what can be done with it without breaking license rules (I quess many buyers will not bother looking at the license). Those cheap logic analyzer boxes seems to be commonly available, so maybe there are some other software to use with it. On the hardware side this USBEE AX clone seems to have a USBEE SX hardware inside (maybe just different firmware and USB ID).
Google search revealed some USBEE SX protocol details and Linux driver and experimentation framework for USBee SX (check readme). I am not sure if those are directly suitable with my "USBEE AX" box that is in features closer to SX than real AX.
It seems that sigrok project might be of help to have the software to run this device "legally". The sigrok project aims at creating a portable, cross-platform, Free/Libre/Open-Source signal analysis software suite that supports various device types. sigrok developers have made an open-source firmware fx2lafw for Cypress FX2 chips which makes them usable as simple logic analyzer hardware. The interesting part is scriptable protocol decoding that is extendable with stackable protocol decoders written in Python 3. The Windows version of the software is still a work in progress. The developers don't provide pre-built installers right now (and only command line tool fully supported). I will look this software again after some time when the Windows version gets easy to install or I have time to play with my old Linux box.