Logic analyzer is a very useful tool for embedded system debugging.
In many embedded-system magazines and on Web sites you'll see advertisements for instrument "boxes" or pods that connect to a PC through a USB port. These devices capture digital and analogue signals that a host PC displays in a standard scope or logic-analyzer format. Several logic analyzer devices come with software that can decode I2C, SPI, and other serial protocols, and provide timing information. There are also devices can create analog and digital signals, too.
Are Low-Cost Logic Analyzers Up to the Challenge? mentions that those cheap logic analyzers are made by companies such as USBee, Byte Paradigm, PoScope, CleverScope, Intronix, Saleae, Saelig, TechTools, and BitScope. I would add to the list interesting looking product like Bus Pirate, Ikalogic Scanalogic-2, Pickit2, ArduinoLab Arduino shield and Digilent Analog Discovery.
Some specifications for this class of instruments prove difficult to determine and thus compare. So, you must understand the types of signals you plan to capture and analyze, the logic levels you'll work with, and sample rates. Here are some comments from me on several logic analyzer products.
Microchip PICkit 2 Logic Tool allows the PICkit 2 ICSP connector pins to be used for stimulating and probing digital signals in a target circuit, and as a simple 3 channel logic analyzer with up to 1 MHz sample rate. PICkit 2 Development Programmer/Debugger works as a simple logic analyzer when you make yourself your own problems (easy just some soldering).
Saleae has a USB logic probe hardware and Logic Software for it. Logic Software download gives you ability to download this software to test how it works (provides some demo signals to test without hardware). The software that can decode quite many different kind of signals (I2C, SPI, asynchronous serial, etc..). You can read more on the devices on my blog posting Saleae Logic Analyzer. This is a very popular product and there are Chinese made clones of this.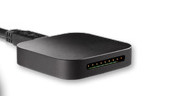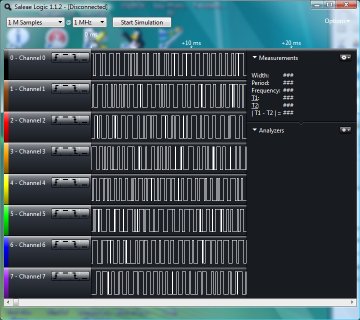 USBee makes a quite good selection of logic analyzer pods with and without analogue inputs. Their software USBee Suite software seem to be quite good at quick test. his is a very popular product and there are Chinese made clones of this.
Bitscope products are are USB or Ethernet connected PC Based Mixed Signal Oscilloscopes. You can Test Drive BitScope DSO, free of charge. The software downloaded to PC will connect to a remote BS300N that the manufacturer have put on the Internet. Like the original BitScope published in Circuit Cellar magazine in 1999, the hardware design of BitScope 300 is open and published online and full schematics are available for download. Interesting product family that I have not had hands on experience with.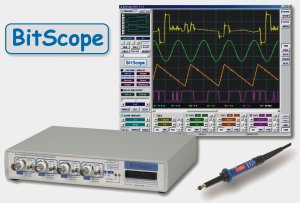 Analog Discovery is a two channel scope (100 MSPS), waveform generator (100MSPS), logic analyzer. It is part of Analog circuit design kit jointly by ADI and Digilent. This is an interesting looking product. It is all-in-one analog design kits that will enable engineering students to quickly and easily experiment with advanced technologies and build and test real-world, functional analog design circuits. In addition to this there are logic analyzer functionality. This looks an interesting product.