A recent white paper from APC-Schneider Electric authored by Neil Rasmussen takes a hard look at grounding practices and the use of the signal reference grid in data centers. The Grounding and the Use of the Signal Reference Grid in Data Centers paper contends that signal reference grids are automatically specified and installed in data centers despite the fact that they are usually no longer needed by modern IT equipment. Grounding and the Use of the Signal Reference Grid in Data Centers paper explains pretty the origins of the signal reference grid, the operating principles and limitations, and why they no longer are needed.
Signal Reference Grids (SRG's) provide a low impedance equipotential plane to protect sensitive electronic equipment from transients. SRG's can be used for proper grounding and bonding of sensitive electronic systems, such as telecommunications, RF and computer installations.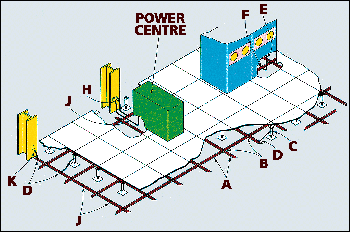 The signal reference grid is constructed using (in order of preference) flat braided copper cable, flat copper strips, or round multi-strand copper conductor. Due to the "skin effect" characteristic of high-frequency signals, flat braided copper cable offers superior performance.
From the white paper's introduction: "The signal reference grid (SRG) is a network of copper wires typically installed below a raised floor in a data center." "The installation of signal reference grids has been common practice for over 30 years. Further, most data center designs calling for SRGs and their use and expense are not questioned."
Signal reference grids: myths, facts, and sensible choices article tells that choice of SRG depends on knowing what's legitimately true and patently false about grounding, bonding, and electrical noise mitigation. Proper bonding and grounding is based on science. While there is an abundance of in-vogue Computer grounding information, some of the "facts" are unsubstantiated and can cause unnecessary confusion and expense.
Grounding and the Use of the Signal Reference Grid in Data Centers paper pretty heavily questions the need for SRG in modern data center. It is worth to read the paper. Here are some main points picked from that paper:
Even though FIPS PUB 94 that introduced SRGs was withdrawn from publication in 1997, the standard is still commonly referenced today and industry standards routinely specify or recommend a ground reference grid.
Recently, more and more data centers are being constructed on existing hard-floor environments where SRGs cannot be installed under the floor. Modern data centers can work reliably without an SRG. The reason is changes in the design of IT equipment have totally changed the susceptibility of equipment to electrical noise. The signal reference grid used in most modern data centers is no longer as important as it once was, due to changes in IT technology. Modern IT equipment uses methods for data communication which have substantially changed over time and now have dramatically reduced inter-system ground noise susceptibility.
The different types of data communication interfaces are classified into susceptibility classes:
Susceptibility class: Low immunity
Interfaces in class: Parallel ports, RS-232 ports, Proprietary backplane, Video cables
Characteristics: Copper cabling with ground referenced signals. Any shift in ground voltage between the interconnected equipment is superimposed on the data signal. Inter-system ground noise of 0.1 volt or even less can interfere with communication (depends on interface).
Susceptibility class: Partial immunity
Interfaces in class: Modbus, RS-485, SCSI
Characteristics: Use balanced or differential signal transmission that is not ground referenced. Inter-system ground noise of 10 volts or more can interfere with communication when it exceeds interface "common mode range".
Susceptibility class: High immunity
Interfaces in class: Ethernet
Characteristics: Copper communication interfaces that have a balanced or differential signal transmission with full transformer isolation at both ends (Ethernet over 1000 volt isolation). Communication protocols have built-in error correction.
Susceptibility class: Total immunity
Interfaces in class: Fiber optic, Wireless
Characteristics: Inter-system ground noise does not have any effect on communications.
My own addition to list would be that analogue audio signals if your system uses then go to low immunity class (some properly implemented balanced line level audio signals would go to partial immunity class).
At the time the SRG was first created, the primary data interface systems were those in the "low immunity" group. Equipment communication interference reduction function of the SRG is based on the ability of the SRG to reduce inter-system ground noise. In today's data centers data interfaces are mainly of the "high immunity" or "total immunity" classes. Only few "low immunity" interface types remain (mainly restricted to use with a single rack). There is no more need for a supplemental SRG to guarantee that communication between racks work reliably and or for electrical safety reasons.
A detailed analysis of the science and practice regarding grounding suggests the following best practices :
Use Ethernet or fiber for data communication in a data center where possible.
Interconnect racks in a row with ground bonding wires.
Restrict all other forms of data communication (video, SCSI, RS-232, etc.) to interconnections within a single rack or a row of interconnected racks.
Bond cable trays (power and data) to equipment racks.
Protect the data cable entry points of the data center: Any copper wires (anything that is not fiber) should go through a central location and should be properly treated (surge suppress, isolate, signal through main router etc..)
Grounding and the Use of the Signal Reference Grid in Data Centers paper says that if the above guidance is followed, then the benefits of adding an SRG are greatly diminished making SRG installations typically unjustified.