Inductive amplifier is a type of test instrument that does not require electrical contact to detect an AC wire under voltage. The conventional use of the inductive amplifier is finding the location of hidden wires and breaks in them. Inductive amplifiers can also be used to find an individual cable pair in a telephone cross connect or cable head when used in conjunction with a tone generator.
One of the best known manufacturers of the inductive amplifiers is Tempo. Tempo's 200EP inductive amplifier is a commonly used benchmark in the electronics industry. Here is one video describing How to use a tone generator and probe to locate cables
Another video Tone and Probe Cable Tracer
How do Cable Tone Generator/Tracers work? You need a signal transmitter and receiver (inductive amplifier).
The signal transmitter is easy part. They are just simple signal generators that generally generate around 900/1000 Hz "warble" signal at few volts signal level (typical signal level 0..7 dBm). Fox – Hound, Cable Tracers, Signal Tracers, Line Tracers web page has circuit diagram for one signal sender. Also just a simple 555 based oscillator sending around 1 kHz square wave for wires will do also work as signal sender. I did my first sender from Velleman MK105 Simple Signal Generator: I connected 100 ohms resistor to pin 3 of 555 IC to get square wave out. Some more protection circuitry would be also a good idea if you accidentally connect your circuit to a shorted cable or cable with some voltage on it (for example telephone line).
The more complicated part is how to build the inductive amplifier part. Years ago I tried to get information on those inductive amplifiers and tried to build such circuit. Here is the circuit my first attempt to make inductive receiver I found on my archives. The original circuit diagram file source is unknown (maybe from Usenet news). I have done some modifications to the original design (hand drawn extra components and value changes):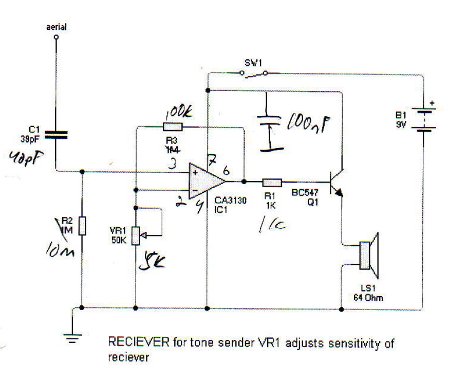 This somehow seemed to work but was not very good I searched some more information on then on Usenet news and this lead me to this message in Kaapelin paikannus? thread:
From: Lizard Blizzard
Newsgroups: sci.electronics.misc
Subject: Re: Inductive Amplifier / Speaker Probe
Date: Thu, 06 Mar 2003 07:59:07 -0800

The original 'banana' probe is simply a LM386 driving a mini 1″ (25 mm) to 1.3″ (30 mm) speaker. The input has an MPF102 JFET as a source follower, with a 4.7k source load resistor and a 10 meg from gate to ground (& collector to +9V). A 47 pf cap in parallel with the 10 M to rolloff highs, and a 1 Meg in series between the gate and probe tip. The source load resistor is coupled to the input of 386 thru a .1 uF ceramic cap. A push button momentary contact switch and 9V battery complete the circuit.
Here is my interpretation of the description. I built my inductive amplifier based on this design and it worked well (much better than my first circuit). As you can see in the circuit diagram, this circuit consists of high impedance FET preamplifier followed by LM386 amplifier IC. The high impedance FET amplifier receives the pretty weak capacitively coupled signal from the test tip. This signal is then amplified to speaker with LM386 amplifier IC. I did in this plan one of my own modification: I added low/high gain select switch between LM386 pins 6 and 8 (I felt that sometimes to be able to control gain is a good idea).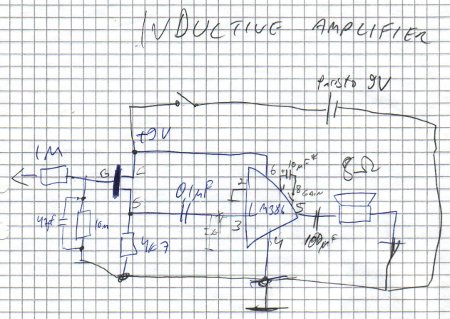 Here is the picture of the inductive amplifier I built: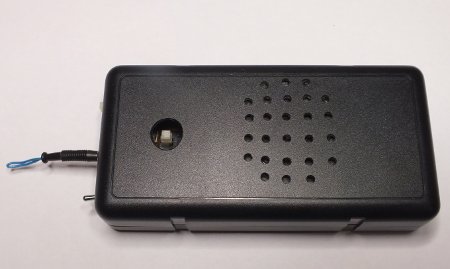 Here is a view inside my inductive amplifier signal tracer. I have built the circuit to prototyping board. In addition to parts shown on circuit diagram I have added a magnetic field detection coil that can be used (there is a switch that switches between normal electrical field tip and magnetic sensor). The magnetic sensor consists of a large air cored coil (a coil from reed relay). One end is connected to circuit ground and other end when in use though 820 kohm resistor to inductive amplifier circuit input (that same input that goes to tip).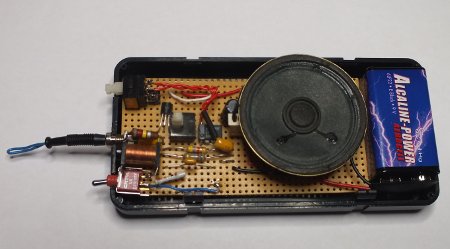 I added the magnetic field detector because it can be useful for cable tracing and detecting all kinds of magnetic noise sources. When you try to detect cable with magnetic field detection, instead of sending signal between wire pair on cable, you need to provide a means to feed a current signal that goes along the cable (sometimes you can do connection easily and many times not so easily). Universal Tracing and Locating System document describes one commercial cable tracer that can use also magnetic field detection for cable tracing. When using magnetic field detection it it would be nice to have a have a signal generator that has bulk current injection clamp that uses inductive coupling, treating cables as the secondary in a transformer.
I have also nowdays one commercially made signal generator and tracer: MS6812. It has proven to work well. And the signal generator works with my DIY inductive amplifier as well.
Links to some other interesting looking cable tracing plans:
Fox – Hound, Cable Tracers, Signal Tracers, Line Tracers – whatever you want to call them page has plans for signal sender and receiver work in the same way as I described on my document.
Wire tracer page has a very different cable tracer circuit idea. It uses an AM transistor radio as the detector. The signal source generates a pulsing signal a 1MHz (100KHz), which is heard as a growling sound in the radio.
Induction Receiver shows a very sensitive magnetic field based cable tracer.
Pocket Cable Tracer document describes how to build a signal sending device that can send a pulsed 90+ volt DC signal to cable (enough to make a neon bulb should glow brightly).