In my previous posting Current sensor for multi core cable is talked about measuring AC current flowing on cable where you don't get access to individual wires. In that posting I mentioned that I saw Modern Device blog article Current Sensor that seem to be doing exactly that. This sensor is designed for providing an isolated current sensor for mains voltages wires. It uses a pair of Hall Effect Sensors to sense the magnetic field generated by current in a wire. The sensor output is just an analog voltage which is proportional to the current sensed on the cable.
Some days ago I got the sensor and started some testing with it. Here is a picture of the unit test on lab table: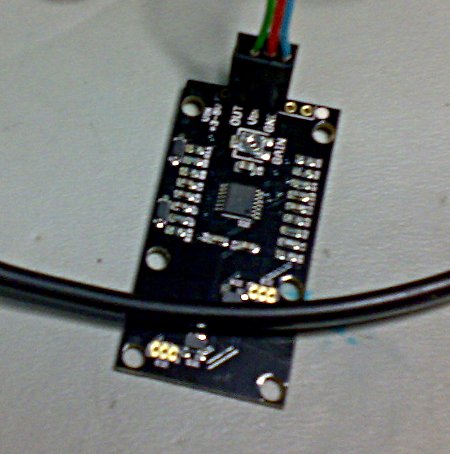 This sensor is designed to run at either 3.3 or 5 volts, and accept all voltages on that range. I set my lab power supply to 4.9 volts on my tests. The sensor seems to take around 16 mA current from the power supply.
The output is claimed to be fairly linear DC voltage proportional to AC current on cable. The circuit outputs DC voltage proportional to the current on the cable. The voltage is almost zero (some tens of millivolts) when there is no current flowing between the sensors. Based on my tests with few different currents the output seems to to be OK in linearity. The device designer is from USA (110V 60Hz power), but the circuit is designed in such way that it works also well in Europe where mains power is 230V 50Hz.
The downside of this sensor design is that the way the cable is put between the hall sensors has lots of effect on the output. This was somewhat expected.
I did some tests with a "flat" shape mains cable and got quite different results depending on the way the cable is put on the sensor. If you put the flat cable "flat" on circuit board between the sensors, the output is zero or almost zero. Changing the cable to stand on the circuit board so that one wire is between sensors and other higher up gives highest reading, with the sensor default calibration I got around 1 mV / mA readings.
When the cable is between those different extremes, the output varies between those maximum and minimum. What happens here gives also ideas how this sensor works. It looks like the description at Current Sensor article might not be completely accurate:
Two linear hall effect sensors, in surface mount packages are mounted in close proximity to the conductors. They are oriented so that each sensor is closer to one of the wires in the cable. The AC voltage from the sensors is then subtracted, so that common mode noise will drop out, and filtered with a low-pass filter to eliminate any signals greater than the power line frequency.
It seems because I get the highest reading when one of the mains cable conductors was between the sensors (about same distance to both sensors), and the the other is higher up on top of that (longer distance from sensors, but approx same distance to both sensors). To me it seems that those two hall sensors sense the magnetic field from that nearest wire between the sensors well (difference gives it's magnetic field well while attenuating well outside fields that get approximately same to both sensors). The other mains wire (carrying the return current) farther away has some effect (reduces the output) on the measurements, but due longer distance and different field direction it's affect if very much reduced. So it is possible with calibration to cancer out it's effect from output. If you put the cable on place where both current carrying conductors are between hall sensors, both of them get the same direction magnetic field, and it cancels out on signal processing circuit. That's my analysis how the sensor seems to work (so I think the original description was not accurate).
I did also some test with 3 core "round" shape grounded mains power cable. The similar variations on different cable rotation directions were are also present here. I also tested with single wire going between the sensors, and I got some current readings with it.
According the lab tests it seem that the correct procedure for real life use for this device would be something like this: First put cable + sensor combination to direction where you get some useful readings (highest, almost highest, around middle or something you like). Then securely attack cable so that it does not turn. Then calibrate sensor with known load so you know what voltage matches what current. There is gain potentiometer for calibration on sensor. So I am wondering if this attaching method shown at Current Sensor blog article would give accurate results on the long run (prevent cable and sensor from turning).
In some ways this sensor is an excellent idea for measuring individual circuits in a house. Basically the sensor does what it is promised to do. The need to very securely attach it to cable and need to calibrate it for sensible readings limits it's uses. You just can't put it on cable (like clamp sensors on single wires) and expect to get sensible results. So this sensor is more for fixed instrumentation than "multimeter" style applications.
If you need this type of sensor, get Current Sensor from Modern Device Shop. If the limitations are too much, then look for something else.