A programming language familiar to all, BASIC, has turns 50 years old. This month, BASIC celebrates an anniversary reached by very few languages: 50 years of continuous use. Basic Turns 50 article looks back on 50 years of attracting (and repelling) new programmers. It's difficult to imagine the computing world in 1964. There were no PCs, nor even minicomputers, and networking was for all practical purposes nonexistent. Programming was done on mainframes that could support remote teletype machines over telephone lines. BASIC took off and hit its stride in the '70s and especially the '80s, when it became the de facto language for PC programming. It was the language that Microsoft rode to fame and fortune.

The computer that the people at Dartmouth started BASIC 50 years ago and they have a description of the beginning on Basic at 50 page:  At 4 a.m. on May 1, 1964, in the basement of College Hall, Professor John Kemeny and a student programmer simultaneously typed RUN on neighboring terminals. When they both got back correct answers to their simple programs, time-sharing and BASIC were born. This year, Dartmouth is celebrating 50 years of BASIC, and the celebration is today Wednesday, April 30. For more historical details check also Basic Programming Language is 50 Years Old article.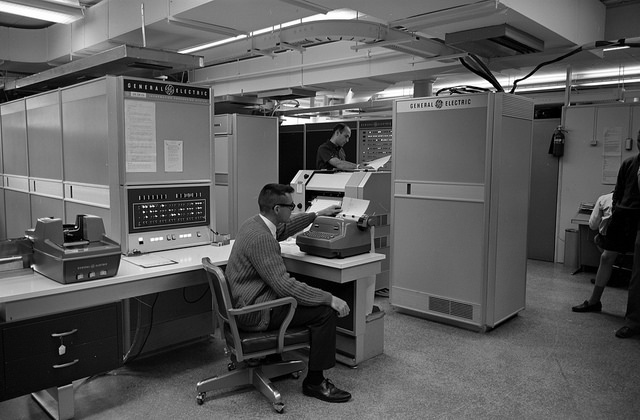 This photo was taken shortly after the first simultaneous execution of two BASIC programs in 1964. Image credits credit go to Dartmouth College that gave permission to use this picture from Historic BASIC images on Flickr.