It is an interesting space science evening tonight because of Rosetta mission. You can expect a historic landing attempt to land a probe to comet. The ESA's comet-chasing spacecraft Rosetta will send its lander Philae towards Comet 67P on Wednesday. The comet is hurtling through space at 135,000km per hour towards the Sun (500 million kilometers from Earth), and the ESA hopes Philae will be able to separate from Rosetta, get close enough to harpoon the space rock and draw itself in to land on comet surface. Once on the rock, the lander will drill into the surface.
According to Status update – 11 November it had been busy night for the Rosetta and Philae operations team. There had been some issues, but things seems to be OK at the moment. Expect to see real action on the evening at Rosetta #CometLanding webcast.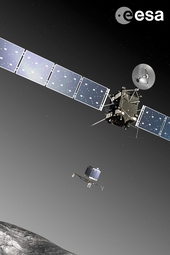 Finnish space technology industry is are well presented in this event as told by Digitoday: One event in particular the waiting party is Finnish weather forecast organization that emphasizes the major role in the Rosetta mission. The plant is mainly responsible for Philae water content measuring sensor that touches the comet first. It was also involved in four other instrument, for the understanding of the comet's dust and plasma environment. Patria has designed and manufactured two Rosetta electronic power distribution units and the spacecraft structure. This science-driven project has required a wide range of Finnish industrial subcontractors. Size of the Rosetta mission's price is around 1.3 billion euros. Finnish scientific equipment, accounts for "only" about 4.9 million.