I posted a quick note on interesting looking OBS Studio software some time ago.  OBS (Open Broadcaster Software) is a free and open source software for video recording and live streaming. It works on Windows, Mac and Linux.
OBS could be described as some kind of combinaton of real time video mixing and video encoding/streaming system. OBS offers high performance real time video/audio capturing and mixing, meaning you can take video input from various sources (like built-in video camera on your laptop, other video devices, video playback, computer application window contents in real time, etc..) and combine them to outout you want. You can easily combine one or more video sources to a "scene", and switch easily between scenes. The software has also audio mixer. Professionally made news broadcasts, live webcasts, and live TV events usually use multiple-camera setups controlled by one central software suite – with OBS you can do the same yourself.
Linux video editing in real time with OBS Studio article described OBS as software for on-the-fly video editing and basic compositing. But here"Editing" is a bit of misnomer here. OBS really isn't an editor. In broadcast terms, it's a bit closer to being what's called a live switcher or video mixer. When doing a broadcast of a live event  as it occurs, you can change which video source(s) get routed to your video output on the fly. If you record the video coming from the output, you have a finished video that doesn't require offline editing since all of the cuts happened live. Been there and done that – I have worked with live TV broadcasting (at those times with professional and some ow my own DIY gear). The software has even a Studio Mode that lets you preview your scenes and sources before pushing them live.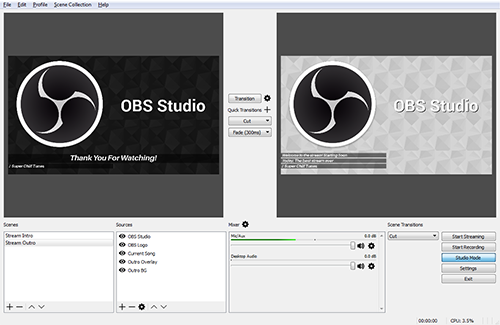 You might have seen results of OBS prodction for example on those YouTube gaming videos where the player video view is mixed to one corner of video – many of them are done or could be done with OBS. OBS supports streaming all your favorite streaming platforms like YouTube, twitch, etc.. Or you can save the gameplay to a local video file that you upload to service of your choice.
At quick testing this software looks very promising. I got it working well on my laptop that runs Windows 10 (I neeeded to install Visual C++ Redistributable Packages for Visual Studio 2013 to make the software to work). I got easily many video sources working – I tested built-in camera on laptop, USB webcam, USB endoscope, USB microscope, USB video capture adapter, application Windows contents on the same PC, etc.. After viewing some introduction videos getting everything working was pretty easy.
Here are some videos on feature and using OBS:
OBS Studio BEST Streaming & Recording Settings 2016
Full Basic Setup Guide for OBS (Open Broadcaster) 2017 | Beginner Tutorial
OBS Studio BEST Settings for Recording and Streaming (Tutorial)