A circuit breaker is an automatically operated electrical switch designed to protect an electrical circuit from damage caused by excess current, typically resulting from an overload or short circuit.
Its basic function is to interrupt current flow after a fault is detected. In small mains and low voltage circuit breakers, fault current is usually done within the device itself. Typically, the heating or magnetic effects of electric current are employed. Stotz's invention (patented by Brown, Boveri & Cie in 1924) was the forerunner of the modern thermal-magnetic breaker commonly used in household load centers to this day. Thermal magnetic circuit breakers, which are the type found in most distribution boards, incorporate both techniques with the electromagnet responding instantaneously to large surges in current (short circuits) and the bimetallic strip responding to less extreme but longer-term over-current conditions.
Once a fault is detected, the circuit breaker contacts must open to interrupt the circuit. When a high current or voltage is interrupted, an arc is generated, and this situation must be handled properly. Low-voltage miniature circuit breakers (MCB) use air alone to extinguish the arc. These circuit breakers contain so-called arc chutes, a stack of mutually insulated parallel metal plates which divide and cool the arc. Circuit breakers are usually able to terminate all current very quickly: typically the arc is extinguished between 30 ms and 150 ms after the mechanism has been tripped. Circuit breakers are rated both by the normal current that they are expected to carry, and the maximum short-circuit current that they can safely interrupt.
The DIN rail-mounted thermal-magnetic miniature circuit breaker is the most common style in modern domestic consumer units and commercial electrical distribution boards throughout Europe.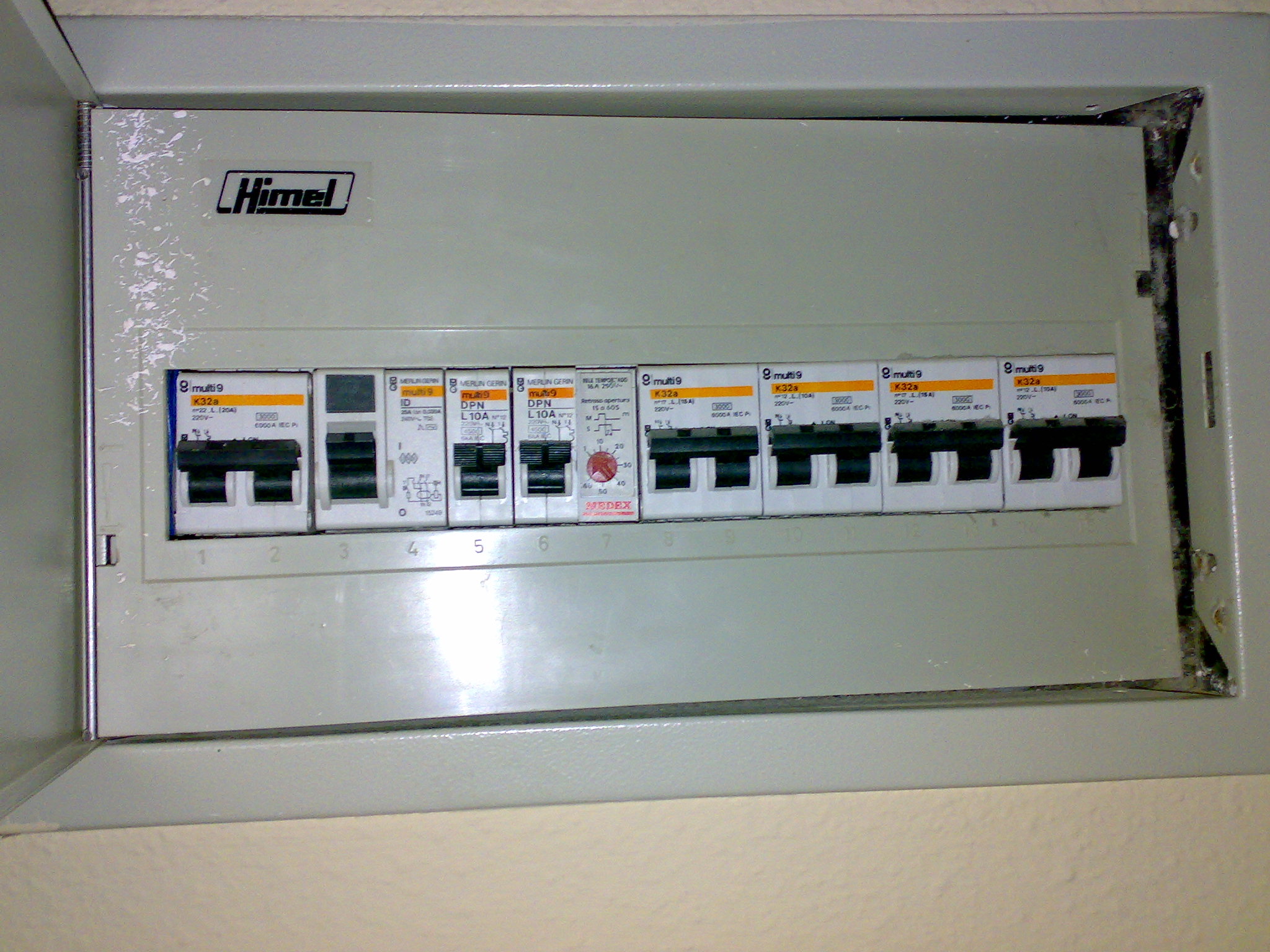 This type of circuit breakers are labeled with the rated current in amperes, preceded by a letter, B, C, or D, which indicates the instantaneous tripping current — that is, the minimum value of current that causes the circuit breaker to trip without intentional time delay. When supplying a branch circuit with more than one live conductor, each live conductor must be protected by a breaker pole in "common trip" breaker.
Typical domestic panel circuit breakers are rated to interrupt 10 kA (10000 A) short-circuit current.  International Standards, IEC 60898-1 and European Standard EN 60898-1, define the rated current In of a circuit breaker for low voltage distribution applications as the maximum current that the breaker is designed to carry continuously (at an ambient air temperature of 30 °C). The commonly available preferred values for the rated current are 6 A, 10 A, 13 A, 16 A, 20 A, 25 A, 32 A, 40 A, 50 A, 63 A, 80 A, 100 A,and 125 A.
One thing that needs to be sometimes taken into consideration also the power loss and heating generated on the circuit breaker. When fully loaded, the circuit breaker can generate several watts of power loss. For example Schneider document on calculating heat generated by molded case circuit breaker mentions that a circuit breaker manufactured by them generates/loses  7.9 Watts per pole. This causes energy loss, heating on the panel and some voltage loss.
The voltage loss is not typically issue on normal mains voltages, but when circuit breakers are used in low voltage applications, this needs to be taken into account (lower the current rating, typically more internal resistance and voltage loss at full load).
MCB Working principle
How it Works MCB
Thermal Magnetic Circuit Breaker Operation
Fuse vs Circuit Breaker │ Difference between Fuse and Circuit Breaker │
Circuit Breakers – How they Work, What's Inside
How to Replace a Circuit Breaker By: Everything Home TV
Difference between MCB and MCCB
ABB Miniature Circuit Breaker clearing downstream fault
RCBO circuit breaker teardown and extreme overload test
Transparent Siemens Circuit Breaker
Transparent ABB Circuit Breaker
Links to more material:
https://support.industry.siemens.com/cs/document/106197035/power-loss-for-molded-case-circuit-breaker-3va?dti=0&pnid=19409&lc=en-GT
http://www.eaton.com/ecm/groups/public/@pub/@eaton/@corp/documents/content/pct_1559746.pdf
https://www.utu.eu/sites/default/files/attachments/johdonsuojakatkaisijat-tekniset-tiedot-11fi0211.pdf
http://www2.amk.fi/Ensto/www.amk.fi/opintojaksot/0705016/1204792797383/1210594480264/1210594509783/1210594818536.html
https://en.wikipedia.org/wiki/Circuit_breaker
http://www.epanorama.net/newepa/2013/06/27/dc-circuit-breakers/
https://www.schneider-electric.us/en/faqs/FA173884/
http://www.eaton.com/ecm/groups/public/@pub/@eaton/@corp/documents/content/pct_1559746.pdf