PuTTY is one of most used open-source client-side programs to remotely access computers over secure SSH network protocol from Windows workstations. I use it very often to connect to embedded Linux devices and Linux servers.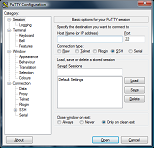 Based on latest news it might be now a very good idea to update it to latest version 0.71:
PuTTY Releases Important Software Update to Patch 8 High-Severity Flaws
https://thehackernews.com/2019/03/putty-software-hacking.html
The popular SSH client program PuTTY has released the latest version of its software that includes security patches for 8 high-severity security vulnerabilities.
If you use PuTTY, make sure you download and use the latest version of it. You can find downloads by going to https://www.putty.org or https://www.chiark.greenend.org.uk/~sgtatham/putty/releases/
By the way Putty is one of the open source software that are part of EU run Bub Bounty program to find bugs and fix them on 14 important open source software. The EU-Free and Open Source Software Auditing (EU-FOSSA) project designed to improve the security of free software.