I have have had for many years Mastech MS6811 cable tester. This tester model seems to be still selling typically at 15-30 Euros price range (and sometimes at higher price). Besides Mastech brands it is sold with different brand names for example AXIOMET and Sinometer.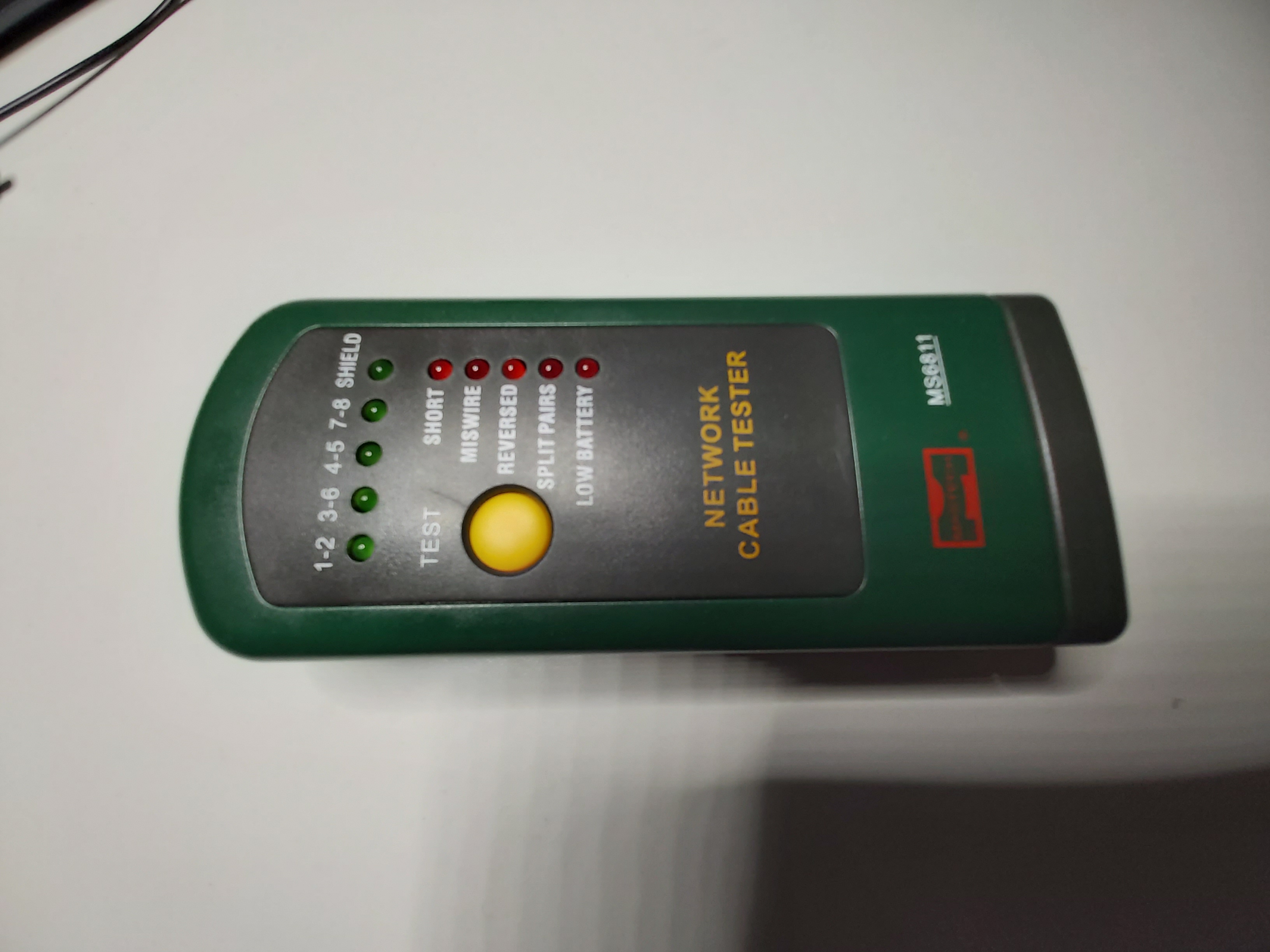 The MS6811 is designed to detect the most common wiring faults on TIA568A/568B, Token Ring, 10BASE-T, and 10/100 BASE-T twisted-pair cables. It is designed to test quickly for faults such as open circuits, shorts, crossed pairs, reversed pairs and split pairs.
The MS6811 includes one master unit and one remote unit easily operated by one person testing patch cords or installed cables. Moreover, the small remote unit is designed to slip into the master unit to prevent loss or damage. It is designed to be user-friendly and can be easily and conveniently carried and fit into your pocket. There is quick test mode and debug mode for detailed fault identification results. The tester can test pairs 1/2, 3/6, 4/5, 7/8 and shield integrity on shielded cables up to over 200 meters cable length. Split pair fault detection at a minimum 40cm cable length. There is auto sleep mode that turns off the device after testing and indication for low battery.
Mastech MS6811 cable tester features:
● Test device used with UTP (Unshield Twisted Pair) and STP (Shield Twisted Pair) wiring.
● Checks continuity and configuration of wiring with unshielded and shielded modular plugs.
● Tests for open circuits, shorts, miswires, reversals, and split pairs.
● Main unit and one remote allow one person to test T568A, T568B, 10Base-T, and Token Ring.
● DEBUG quickly identifies which cable pairs have a specific wiring fault.
● Battery low indicator.
● Power Supply : 1x6V 4LR44/4AG13 Battery
● Product Size : 125x55x30 mm/4.9″x2.2″x1.2″
● Product Weight : 106g/0.23lb
● Certificate : CE / ETL / RoHS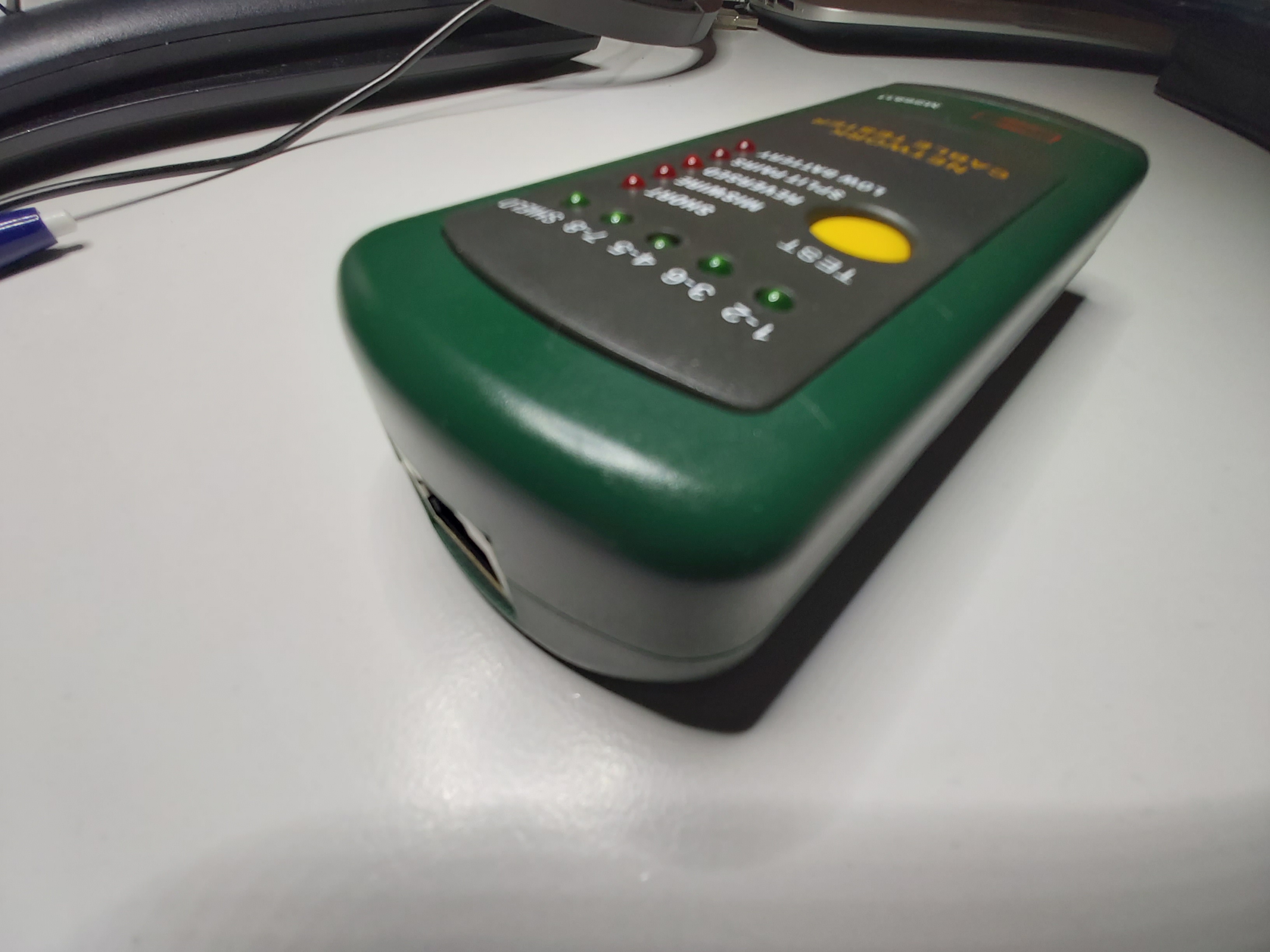 This thing is just okay network cable tester. For the money, it works well enough. Would not recommend for a professional every day use, but as someone who only occasionally gets asked to wire up ports around the office, it works OK. Materials are okay being not too fragile and lightweight. The remote piece tucks into the main body so it's pretty compact. The device works OK for testing both patch cables and installed in-wall cables. For installed in-wall cable testing it is good that you can just leave the loop-back adapter on the remote end and see all the test results on the tester end (in comparison to some simple cable tester that has LEDs on both tester and remote loopback adapter that you need to see both).
The downsides of this device is that it takes a 6V battery (an odd 6V camera battery that is more expensive than standard common batteries). Getting the device to debug mode is not the most clear (you need to press button for long time but it works only if device is in sleep mode and not immediately after quick test). The debug mode tells some details in which pairs the problems are, but can't pinpoint exactly which wire is how exactly miswired. It also views crossover cables as being miswired (which, I really cannot disagree with that point of view).
Let's take a look at what is inside this device. First open the loop-back adapter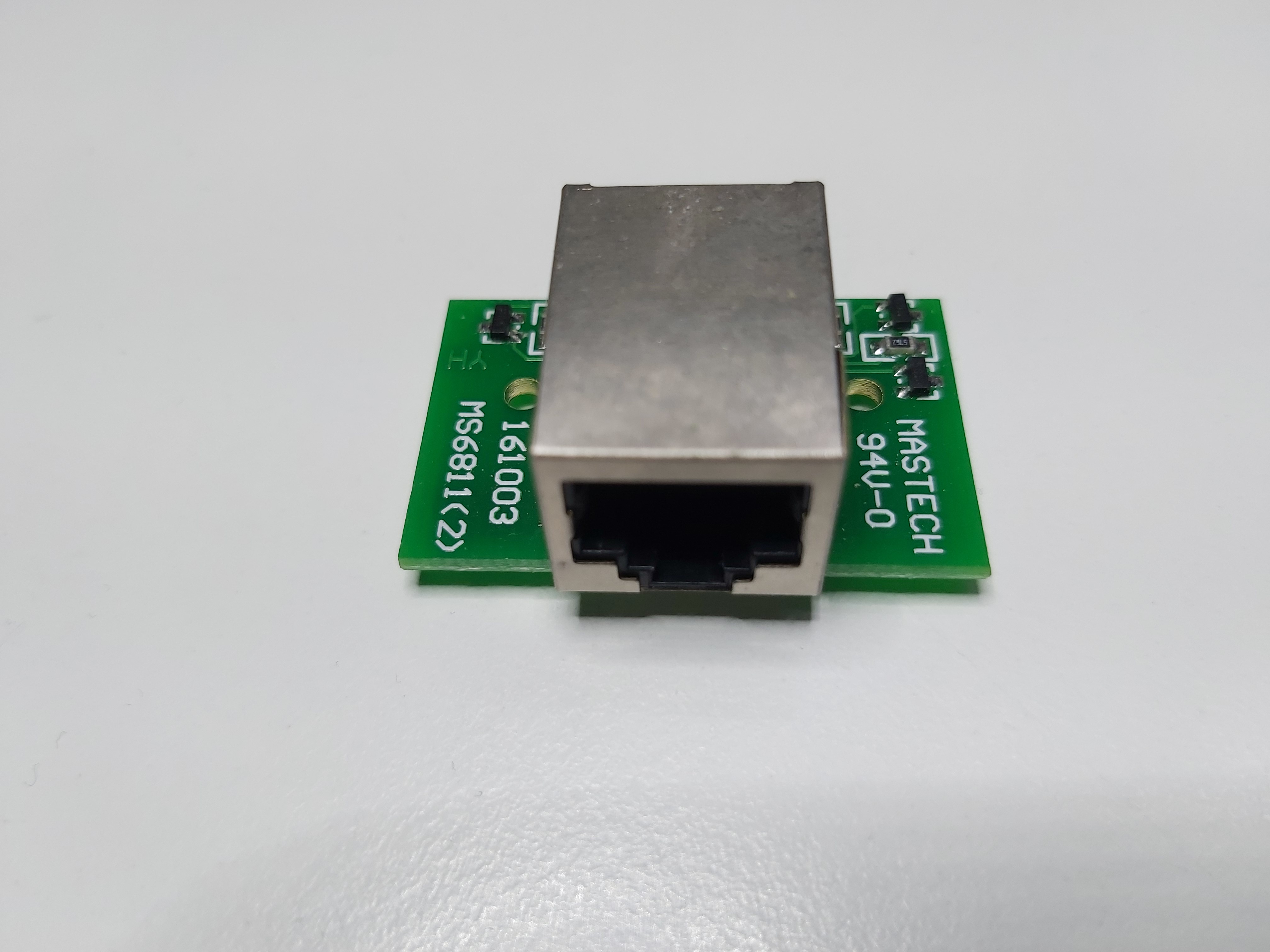 Not much in here. Just RJ-45 connector, few diodes and some other components on tiny circuit board.
Next let's open the main tester unit: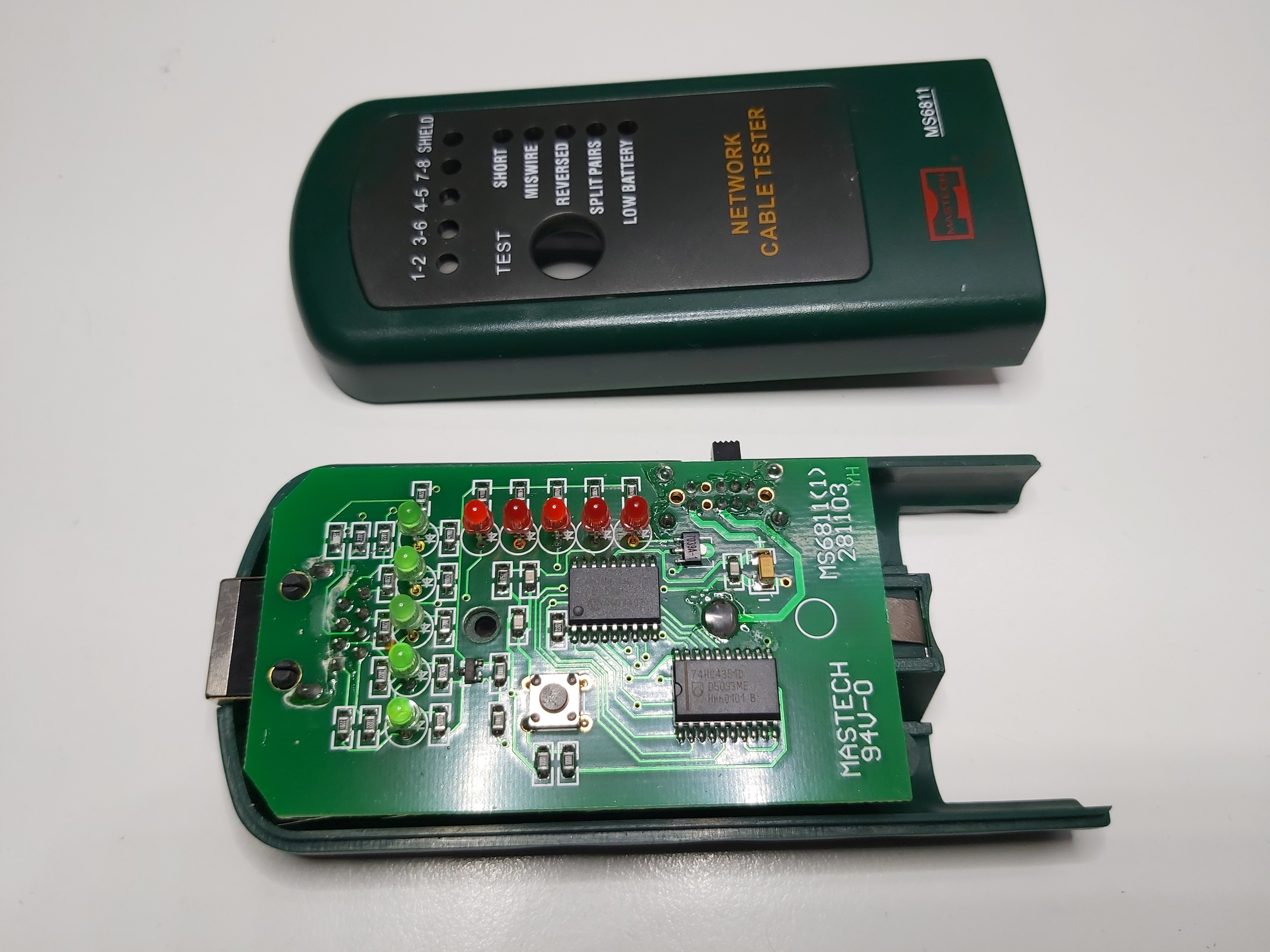 The main active components inside the tester unit are PIC16F1769 8-bit micro-controller and 74HC4351 8-channel analog multiplexer/demultiplexer. Pretty much all the testing "magic" is implemented with software hidden inside the micro-controller.