Building a sound system is often a highly personal process, from deciding what to get, to assembling and using it. Here is my PA system I built in 1990′s and used for some mobile DJing. The need for measurements were that it should fit easily to a normal size car with everything else that is needed and should be quite quick to set up. The main objectives were: The sound level and quality has to be adequate for the purpose, it should be quite fast to transport, set up and built at reasonably low budget (I was a student at the time).
PA amplifier rack built in late 1990′s with practically very low budget: DIY amplifier (uses some Rowe jukebox parts with new transformer put yo rack case), repaired/modified Kenwood KA-7X amplifier for sub, car active crossover, wooden DIY rack, extension cord and ground fault interrupter. The main speaker are built to old home stereo speaker enclosures. The subwoofer was my own design based on Cerwin Vega subwoofer element.
Here i the front side of the amplifier rack.
Here is the backside of the amplifier rack with connector panels. The audio input is 6.3 mm TRS (Tip Ring Sleeve, balanced) jack on the active crossover (black box on the top). From there signals go to amplifiers (unbalanced 6.3 mm outputs that to 6.3 mm jacks or RCA on amplifiers). The speaker outputs are wired to Neutrik Speakpon connectors.
The power input is 230V AC 50 Hz using SCHUKO connector. The power distribution consists of extension cord, ground fault interrupter and power outlet splitter. Originally I had everything just plugged to this three output extension cord, but then I added later that ground fault interrupter for safety.
Here is the overview of the wiring inside the amplifier rack.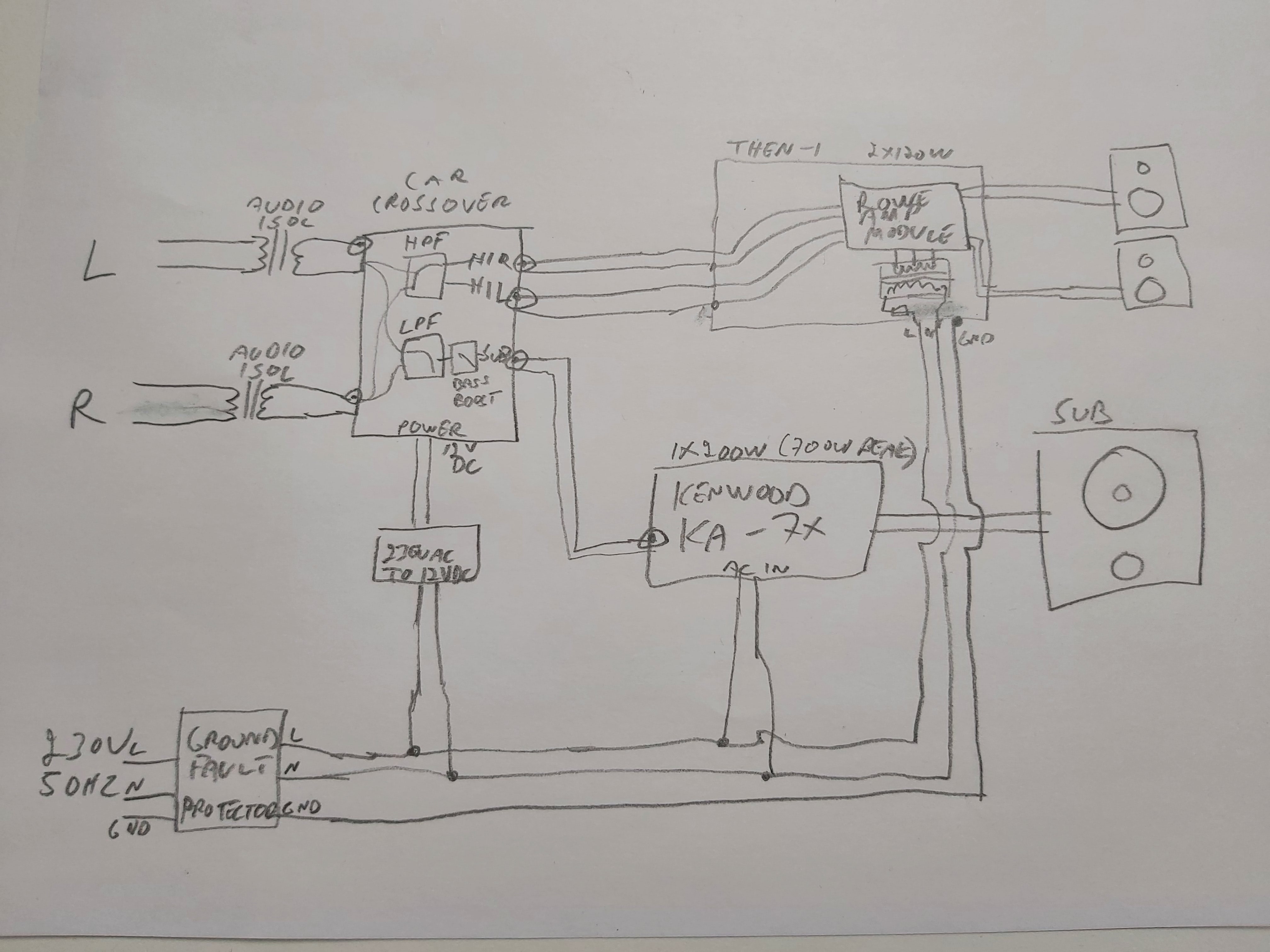 That Kenwood originally put out 110 watts rms output per channel at 8 Ohms and 560 watts Dynamic power output at 4 Ohms. With single channel used (other dead) I could get nearly 180W continuous and nearly 600-700W peak to sub.
The amplifier that drives the left and right speakers is based on old Rowe amplifier module form jukebox. This video shows similar looking Rowe amplifier I used in my DIY amp. I replaced original 110V transformer with 230V input transformer and threw out the broken preamp board. With all the tweaks I could get up to 2x120W power from it to four ohms speakers.
The left and right speakers were based on the cabinets from old home HIFI speakers (came with ASA StudioTrio system). The woofer elements had failed years ago, and I replaced them with new elements. First I used some cheap 8 ohms element from Bebek and later a 4 ohms car hifi element. The high frequency driver is original. I did measurements to the speaker performance and did slight modifications to crossover where needed.
The speaker accepts bananas, bare wires, 6.3 mm jack and wires with Speakon connectors.
Some old measurement results with old woofer element.
Subwoofer is my own design based on Cerwin Vega 12″ subwoofer element. The box was designed so that I could fit it to my car and built so that it can take some road use. I use around 65 liters inside volume with bass reflex tuning. I used the element manufacturer example recommendations as starting point and changed is to that I can play to somewhat lower frequencies (I used some speaker simulation software to simulate how it behaves). I use that subwoofer nowadays on my home theater system.