Raspberry Pi and Arduino seems to be the most interesting small single board platforms at the moment for the hobbyists. It is a bit sad to see some people who are very passionate about the Arduino community coming down quite hard on the Raspberry Pi project as the Big Bad, suggesting that we're trying to encroach on Arduino's territory and offering unfair competition. They have both their own territories where they are best and there are overlapping areas. I don't see Rasberry Pi as direct competitor for traditional Arduino boards (like Arduno Uno), but it could be a serious competitor to ARM-based Arduino that is coming.
Arduino is a marvellous thing, and I don't feel the two are directly comparable or competiting. You'll be using them for different things. Arduino uses a microcontroller; Raspberry Pi uses an applications processor. There are some things a Raspberry Pi is better for, and loads of things an Arduino is more suited to. It is well possible that successful sales of Raspberry Pi will encourage people to buy Arduinos too, and vice versa: the two have "good synergy". There are definately place for both Arduino hacks and Rasberry hacks.
Raspberry Pi and Arduino blog article tells that there's a good potential marriage between the Arduinos you might have in your drawer at home, and your Raspberry Pi, which you can use to drive them.
Why would you connect an Arduino to a Raspberry Pi? You probably want to use a shield or two to add extra functionality to your 'Pi. Since the Arduino was launched years ago, many 'shields' or add-on boards providing additional functionality have been released. There are hundreds of different shields. (If you haven't seen it already, check out Shield List and prepare to be amazed as you browse through nearly 300 existing shields!)
It is possible to use the Arduino is just acting as a proxy between the shield and the 'Pi. Just plug it in via USB is one option but it, but takes up one of the precious USB ports or you need to add an USB hub. Simon Monk has been getting his Raspberry Pi and Arduino talking using Python. There are instructions on his blog, which seasoned Arduino hackers should find easy enough to follow.
You don't necessarily need Arduino board as proxy. Rasberry Pi itself has GPIO pins and peripherals that can act as their Arduino counterparts.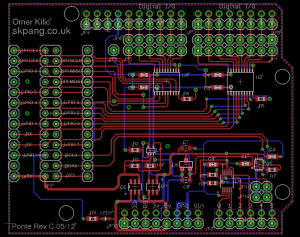 Omer is working on a new device called Ponte, which acts as a bridge between Raspberry Pi and Arduino or its shields. Now that the Raspberry Pi is out in the wild, it was only a matter of time before a RasPi to Arduino shield bridge was created.. You can either use it as a link between your Arduino and your Raspberry Pi, or use it to connect Arduino shields directly to your Rasberry Pi.
Ponte allows Arduino shields to be used with the incredible horsepower of an embedded Linux system. Ponte (currently experimental) design aims to be the "bridge" between the Arduino and Raspberry Pi hardware. It serves two purposes: You can either plug it into an Arduino to link it to your 'Pi or you can use it to connect Arduino shields to your 'Pi. The idea is simple, consequently the circuit itself is not very complicated. With some clever software hackery, we should even be able to use existing Arduino sketches on the Raspberry Pi. The design files will be released as open source hardware once the designers are happy with prototypes. Right now, the Ponte only supports Arduino Uno-sized shield.