The whole world seems to be going in ARM's direction. ARM has practically taken the mobile phone and tablet markets. The latest version of Windows 8 will also run on ARM processors, Raspberry Pi is a $25 ARM based machine etc..
Slashdot tells that now the open source Arduino platform has a new member — the ARM-based Arduino Due announced at the Maker Faire in New York.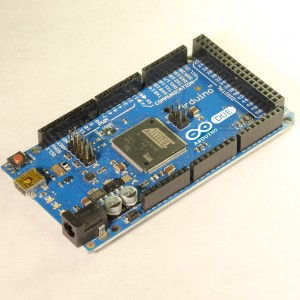 The Due makes use of Atmel's SAM3U ARM-based processor, which supports 32-bit Cortex-M3 ARM instructions. The SAM3U processor from ATMEL is running at 96MHz with 256Kb of Flash, 50Kb of Sram, 5 SPI buses, 2 I2C interfaces, 5 UARTS, 16 Analog Inputs at 12Bit resolution and much more. This is much more powerful than the current Uno or Mega.
Unfortunately the 3.3V operating voltage and the different I/O ports are going to create some compatibility problems. Arduino boards have been traditionally with 5V I/O, although 3.3V seems to become more and more popular. Adafruit has a tutorial on converting Arduino Unos over to 3.3v, from 5v. It's becoming popular. The usefulness of 5V is diminishing.
I don't see this new Due board as a direct replacement for the 8-bit ATmega based Arduinos, but more as a step up up for those looking for more processing power. A port to ARM for the user friendly Arduino toolkit had been long talked, but this is an official ARM-Arduino board with official support in the arduino toolchain.
To connect this board to Internet you will need to have some additional hardware, because Due does not have any built-in network interface. For Arduino use there has been long time Ethernet Shields (different models) and now also official Arduino Wifi Shield.