Category 5 (CAT5) cable is a multi-pair (usually 4 pair) cable that consists of twisted pair conductors, used mainly for data transmission. Basic CAT5 cable was designed for characteristics of up to 100 MHz. Newer CAT6 cable is designed form 250 MHz. Nowadays there are applications where those cables is used to carry higher frequencies.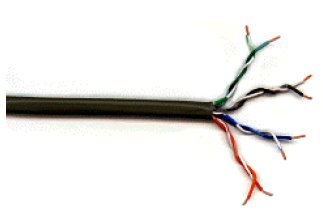 Cat 5 Cable Modeling for DVI/HDMI links tells how to analyze the cable performance. The behaviour of each twisted pair is determined by the complex three-dimensional
electromagnetic field in the region within and surrounding the cable. For communications link performance verification we require a simplified representation of the cable that is computationally viable and can be included within the circuit verification environment. The model also needs to correctly represent important cable parameters such as delay, near and far end crosstalk and cable losses.

Cat 5 Cable Modeling for DVI/HDMI links article gives a simple C++ module was written and added to the CppSim behavioural modelling environment. The article also gives a Hspice 'W' model.
The combination of field solver and multi-conductor W model in Hspice can be used to simulate all the key signal degradation characteristics such as frequency dependent loss, delay, near and far end coupling and the effect of discontinuities for different UTP cable geometries.