Netduino is an interesting dev board built around the .NET Micro framework with the goal of being compatible with Arduino shields. Netduino is an open source hardware platform that can run .NET Micro Framework 4.2 code.
The Netduino is a dev board built around the .NET Micro framework with the goal of being compatible with Arduino shields. Netduino page offers three small embedded platforms that can run .NET Micro Framework code. Netduino gets a huge upgrade article tells that the newest Netduino Plus 2 board features an upgraded STM32 ARM Cortex-M4 uC running at 168 MHz, improving on the original Netduino's ARM7 running at 47 MHz.
Netduino and Netduino plus 2 look pretty similar to Arduino and can use many Arduino Shields. Netduino combines 20 GPIOs with SPI, I2C, 2 UARTs (1 RTS/CTS), 4 PWM and 6 ADC channels. Netduino is an open source electronics platform. Design files and source code are included. Learn from the designs.
Getting Started with Netduino article gives you a good start. What Is an Arduino Shield and Why Should My Netduino Care? article talks on issues on using Arduino shields with Netduino. Yet, there's always one hurdle that needs to be overcome: in order to give access to their hardware functions easily, many Arduino shields provide sample sketches (a.k.a. C/C++ Wiring programs) and libraries also written in C/C++ designed to be used within the Arduino IDE. Unfortunately, Arduino sketches and libraries aren't compatible with the Visual Studio environment and the .NET runtime: they need to be adapted in order to make use of the shield's hardware.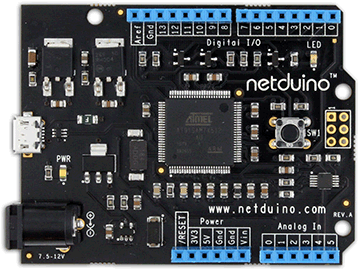 The .NET Micro Framework is the smallest version of .NET for very resource-constrained devices (the typical .NET Micro-Framework device has a 32 bit processor with or without a memory management can have as little as 64K of RAM). The .NET Micro Framework (NETMF) is an open source .NET platform for resource-constrained devices with at least 256 KBytes of flash and 64 KBytes of RAM. It includes a small version of the .NET CLR and supports development in C#, Visual Basic .NET, and debugging (in an emulator or on hardware) using Microsoft Visual Studio.
.NET Micro Framework is an open source platform that expands the power and versatility of .NET to the world of small embedded applications. Desktop programmers can harness their existing .NET knowledge base to build embedded applications. .NET Micro Framework is developed by Microsoft (together with active community contributions) and offered under an Open Source License (Apache 2.0).
Netduino is not the only small embedded board that can run .NET code.
Microsoft .NET Gadgeteer is a rapid prototyping platform for small electronic gadgets and embedded hardware devices. .NET Gadgeteer consists of modules that can be connected together to construct both simple and sophisticated devices.
There is also .NET for the STM32 F4 Discovery board that allows STM32F4 Discovery Board running .NET MicroFramework. What is the best .net Micro Framework dev board, for under $300? discussion provides pointers to other .NET boards. TinyCLR community provides support for Gadgeteer and other .NET Micro Framework boards.