Do LEDs cause blindness? article tells that According to a study led by Dr. Celia Sánchez-Ramos, of Complutense University in Madrid, prolonged and continuous exposure to LED light might be sufficient to damage the retina. Her study, published in the journal Photochemistry and Photobiology in 2012 found that LED radiation caused significant damage to human retinal pigment epithelial cells in vitro.
The basic problem that causes this is that a lot of light from many white LEDs comes from the short wave, high-energy blue and violet end of the visible light spectrum. She indicates that problem would worsen as people live longer and children use electronic devices at a young age. A healthy and varied diet rich in Vitamin A can help the eyes.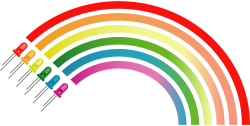 Add this new finding to existing Six LED challenges that still remain.
For perspective look also article comments. Let's not go overboard: exposure to intense light of any kind is capable of damaging your eyes. Sunlight is dangerous. In principle, no one should go outside without sunglasses … but we do it anyway. As far as UV exposure goes, sunlight is first followed by mercury arc lamps, cheap fluorescent lamps, xenon lamps, blue LEDs then white LEDs. Exposure to intense light is dangerous – both UV light which passes through the cornea and IR. Irradiation of the white LED is above 400 nm and is not within the ultraviolet light region. The really short wavelength blues (includes violets, and many of these blues look violet) can cause damage if exposed to too much of it.