Do you want to experiment with Arduino, but do not want to install Arduino IDE or not like it? Not where is another way to do Arduino coding: web-based, fully networked on-line developer environment called Codebender. Codebender is an in-browser dev environment that can store your code, copy from other users, and upload it to most Arduino boards. With Codebender, you can program your Arduino straight from your browser. No need to find, install, update and manage libraries and drivers. codebender does that for you.
Obviously, operating from within your browser means Codebender has zero installation, unlike normal IDEs such as Arduino IDE. For many users "zero installation" might not actually be whole truth, because depending on your target you are programming the installation you quite often need to install web browser extension (for Chrome and Firefox)  that allows HTML5 app running on the web browser to access your Arduino board (enable serial port access from HTML5). I tested programming with Arduino Uno and Arduino Leonardo clone in PC running Firefox on Windows 8.1, and the programming worked well.
There is also a "Cloud Flash" feature to program networked-enabled devices like the Arduino Ethernet or Arduino & Ethernet Shield. I have not yet tested this option.
Codebender promises to be completely free with unlimited public sketches and open source built using HTML5. Only pay if you want to keep your projects private. Codebender allows you to flash sketches to your device, clone other pieces of code and modify it, share your sketches, and embed code into your own website, blog, and tutorials.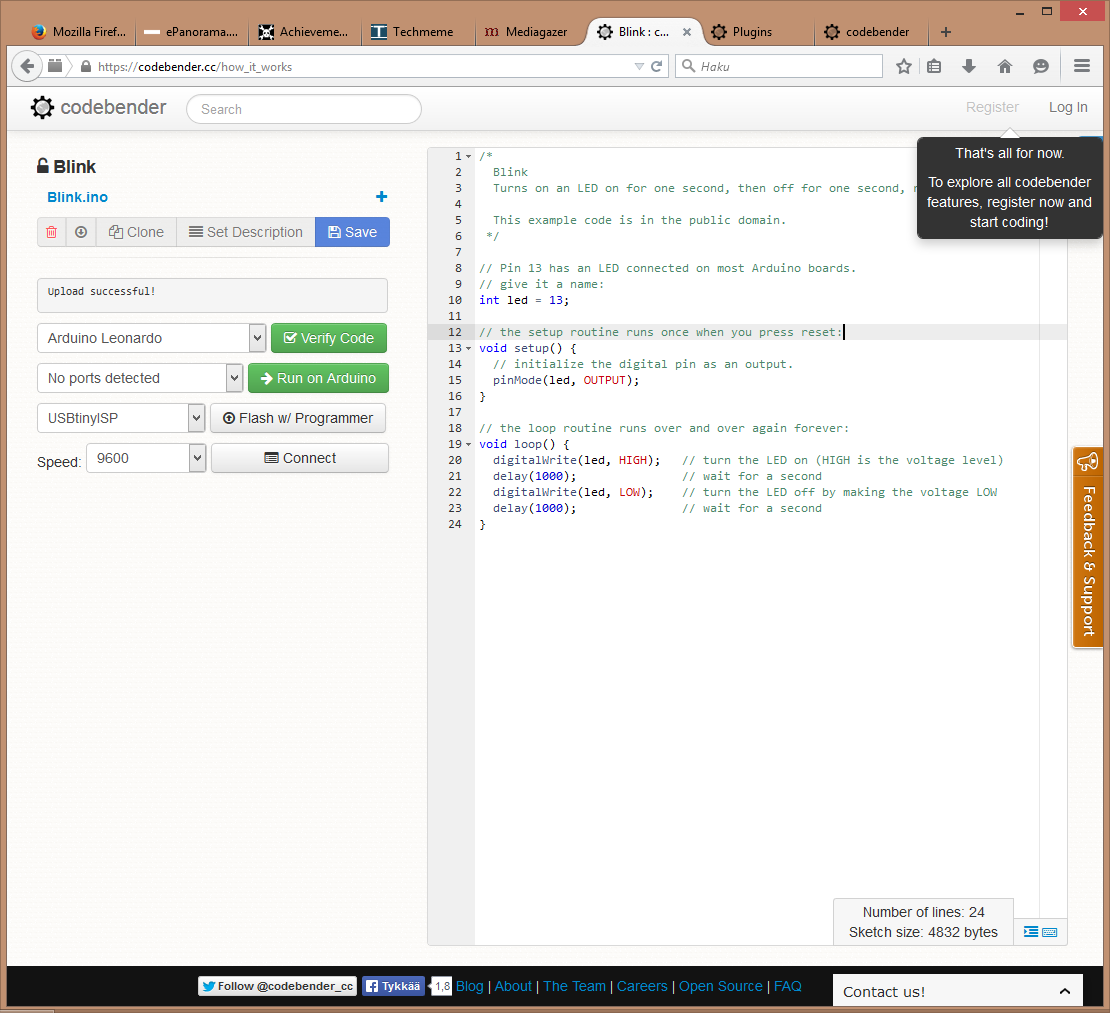 The best way to start working with Codebender is to go though the how it works tutorial and Quick start guide.
If you want to search for negative sides on this cloud approach: They collect personal information (verified Email address), plus they require a browser plug-in (potential danger), you need to pay to keep your work private, and it looks like it is not easy to upload libraries they don't already have. There does not seem to be any simulator in this system.
Links to articles on Codebender:
Codebender: An online Arduino IDE
The Push To Bring Microcontrollers To The Web Yields A New Arduino IDE
CodeBender.CC Makes It Crazy Easy To Program Your Arduino Board From Your Browser
Codebender web-based Arduino coding tool
CodeBender – Online development & collaboration platform for Arduino users, makers and engineers
Project links:
how it works tutorial led flasher tutorial project
Leonardo Mouse Simulator by PaoloP