A power supply is an electronic device that supplies electric energy to an electrical load. Most of the power supplies you use every day are the AC-DC power supplies that convert mains AC power (typically in 100-240V range) to low voltage DC (typically 5V to 24V). In those power supplies the output will be electrically isolated from the mains; this feature is essential for user safety. Many modern power supplies (switch mode) often include safety features such as current limiting or a crowbar circuit to help protect the device and the user from harm. The power supplies also typically need to have some form of fuse in the mains side to protect against short circuit or severe over-load inside the power supply (to avoid potential fire).
Power supplies come with various specifications, built using different technologies and with varying quality (from cheap unsafe counterfeit knock-offs to good quality).  Take a look at the nearest power supply labeling. It will hopefully have a slew of marks on it that indicate what standards it abides to (or at least promises to).
But not all product do what they promise. Many finding culminate to this: An engineering/project management triangle. Pick 2 of 3!


We all love a good tear-down (at least me), so here are some interesting tear-downs of power supplies:
Sparkfun Tears Apart Power Supplies for fun and to learn. Enginursday: Supplies! article takea a look inside some common power supplies. It walks us through how the basic circuit works and then points out why various other elaborations are made, and how corners are sometimes cut, in a few power supplies that he's taken apart.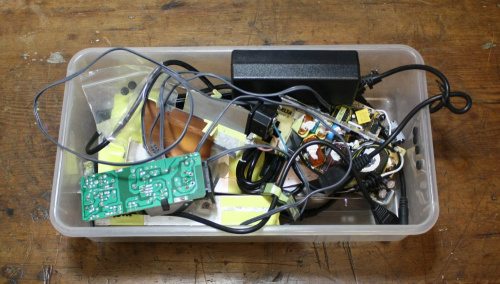 Dangerous Chinese power supply article tells about a cheap, Chinese, 12V 1A power supply, designed to be used in LED lamp retrofit project. It's marked CE (meaning it respects European norms, which essentially have to do with EMI interference), but it still has a serious safety problems. What we learn of this: Remember that the the CE marking is stamped by **the manufacter himself**, which basically means "I tell you that this product respects regulations". But of course, that does'nt mean at all that it does. Usually this is the case with cheap chinese crap where you usually get what you pay for. To safely use this power supply several corrections/modifications needed to be done.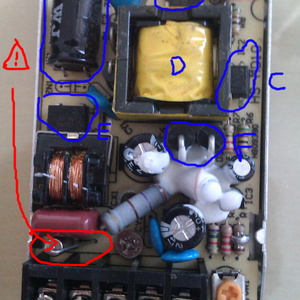 Cheap switch-mode power supplies video a quick look as some cheap £15 generic Chinese switch-mode universal power supplies and what is wrong with them. Quality is as expected… I wouldn't trust this at all for anything serious!
There are many cheap bad-quality USB chargers.  I have made Safety analysis of one USB power supply  and saw something to worry about! Take a look at the separation between mains carrying parts and low voltage side: There is less than one millimeter between them (I measured shorted distances to be in 0.5-0.7 mm range). This is not how to build a safe power supply.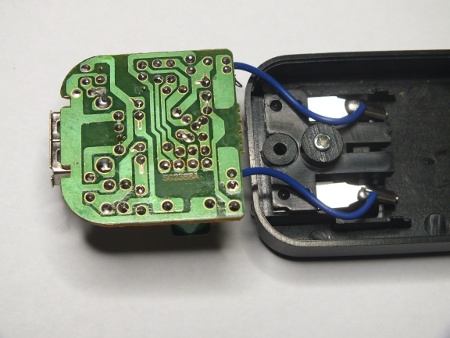 I also made Teardown of cheap USB charger that failed after quite short use. The power supply is built using very simple circuit (simpler than expected). There are two worrying safety issues here: The insulation distances on the circuit board are very small (less than 1 mm on several places between mains side and output). Too small to be safe! There does not seem to be any fuse in this circuit!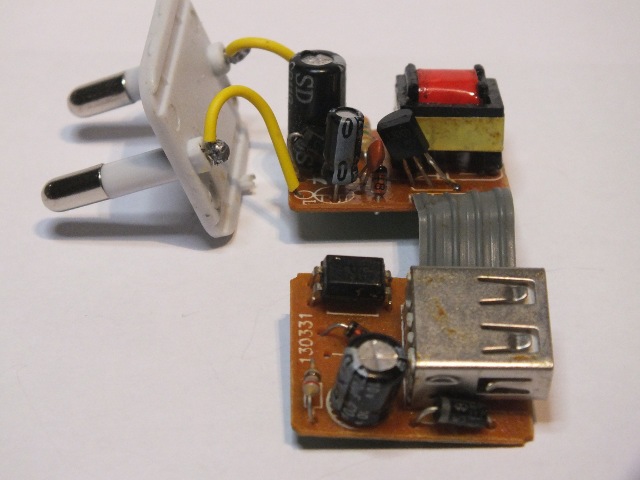 Autopsy of an exploded USB power supply. (With skidmark) video shows what is inside pre-detonated multi-port USB power supply. Given the isolation between the mains voltage primary windings and the low voltage secondary windings, perhaps it's a good thing that it exploded (and did not put people in more danger).
Don't buy a cheap replacement power supply! video warns about counterfeit batteries and power supplies. eBay and Amazon.com are loaded with cheap replacement power supplies and battery chargers for digital cameras, camcorders, laptop computers, and other devices. But as you might expect, these power supplies are built using cheap components with very bad build quality, and use no shielding and very poor filtering. This creates a tremendous amount of radio interference.
Why You Should NEVER Buy Generic Chinese Laptop Power Supplies by XanderDarien

Remember also this danger with adapters if you plan to use power supply with different powewer connector than you have on your wall: Deadly Chinese plug adapter
For more interesting tear-downs take a look at Teardown category on this blog.