Expressif has released a new WiFi chip. It is not that interesting ESP32 that I have written about earlier, and should be available soon. The new ESP8285 went into mass production in March. Hackaday article describes it as ESP8266-Killer, but I I think that this kind of headline is clickbaiting. What could possible make it an ESP8266 killer? It's an ESP8266, but with the flash memory onboard (1 MByte). Nothing more, but also nothing less.
I see the situation with  ESP8285 to be so that if nothing else has changed, it will be not a killer. Just a new thing that will slowly replace the ESP8266 at the right price. Could be ESP8266 killer, if Expressif decides to stop making ESP8266. Otherwise, it can be nice to have a smaller chip for smaller designs. I expect this new chip be more expensive than the older one, the question is that is it less or more expensive than ESP8266 plus external memory (1MBit of SPI flash costs about $0.40 in single quantity). According to one comment to ESP8266-Killer article
these ESP8285 chips can be purchased directly from Espressif for $1.10 each delivered to the US. They are as easy to use as the ESP8266 (identical, really).
ESP8285 Onboard Memory size is 1MB (2x what most esp8266 breakouts come with). Many existing ESP8266 boards come with 512kB flash  (which just so happens to be 4 Megabits) and is basically the bare minimum for OTA updates with basically just a hello world code. For some more details check ESP8285 datasheet. Here is one picture from it showing the chip package: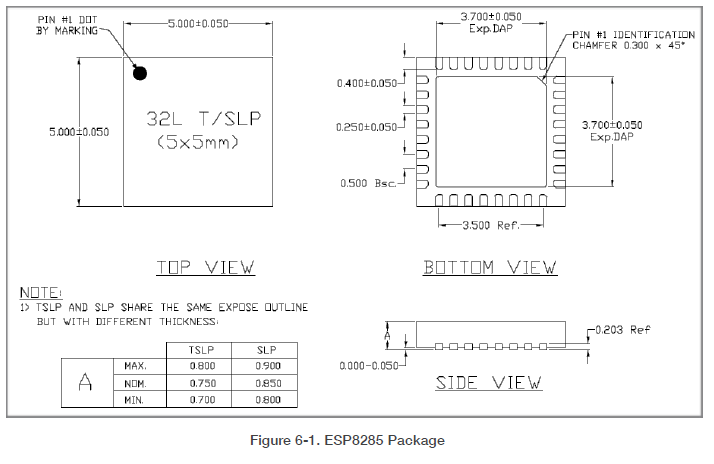 If you want some new features, you need to wait for ESP32, that is going to have wifi and Bluetooth. If you can't wait, there is Raspberry Pi 3 at about 40x the price and much more resources.
I predict the IoT revolution will be driven by a combination of Wifi and unlicensed band products (308Mhz, 315 Mhz and 433Mhz) . That ESP8266 and ESP8285 will handle the WiFI part of the puzzle, and add suitable radio transceiver plus some software and you should have in theory what is needed.